For some drivers, the similar day-to-day driving route is the most boring thing on earth. If you are eager to seek a more thrilling experience, check out these all-terrain tires and be ready for the most exciting off-road driving ever.
Best all-terrain tires are one of the principal factors to protect yourself and optimize your adventure experience.
What Are The Benefits Of The All-Terrain Truck Tires?
They are at tires for their flexibility, allowing you to have on-road and off-road drives comfortably. Despite not having durable linings and chunking threads like off-road tires, they are still extreme enough to let you enjoy the best experience.
Top all-terrain tires can improve your vehicle's performance on the road, thanks to their unique and outstanding features. The larger threads offer them a commendable grip to drive on both dry and wet surfaces. 
The optimized sidewalls are also a great advantage of good all-terrain tires. The advanced resistance to chips and punctures makes you more confident in off-roading with stability.
The aggressive all-terrain tires are a great combination of both touring and mud tires. The former is more suitable for those who want a safe high-speed drive on highways. 
Meanwhile, off-road drivers prefer the latter because of their adventurous driving design through difficult surfaces, even when they suffer from discomfort and noise.
In this case, all-terrain tires are the perfect choice for enthusiasts looking for off-road performance but not wanting to invest in two separate pairs of tires for different situations.
Top 12 Best All Terrain Tires To Consider
1. BFGoodrich T/A KO2
Best For Overall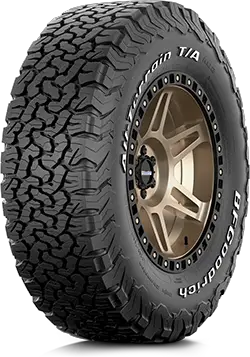 Key Feature
Excellent traction, cornering performance
Wear balance rate
Superior traction on wet
Tire Size
15″, 16″, 17″, 18″, 20″ and 22″.
Price Range
$158.99 – $531.99
Ratings
BFGoodrich is a leading tire brand for ultimate off-road performance. The latest version – BFGoodrich T/A KO2 – becomes one of the Top light truck all-terrain tires after correcting their previous versions' drawbacks.
Compared to the original KO, it offers outstanding durability and traction improvements of 19% in the snow, 10% in mud, and more than 15% in sidewalk strength. 
Its mud-terrain design contributes much to the heavy-duty off-road performance, including sidewall tread and lugs, bruise-resistant and tough sidewall rubber, stone rejection, tread depth of 15/31″, and so much more. 
In particular, the upgraded footprint shape helps distribute the stress more evenly during your adventure. The only problem is the huge noise while driving.
2. Michelin LTX A/T 2
Best For Innovative Technologies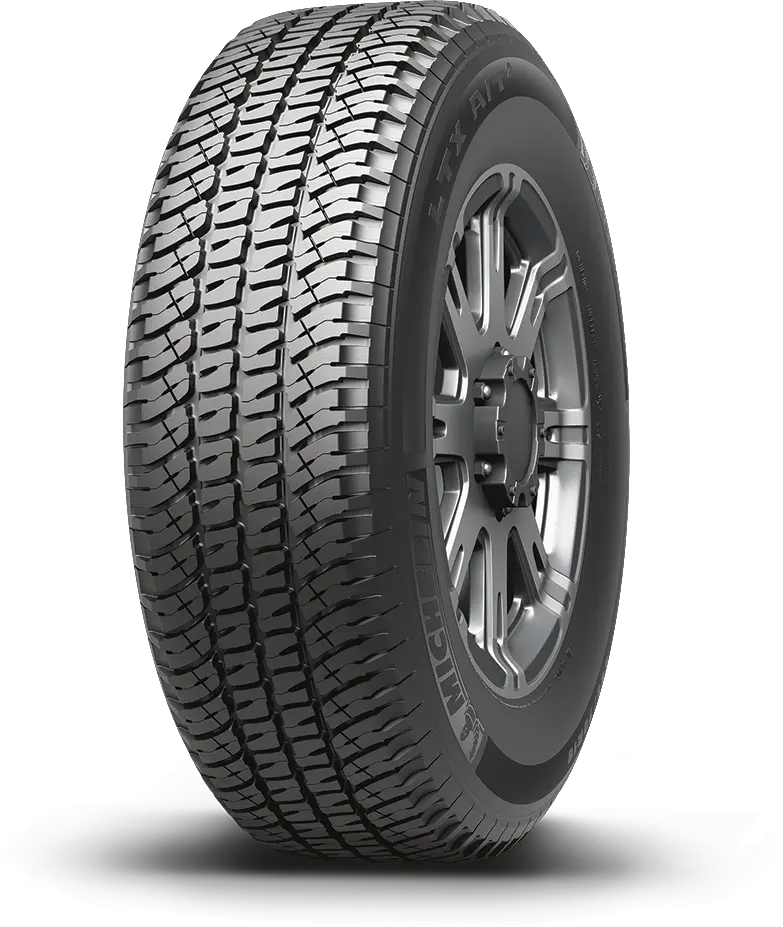 Key Feature
Good snow performance
Comfortable ride
Outstanding durability
Tire Size
15″, 16″, 17″, 18″ and 20″.
Price Range
$184.99 – $364.75
Ratings
The Michelin LTX A/T 2 is superior to other competitors on the market, thanks to the Michelin Comfort Control Technology, optimized by a computer to reduce road noise while still enhancing driving comfort.
The large tread contact patch helps provide great stability, excellent handling, and braking abilities on highway driving. In particular, Michelin has utilized the unique Max Touch Construction for better treadwear and longer tread life, an exceptional feature of this tire.
It also includes a symmetrical tread design to reduce rolling resistance. This development allows A/T 2 to deliver 35% more mileage on gravel roads than its counterparts.
However, the load index of A/T 2 tires is quite lower than other similar products, which is a minor drawback of Michelin's representative.
3. Yokohama Geolandar A/T G015
Best For Mild To Moderate Driving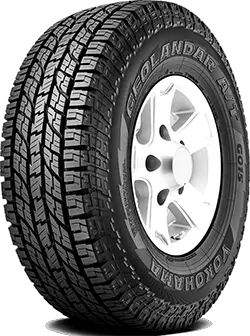 Key Feature
Excellent performance in wet and snowy environments
Smooth running on highways
Long lasting than other off-road tires.
Tire Size
15″, 16″, 17″, 18″, 19″, 20″ and 22″.
Price Range
$126.99 – $410.82
Ratings
Developed specifically for Jeeps, SUVs, CUVs, or light trucks, Geolandar A/T G015 with tough construction and symmetric tread pattern is the all-terrain tire for daily driving and off-roading. 
The Enduro compound makes it resistant to chips and tears, thus prolonging the tread life to 60,000 miles for P-metric size and 50,000 miles for LT-metric size. 
The special compound also reduces the rolling resistance while keeping the superior traction and grip in light snow. The performance of Geolandar AT G015 is excellent to obtain the severe snow certification and the 3-Peak Mountain Snowflake symbol (3PMSF).
All of these features turn the Yokohama tires into a superstar for enthusiasts of mild to moderate driving conditions. It can withstand anything in all-season driving, only except for thick, deep mud and large rocks.
4. Goodyear Wrangler All-Terrain Adventure with Kevlar
Best Tire For Gravel Driving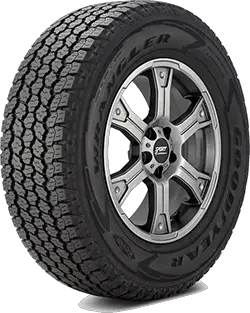 Key Feature
Good traction in light snow, rain, light mud, and rocky surfaces
Excellent traction, cornering performance
Tire Size
15″, 16″, 17″, 18″, 19″ and 20″.
Price Range
$240.99 – $276.99
Ratings
Goodyear integrates a new compound with a DuPont Kevlar layer in this Wrangler model for strong and long tread life. 
The exclusive Kevlar layer also provides additional durability and strength for both off-road performance and on-road dependability, making Wrangler tires an ideal option for those regularly driving on gravel terrains.
The Durawall Technology from Goodyear is another plus point on this model, as it prevents any puncture, cut, tear, or chunking, thus enhancing the sidewall integrity. In particular, the wide and deep voids along every ridge allow the free flow of mud and water.
The more symmetrical and aggressive tread pattern with an open shoulder block design ensures greater road handling and grip on snow and rain. 
The tire is fuel-efficient as it lowers the rolling impedance, giving a smooth ride and enough road contact for quick acceleration.
The tire still performs well in light mud; however, it is not specialized in heavier mud areas.
5. Falken Wildpeak AT3W
Best For Tread Pattern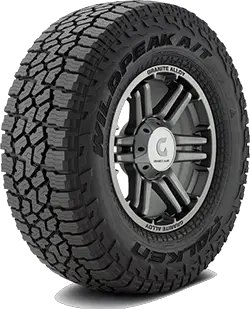 Key Feature
Provide higher friction and protect our safety
Amazing stability and handling
Tire Size
15″, 16″, 17″, 18″ and 20″.
Price Range
$140.00 – $453.00
Ratings
Falken builds the Wildpeak AT3W with a silica compound to drive in 3Ws, including winter and wet performance. The excellent capacity to work in wet and snowy surfaces earned this model's 3-Peak Mountain Snowflake symbol (3PMSF).
The tire casing is durable and tough, with a new groove sidewall design called 3D Canon Siping and full-depth sipes for better traction and grip. Falken also offers a 55,000-mile warranty with a 30-day guarantee, letting drivers rest assured with the purchase.
The AT3W employs a special outer apex design to protect the casting. The construction helps reduce the heat build-up, which is a real killer when driving on the highway.
Nevertheless, you might experience an evident tread growl despite the good ride quality.
6. Pirelli Scorpion All Terrain Plus
Best For Off-road Traction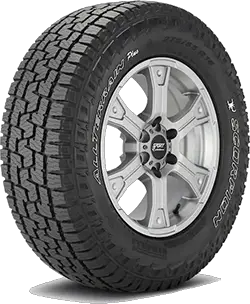 Key Feature
Be compatible with both on- and off-road conditions
Great snow and mud traction with three-peak snowflakes
Tire Size
16″, 17″, 18″, 19″ and 20″.
Price Range
$150.50 – $327.50
Ratings
Pirelli Scorpion All Terrain Plus comes with a self-cleaning pattern for off-road integrity and traction improvement, especially in snow, wet, or muddy situations. 
That's why the Italian manufacturer features the New Generation compound to give this model an outstanding performance, no matter in hot or cold conditions.
The new tread pattern enables this Scorpion Plus Street Radial tire to efficiently evacuate water, dig mugs, and eject stones, thus boosting the tire's puncture resistance. 
Meanwhile, the inserted in-block sipes and multiple edges deliver a superior grip, handling, and braking on slippery and snowy surfaces. 
The 3-Peak Mountain Snowflake symbol (3PMSF) and the Mud and Snow marking (M+S) make it a potential option to be the best A/T tires for snow and mud on the market.
Though Scorpion Plus Street Radial gives overall smooth and quiet off-road driving, it might be a bit noisy on rough surfaces. The sidewall is not as strong and tough as other available off-road tires.
7. Toyo Open Country A/T III
Best For Ultimate Traction In Snow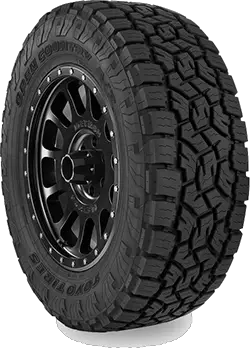 Key Feature
Perfect for snowy or icy conditions
Smooth ride quality
Tire Size
15″, 16″, 17″, 18″, 19″, 20″ and 22″.
Price Range
$139.99 – $548.99
Ratings
Open Country A/T III from Toyo has the 3-Peak Mountain Snowflake rating (3PMSF), implying its excellent traction in snow. This rating is higher than the mud and snow marking (M+S), offering exceptional performance even under severe winter conditions.
There is an interlocking pattern with various horizontal block edges on the tread of this Country A/T III. 
The small and evenly distributed tread blocks enhance both on- and off-road traction, and handling stability, making it suitable for different kinds of snow-covered roads. 
In addition, the 3D multi-wave sipes you can see in the shoulder lugs and tread blocks provide you with not only decent traction on snow, ice, and wet roads but also excellent grip and bite while accelerating and braking.
Unfortunately, the A/T III from Toyo still cannot overcome the common problem of most all-terrain tires – the noise issue. It creates more road noise than other counterparts in the same class.
8. Cooper Discoverer AT3
Best For All Weather Conditions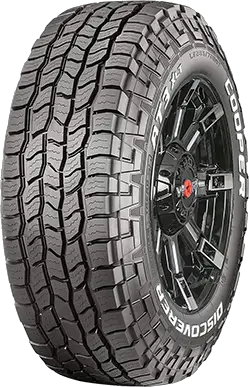 Key Feature
Superior grip on wet and dry surfaces, even in the snow
Quiet tires on the highway
Tire Size
15″, 16″, 17″, 18″ and 20″.
Price Range
$184.99 – $364.75
Ratings
Cooper Discoverer AT3 utilizes the Snow Groove Technology. It features a patented saw-tooth design that keeps the snow in the tread instead of removing it to deliver excellent snow-on-snow traction.
As an all-weather tire, this model from Cooper can withstand not only snow, thanks to the integrated AquaVac channels. They are uniquely shaped with deep-centered grooves running between the tread blocks to prevent aquaplaning and hydroplaning.
The new Micro-Gauge Zig-zag sipes in every tread block also help boost the vehicle's control and stability and reduce the stone drilling and retention. The zig-zag design creates more block edges for better wet/ dry traction and grip, particularly in winter conditions.
Compared to similar tires, the sidewall of Discoverer AT3 is less aggressive, resulting in more road noise. The overall handling is not too impressive to deliver excellent off-road performance.
9. Hankook Dynapro ATM
Best All Terrain Tire For Budget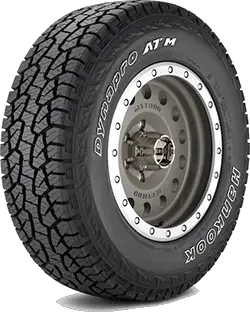 Key Feature
Runs well on all types of terrain
Long tire life
Ease of control
Tire Size
15″, 16″, 17″, 18″, 20″ and 22″.
Price Range
$117.95 – $275.95
Ratings
This Hankook Dynapro ATM is among the all-terrain tires for the money, not only for its low-cost price range but also for extraordinary quality compared to other same-budget picks. 
The thick tread compound provides the ideal puncture resistance and prevents the tire from getting damaged by rocks.​​ The zig-zag tread pattern enhances traction and grip on icy, wet road surfaces in sand, mud, snow, gravel, and even more serious conditions.
Its width has been extended to approximately 8%, equivalent to some high-class top all-terrain tires and, of course, surpasses most tires of the same price range. So you can expect enhanced grip and more even wear in all road conditions.
The minor downsides about this tire are the tire roars at high speed and the sidewall, which might get stiffer when cornering power.
10. Bridgestone Dueler A/T Revo 3
Best For Quiet Ride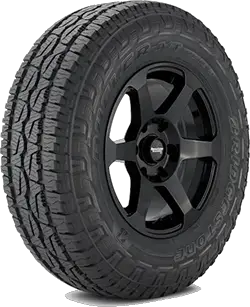 Key Feature
Exceptional response regardless of the terrain
Wonderful traction on tough and soft terrains
Tire Size
16″, 17″, 18″ and 20″.
Price Range
$186.99 to $387.99
Ratings
Off-road requires high-power performance, so tire humming is inevitable. But that is not for this supremely quiet tire, even when driving at very high speeds.
It offers a long treadwear warranty of 50,000 miles on LT-metric and 60,000 miles on P-metric. This number exceeds a wide range of same-class categories in all scenarios. 
Though it does not come with a 3PMSF symbol as some models on the list, its performance remains decent with excellent traction and a high-void area. 
The 2-ply polyester construction of 3-ply offers a softer, more comfortable adventure, even on hard-packed and extremely tough surfaces. 
Unfortunately, 2-ply tires might be the reason for the decreased power off-road. So, some might feel the lack of adrenaline kick when they cannot meet your heavy-duty performance.
11. Nitto Ridge Grappler
Best For Outstanding Quality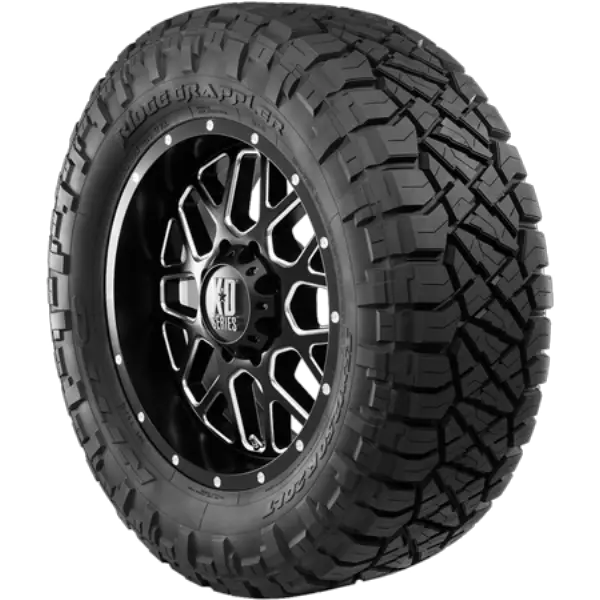 Key Feature
Excellent traction in both dry and wet conditions
Smooth and quiet on the highway
Tire Size
15″, 16″, 17″, 18″, 19″, 20″ and 22″.
Price Range
$95.52 – $227.00
Ratings
If you are looking for the ideal combination of on-road livability and off-road performance, here you go. This Nitto Ridge Grappler minimizes tire humming and other on-road noise but sacrifices no off-road performance.
The secret behind the quietness is its tread blocks, allowing it to contact the road with neither space nor timing consistently.
Moreover, it features considerable valley grooves between each tread block so that rain, gravel, snow, or mud can escape from it faster and easier.
The only problem to consider is its price, which might not be so reasonable for some customers. But objectively speaking, its class-leading quality is worth every dime.
12. Kumho Road Venture AT51
Best For Stable Performance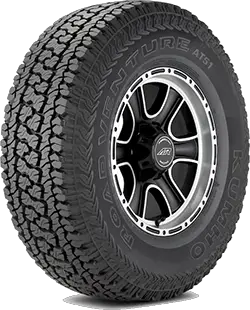 Key Feature
Capable of operating in a variety of terrains
Excellent traction and reflexes
Tire Size
16″, 17″, 18″, 19″, 20″, 22″ and 24″.
Price Range
$213.00 to $787.00
Ratings
This Kumho Road Venture AT51 features a completely new double silica tread compound for a better treadlife warranty of 55,000 miles. That will allow your performance to gain the ultimate stability compared to other competitors on the list.
The full-depth integrated groves also play a vital role in improving off-road traction. The snowflake emblem is considered one of its breakthroughs in terms of driving in snowy conditions.
In addition to off-road, it also offers a striking balance for paved road performance thanks to the rubber's dual circumferential strips, which improve the tire stability on the road.
The noise when driving may be a little bit troublesome, but it is not so excessive. Besides, this Kumho tire is not built as a serious mudder, so its performance in deep mud still needs improvement.
Bottom Line
Hopefully, after reading this article, you now fully understand why the all-terrain tires have become so popular these days. 
Even though they do not provide an ultimate road performance, they are still an economical and decent investment for both on- and off-road driving experience.