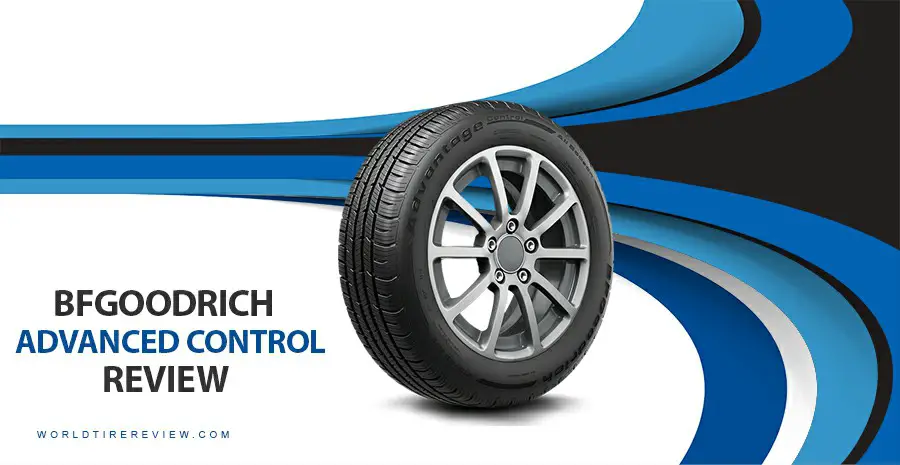 BFGoodrich is a common name among driving enthusiasts. Goods from this brand promise to give drivers grip and control either on- or off-road.
During its 150 years on the market, BFGoodrich has developed 4 tire families: Terrain Tires, Advantage Tires, G-Force Tires, Commercial Tires, and Radial Tires.
There are three main products in the Advantage Tires family: T/A Sport LT, Advantage Control, T/A Sport. In detail, T/A Sport LT is specially designed to ride in severe snow. Whereas, the latter are known for their flexibility in different conditions. 
This episode – BFGoodrich Advantage Control will be a must-read if you are wondering between these two goods. We make sure that the following information will assist you in making a better choice.
BFGoodrich Advantage Control Reviews
BFGoodrich Advantage Control consists of Active Sipe Technology and Full Depth Tread Features. These two things increase not only wet traction but also maintain consistent performance throughout the tire's life.
So what makes this tire superior? The answer lies in its Aqua Flume Technology – a network of little curved sipes. These sipes are designed to wick water away from under contact patches. This way, it improves hydroplaning resistance. 
Unlike other products in its line, with BFGoodrich Advantage Control, the production unit has already taken some initiatives to deal with the "noise" problem and bring about the most comfortable ride experience.
More specifically, BFGoodrich reinforces the sidewall with G-Wedge Sidewall Stabilizer. The stabilizer offers drivers crisp handling when cornering or braking by maintaining the tire's integrity. It also uses Computer Optimize Footprint for a quiet ride.
The producer innovates construction by using two-ply polyester to offer greater comfort and durability. This product also integrates a single nylon reinforcement that increases its high-speed capabilities.
Pros & Cons
Tire Drive Test
The first praise is that with BFGoodrich Advantage Control, aquaplaning may no longer be a complex matter.
The tire also brings more comfort than summer rubber and proves to be more responsive than winter rubber. If you want something just for everyday riding, this item will not fail to please you.
We have made a 1500-mile road trip to test the water. And we can confirm that this tire helps our car run much more smoothly. It even shows its moment on highways and responds precisely to steering inputs.
The 75000-mile and 6-year warranty makes us feel much more secure about the treadlife. Together with an affordable price, this product deserves your try.
On the other hand, as we have noticed before, all-season tires have a disadvantage in performing in extreme conditions. Unfortunately, BFGoodrich Advantage Control is not an exception. Therefore, should you drive in snow, we will strongly recommend switching to winter tires.
Perhaps we are not used to narrower tires. Thus, we feel that in comparison with summer tires, the traction is not good at all. Most drivers tend to neglect this problem, but it seems quite annoying to us.
Here is the final minus point. BFGoodrich confirmed that Advantage Control is its first and only tire manufactured in Indonesia. Honestly, when we decided to buy this product, we did expect it to be domestically produced in the US. So, we were quite confused whether the new origin affected overall performance.
BFGoodrich Advantage Control comes in various sizes. So whether your car is a sedan, hatchback, or SUV, you can still consider it. To make it clearer, Honda Accord, Hyundai Tucson, and Ford Escape are some examples of good candidates for the tire. 
And that's all about our Bfgoodrich Advantage Control tire. Should you intend to buy versatile tires, BFGoodrich Advantage Control is an economical option that you should not miss. 
This all-purpose is rated "M+S". However, you need to bear in mind that it will not be a perfect replacement for dedicated snow tires.
Competitors & Alternatives
| | |
| --- | --- |
| Treadlife Warranty: | 6 Years / 65,000 Miles (V- or W-Speed Rated)  6 Years / 75,000 Miles (H-Speed Rated)  Half mileage for rear if different size than front |
| Uniformity Warranty: | 1 Year / first 2/32″ of wear |
| Workmanship & Materials Warranty: | 6 Years / Free replacement first year, 2/32″ or 25% of wear, then prorated until 2/32″ remaining depth |
| Manufacturer's Road Hazard Warranty: | None |
| Manufacturer Special Warranty: | 60-day satisfaction (1), 3-yr flat changing |
| Additional Information: | (1) Exchange for Michelin, BFGoodrich, or Uniroyal |
| 14 | | 15 | |
| --- | --- | --- | --- |
| 185/65R14 | | 185/60R15 | 195/65R15 |
| | | 185/65R15 | 205/60R15 |
| | | 195/60R15 | 205/65R15 |
| 16 | | 17 | |
| --- | --- | --- | --- |
| 195/55R16 | 215/60R16 | 205/50R17 | 225/55R17 |
| 205/50R16 | 215/65R16 | 215/50R17 | 225/60R17 |
| 205/55R16 | 225/60R16 | 215/55R17 | 235/45R17 |
| 205/60R16 | 225/65R16 | 215/60R17 | 235/50R17 |
| 205/65R16 | 235/60R16 | 215/65R17 | 235/55R17 |
| 215/55R16 | 235/65R16 | 225/45R17 | 235/60R17 |
| | | 225/50R17 | |
| 18 | | 19 | |
| --- | --- | --- | --- |
| 215/55R18 | 235/45R18 | 225/55R19 | 235/55R19 |
| 225/45R18 | 235/55R18 | | |
| 225/50R18 | 245/40R18 | | |
| 225/55R18 | 245/45R18 | | |
| 225/60R18 | 245/55R18 | | |
Advantage Control prices range approximately from $106.99 to $229.99 (Tire Rack)
Bfgoodrich Advantage Control – Compare Prices
We found 6 online tire retailers selling Bfgoodrich Advantage Control . Refer to the details below to get the best price
Bfgoodrich Advantage Control
PRICE
SOLD BY

Offers

Offers

Offers

Offers

Offers

Offers
Advantage Control Ratings By Consumer
prices range approximately from