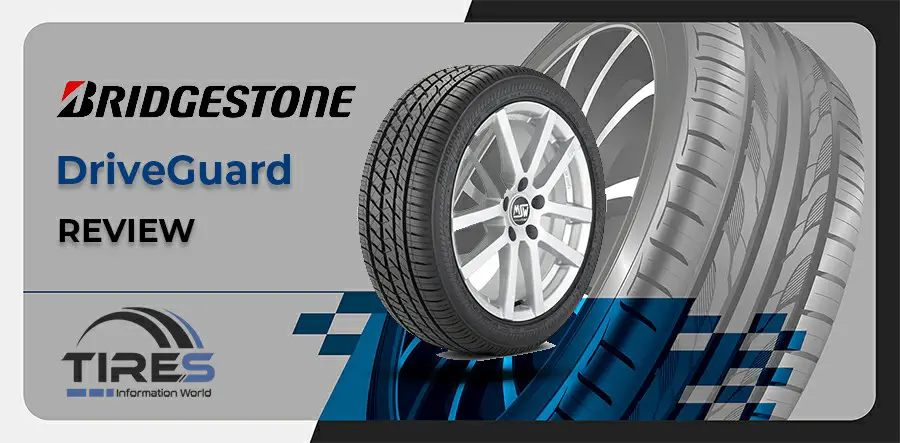 About Bridgestone Company 
Bridgestone corporation is among the world's largest rubber and tire companies, with 181 facilities distributed in many countries. Over 80 years in the market, this Japanese tire giant promises to bring customers the best quality tires. 
In addition to rubber and tires, this famous company also distributes sporting goods and industrial materials. To be able to provide its goods for over 150 countries, the brand makes use of approximately 180 facilities and manufacturing plants. Out of all its products, Bridgestone tires are reputable for their durability, stability, and comfort. Is that exactly right? Find out more in our following Bridgestone DriveGuard test, which covers all aspects of this amazing Bridgestone's tire.
Bridgestone DriveGuard Features & Performance
The meticulous design of the DriveGuard tire from Bridgestone makes it a top choice for those who desire to experience perfect driving. Its asymmetric tread helps it glide smoothly over wet or dry conditions, while the Nano Pro-Tech provides enhanced durability and sturdiness.
On another note, Bridgestone attempts to reduce tire weight while increasing comfort level by equipping these tires with a cooling fin design. 
You can also run up 50 miles at a speed of 50mph, even after puncturing. The tire's twin steel belts get assistance from nylons on the tire's side panels and line. Thanks to this feature, the car can distribute weight evenly to drive for a while after a flat. 
Bridgestone also suggests some of its comparative advantages that the rivalries may not have, such as driving on wet roads or under snowy weather and operating without noise. 
This Bridgestone's all-season product commits resilience to cars on the wet road. Drivers can drive flexibly due to their ability to hold firm in a bit damp tarmac and their remarkable aviating capacity. 
To make it safer to run in snowy conditions, the brand increased the number of biting edges. However, it is unclear to what extent the tires can ensure driver safety.
DriveGuard tires are well-known for providing quiet rides, which is great if you enjoy taking quick weekend trips to the mountains or driving down backroads in your convertible.
The sizes of DriveGuard tires range from 15 inches to 19 inches, making them suitable for multiple car models in the current market.
Pros & Cons
Bridgestone DriveGuard Drive Test
We've been using the DriveGuard tire for over a year. Everything is fine, yet Bridgestone could make some improvements. Let's have a closer look at our real experience with this tire model in the below section of this Bridgestone DriveGuard.
Real Experience Review
The braking and traction are at a satisfactory level on the dry road. Its cornering grip performs well enough for spirited driving, yet it lacks sufficient responsiveness and does not support fast corners. When driving on wet roads, DriveGuard also proves its outstanding characteristics over other run-flat tires.
This is where we find it similar to the manufacturer's description: the tires have hydroplaning resistance and top-notch braking due to their asymmetric patterns and nano pro-tech. As a result, it reduces risks and allows us to control our vehicles better.
During the highway, our car using DriveGuard tires runs smoothly without noise. However, we can feel the vibration as it travels on uneven or rough pavement. 
Although the brand said it had increased the number of biting edges to make tires better at snow traction or braking, this all-season tire does not meet our expectations. As for this, we recommend you replace winter-season tires to ensure safety.
Which Vehicle Does Bridgestone DriveGuard Fit For? 
Here is the list of some typical cars that Bridgestone DriveGuard is suitable for: 
Honda Civic, Honda CR-V, Honda Insight
Toyota Prius, Toyota Camry
Mercedes – Benz E320
BMW 330i, BMW 530i, BMW 135i
Hyundai Sonata, Hyundai Genesis
Nissan Maxima, Nissan Versa, Nissan Leaf
Warranty Policy
With the Bridgestone DriveGuard, drivers do not only run their cars smoothly and silently in even unfavorable conditions ( rough, dry, or wet roads), they can also take advantage of the brand's generous warranty. 
Bridgestone can provide customers with a 5-year or 60,000 miles for tread warranty on H or V-rated models and 50,000 miles for W-rated models. 
Though this tire may have some drawbacks in snow traction or braking, it should be a nice choice for normal road conditions. If you're looking for tires that can reduce the noise and conquer wet roads, Bridgestone DriveGuard is all you need!
Competitors & Alternatives
| | |
| --- | --- |
| Treadlife Warranty: | 5 Years / 60,000 Miles (H-,V-,T-Speed Rated)  5 Years / 50,000 Miles (W-Speed Rated)  Half mileage for rear if different size than front |
| Uniformity Warranty: | First 2/32″ of wear |
| Workmanship & Materials Warranty: | 5 Years / Free replacement first 3 years, then prorated until 2/32″ remaining depth. |
| Manufacturer's Road Hazard Warranty: | None |
| Manufacturer Special Warranty: | 90 Day Buy & Try Guarantee (1) |
DriveGuard
Warranty summary for replacement tires purchased on or after 01/01/19
| 15 | | 16 | |
| --- | --- | --- | --- |
| 195/60RF15 | 195/65RF15 | 195/55RF16 | 215/60RF16 |
| | | 205/55RF16 | 225/60RF16 |
| | | 205/60RF16 | 225/65RF16 |
| | | 205/65RF16 | 235/65RF16 |
| | | 215/55RF16 | |
| 17 | | 18 | |
| --- | --- | --- | --- |
| 205/45RF17 | 225/65RF17 | 215/45RF18 | 235/45RF18 |
| 205/50RF17 | 235/45RF17 | 215/55RF18 | 235/50RF18 |
| 215/45RF17 | 235/50RF17 | 225/40RF18 | 235/55RF18 |
| 215/50RF17 | 235/55RF17 | 225/45RF18 | 245/40RF18 |
| 215/55RF17 | 235/60RF17 | 225/50RF18 | 245/45RF18 |
| 225/45RF17 | 235/65RF17 | 225/55RF18 | 255/35RF18 |
| 225/50RF17 | 245/40RF17 | 225/60RF18 | 255/40RF18 |
| 225/55RF17 | 245/45RF17 | 235/40RF18 | 255/45RF18 |
| 225/60RF17 | 255/40RF17 | | |
| 19 | | 20 | |
| --- | --- | --- | --- |
| 235/55RF19 | 245/45RF19 | 245/45RF20 | 245/50RF20 |
| 245/40RF19 | 255/45RF19 | | |
DriveGuard prices range approximately from $105.05 to $309.99 (Tire Rack)
Michelin CrossClimate2
Michelin CrossClimate+
Bridgestone Turanza QuietTrack
Goodyear Assurance WeatherReady
Michelin Primacy Tour A/S
Pirelli Cinturato P7 All Season Plus II
Bridgestone DriveGuard – Compare Prices
We found 5 online tire retailers selling Bridgestone DriveGuard. Refer to the details below to get the best price
Bridgestone DriveGuard
PRICE
SOLD BY
 

$122.25

Offers

Offers

$134

Offers
DriveGuard Ratings By Consumer