Are you planning to buy tires that have a long lifespan and provide a smooth, comfortable ride? If so, you can count on one of Bridgestone's products – Turanza Serenity Plus. With outstanding features compared to other types and brands, this product has long been all the rage amongst drivers all across the country.
If you are interested in more information about its features, specs, and advantages, let's take a look at this article below about Bridgestone Turanza Serenity Plus reviews, and you will get what you need!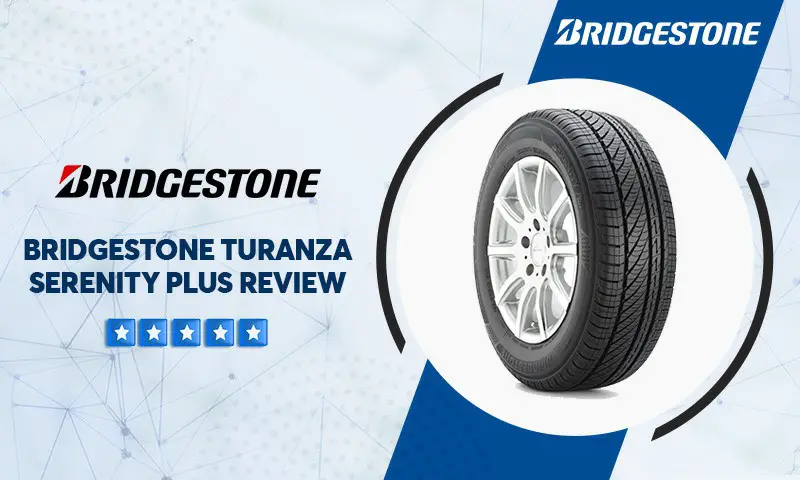 Main features of Bridgestone Turanza Serenity Plus
Here is the overall Bridgestone Turanza Serenity Plus tire review. Let's check out!
Specifications
Diameter: 24.8 inches
Tread Depth: 12/32 inches
Revs Per Mile: 1/mi.
Rim Width: 5.5 inches to 7.5 inches
Section Width: 8.4 inches
Weight: 1 lbs
Ply Rating: N/A
Tread Width: N/A
Max Load (Dual): N/A
Max inflation: N/A
The wheel boasts circumferential grooves that work together with sidelong grooves to give the tire extraordinary watery surface grip and hydroplane endurance.
Asymmetric Cavity Shape
Bridgestone Turanza Serenity Plus is designed with a set of prominent arch treads, slightly off the center of the tire. It is purposely kept that way not only for look enhancement but also for extra functionality. With its arc shape, the tire can work well in damped conditions while releasing as least noise as possible when moving.
Proprietary Polymer Technology
Bridgestone applies Proprietary Polymer Technology to create tread, which helps reduce noise dramatically, increase steering response and durability, and enhance the performance of the brake.
Thanks to NanoPro technology, Turanza Serenity Plus scores many points with drivers for its extraordinary traction, especially when it is on roads with slippery or snowy surfaces. 
Protruding 3D Sub-Surface Platform
An extra 3-D Sub-Surface Platform enhances snow traction because of the sharp edges that grip snow, hard-packed snowfall, and ice as well.
On the inside of Turanza Serenity Plus tires, you will find two nylon reinforced steel straps for added strength and endurance throughout the speed range. Plus, a polyester cord body is featured to improve ride comfort and adherence.
Tread life
Bridgestone Turanza Serenity Plus tires are among the best all-season tire brands with an approximated 65,000 miles of tread life based on CR's test.
View more: Bridgestone Turanza Quiettrack Tire Reviews & Ratings
Pros and cons
Wrapping up
Generally, we give you Bridgestone Turanza Serenity Plus reviews. It is undoubtedly that the Turanza Serenity Plus is one of the most prominent touring all-season tires. We hope that you will find this article helpful before deciding to buy the best tire types for your cars for the best performance all season.
Competitors & Alternatives
| | |
| --- | --- |
| Treadlife Warranty: | None |
| Uniformity Warranty: | First 2/32″ of wear |
| Workmanship & Materials Warranty: | 5 Years / Free replacement first 3 years, then prorated until 2/32″ remaining depth. |
| Manufacturer's Road Hazard Warranty: | None |
| Manufacturer Special Warranty: | 90 Day Buy & Try Guarantee (1) |
| Additional Information: | (1) Purchase four or more, full refund or exchange |
Warranty summary for replacement tires purchased on or after 01/01/19 Tire Rack
| 15″ | | 16″ | |
| --- | --- | --- | --- |
| 195/60R15 | | 205/55R16 | 215/60R16 |
| 195/65R15 | | 205/60R16 | 225/55R16 |
| 205/65R15 | | 215/55R16 | 225/60R16 |
| 17″ | | 18″ | |
| --- | --- | --- | --- |
| 205/50R17 | 235/45R17 | 245/40ZR17 91W | 245/40R18 |
| 215/50R17 | 235/50R17 | 235/45R18 | 245/45R18 |
| 215/55R17 | 235/55R17 | 235/50R18 | 245/50R18 |
| 225/45R17 | 245/45R17 | 235/55R18 | 255/45R18 |
| 225/50R17 | 245/50R17 | | |
| 225/55R17 | | | |
| 19″ | | 20″ |
| --- | --- | --- |
| 255/35ZR19 96W | | 245/45ZR20 103W |
| 275/40ZR19 101W | | 255/45ZR20 101W |
| 285/35ZR19 103W | | 275/40ZR20 96W |
Bridgestone Turanza Serenity Plus price ranges from around $209.00 to $285.00
Falken EUROALL SEASON AS210
Goodyear Vector 4Seasons Gen 3
BFGoodrich g Grip All Season 2
Bridgestone Weather Control A005 EVO
Continental AllSeasonContact
Nokian WeatherProof
Bridgestone Turanza Serenity Plus
PRICE
SOLD BY

Offers
Turanza Serenity Plus Ratings By Consumer