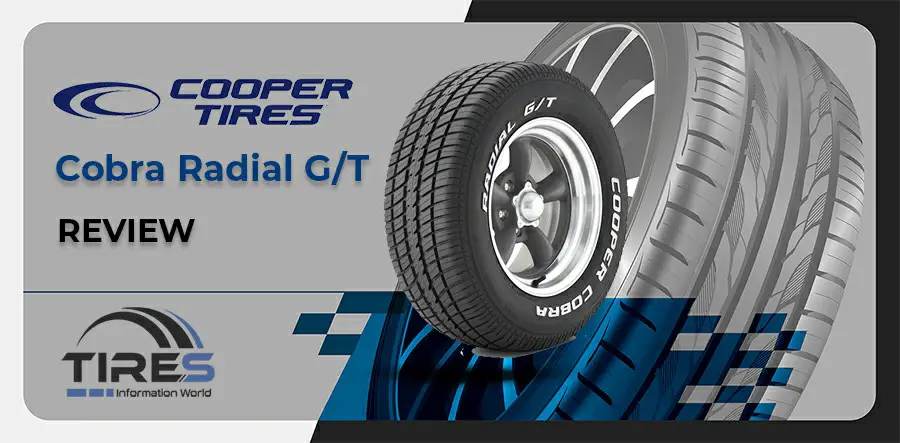 Overview 
In this compelling post of Cooper Cobra Radial G/T, we present an overview and feature analysis of the rubber. You will also receive unbiased comments about the tire's driving capability. Let's dive in to check out!
Overview Of Cooper Tire & Rubber Company
Over a century, Cooper Tire & Rubber Company has successfully expanded its business through acquisitions and mergers. The American Tire Company becomes a global tire manufacturer. Until now, it has more than 65 facilities in charge of research, design, distribution, sale, and manufacture. 
Owning such a heritage, Cooper always strives for tire science and technology applications into custom tires. It offers 21 tire models for automobiles, light trucks, trucks, and racing cars.
Particularly, it has earned its reputation in supplying tire lines such as Discoverer, Adventurer, Evolution, and the Cooper Cobra line for muscle cars. 
Belonging to the aggressive cobra outlook and even-wearing design, the Cooper Radial G/T is an excellent combination of the classic look, responsive handling, and year-round tractions, which meet the standard performance of all-season tires. 
Cooper Cobra Radial G/T Features Review  
The Cooper Cobra Radial is significantly engineered for enhanced handling, braking, and cornering in all weather conditions. It features the optimized all-season tread compound and the well-calculated void ratio. 
One most remarkable feature of Cooper Cobra Radial G/T is the signature lettering, which comes with a solid-center rib and tread pattern. At the same time, this feature delivers long-lasting good looks and confident traction. 
This tire is a Cooper's all-season performance one. Thus, the wide circumferential grooves and shoulder slots on Cooper Cobra Radial efficiently operate in evacuating water and slush in the wet road condition.  
Another good point, which every review of the tire emphasizes, is the high number of independent tread blocks and biting edges. Such a highly concentrated amount significantly improves its grip throughout every season. 
Cooper Cobra Radial is also highly rated for its quiet ride, making every journey completely enjoyable. 
When it comes to the design, Cooper Cobra Radial is the favorite tire for muscle cars enthusiasts who want to retain the classic look of the vehicles with raised white-letter styling on the tires. It recalls the iconic vehicles in the '60s and '70s.
Pros & Cons
Cobra Radial G/T Tire Drive Test 
Next, we will show you our tire drive test result to bring you a closer look! Keep reading.
Tire Drive & Handling Capability 
Cooper Cobra Radial G/T handling capacity outperforms other tires at the same price. The wonderful ride certainly comes from a very good tread compound that enables it to run smoothly and quietly. 
Although it is quite challenging for the tire to get good traction in heavy snow, it does handle well in dry and wet conditions. Even after 12,000 miles, the tread tires deliver excellent grip.
The only minus point of the tire we would like to comment on in this article is the quite poor traction when your car makes any real HP/torque. Additionally, the sidewall could be better connected to the tread without a lot of roll and flex during high-speed cornering and turns.
Which Car Should I Choose Cooper Cobra Radial G/T For?
After experiencing this, we believe the Cobra Radial G/T is a high-quality tire at the most affordable price. Any American muscle car owner is certainly happy with the outperformance of Cobra Radial G/T. 
The full selection of popular sizes makes this Cooper's product fit every model. It would be perfect for modest driving and underpowered cars, yet inconvenient to use in a residential area that isn't affected by occasional rains or snow. 
This tire brings great comfort for its competitive price and comfortable ride, along with a 50,000-mile treadwear warranty. Cooper Cobra Radial is a great choice for tires that all drivers cannot skip.
Competitors & Alternatives
| | |
| --- | --- |
| Treadlife Warranty: | 6 Years / 50,000 Miles  Half mileage for rear if different size than front  |
| Uniformity Warranty: | First 2/32″ of wear |
| Workmanship & Materials Warranty: | 6 Years / Free replacement first 2/32″ of wear, then prorated until 2/32″ remaining depth |
| Manufacturer's Road Hazard Warranty: | None |
| Manufacturer Special Warranty: | 45-Day Road Test (1) |
| Additional Information: | (1) Exchange for another Cooper brand tire |
Cobra Radial G/T
Warranty summary for replacement tires purchased on or after 01/01/21
at Tire Rack
| 14 | | 15 | |
| --- | --- | --- | --- |
| P 185/60R14 | P 225/70R14 | P 215/65R15 | P 245/60R15 |
| P 215/70R14 | P 235/60R14 | P 215/70R15 | P 255/60R15 |
| | | P 225/70R15 | P 255/70R15 |
| | | P 235/60R15 | P 275/60R15 |
| | | P 235/70R15 | P 295/50R15 |
Cobra Radial G/T prices range approximately from $130.00 to $188.00 Discount Tire
BFGoodrich Radial T/A Spec
BFGoodrich Radial T/A
Goodyear Eagle GT II
Cooper Cobra Radial G/T – Compare Prices
We found 6 online tire retailers selling Cooper Cobra Radial G/T. Refer to the details below to get the best price
Cooper Cobra Radial G/T
PRICE
SOLD BY
 

Offers

Offers

Offers

Offers

$130

Offers
Cobra Radial G/T Ratings By Consumer