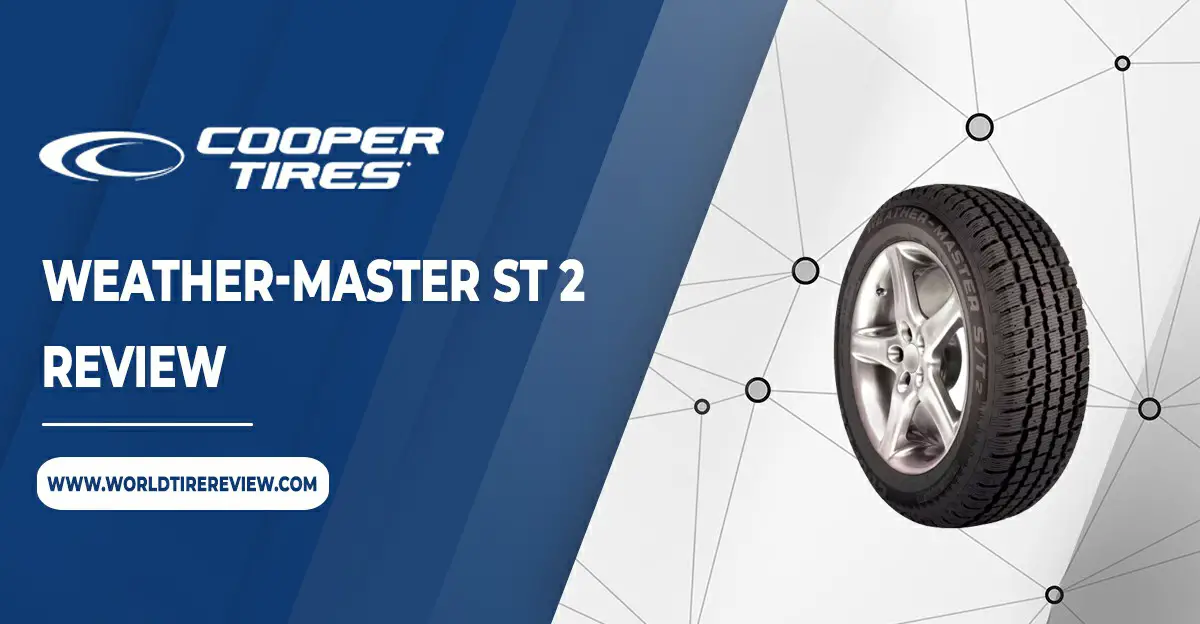 There are tons of winter tires on the market that make it quite challenging to find high-quality ones for your car at a reasonable cost. Don't worry. Cooper Weather-Master S/T 2 review will help you out with wise advice from our experts.
Founded in 1914 in Ohio, Cooper Tire's first main products were tire patches, tire cement, and tire repair kits. Over time, the company gradually develops and produces quality tire products. It even established a Global Technical Center deploying tire science and technology around the world.  
As the name implies, Weather-Master S/T 2 is the new version of studdable snow tires from Cooper. It is designed specifically to give your car the best performance on snow or icy roads with its powerful traction and handling.
Many Cooper Weather-Master S/T 2 reviews credit that these tires offer you a stable and safe driving experience with "Snow Groove" design technology. 
This technology features biting edges to retain snow in the tires' grooves that help enhance the traction on the snow or ice surfaces via "Snow on Snow" principle.
These tires are made from the tri-polymer blended tread compound, providing great traction both in snow and normal dry asphalt. This high-grade tread compound helps increase the tread life and durability of your tires in the long run.
Another highlight of the product is the lateral and notched circumferential grooves, giving you perfect car control on slippery asphalt while limiting the risk of hydroplaning at the same time.
Thanks to their stud pin hole design, the items are truly a winter beast providing excellent car handling in rainy or snowy conditions. The manufacturer increases the number of studs and also molds a stud size on the sidewall for your convenience when installing studs.
Cooper Weather-Master S/T 2 Review: Pros & Cons
Tire Drive Test
Without a shade of doubt, the tires show really good grip in a cornering test with low understeer, and they easily recover from sideways slides. This truly helps when your car has to travel on slippery roads caused by snowstorms.
Using these tires, you won't have to worry about the noise since the tread pitch sequence of the tires has been optimized by computer. This advanced technology surely delivers the best quiet and comfortable rides.
Unfortunately, the product has a minus point due to its low performance in high-speed braking on dry roads. You can feel the tread blocks flex, leading to a slight brake lock up when doing an emergency brake. However, the outstanding benefits still make them worth the price.
For those above reasons, we highly recommend the Weather-Master S/T 2 for drivers who live in areas where severe weather conditions frequently happen with high snowfalls in a year.
Overall, its excellent handling and traction in snow, durability, and reasonable cost make this product stand out from the crowd on the winter tire market.
Competitors & Alternatives
| | |
| --- | --- |
| Uniformity Warranty: | First 2/32″ of wear |
| Workmanship & Materials Warranty: | 5 Years / Free replacement first year, 2/32″ or 25% of wear, then prorated until 2/32″ remaining depth |
| Manufacturer's Road Hazard Warranty: | None |
| Manufacturer Special Warranty: | 45 Day Road Test Guarantee (1) |
| Additional Information: | (1) Exchange for another Cooper brand tire |
| 14″ | | 15″ | |
| --- | --- | --- | --- |
| 175/65R14 | 195/70R14 | 185/60R15 | 205/75R15 |
| 185/65R14 | 195/75R14 | 185/65R15 | 215/60R15 |
| 185/70R14 | 205/70R14 | 195/55R15 | 215/65R15 |
| 185/75R14 | 205/75R14 | 195/60R15 | 215/70R15 |
| 195/60R14 | 215/70R14 | 195/65R15 | 215/75R15 |
| | | 205/60R15 | 225/70R15 |
| | | 205/65R15 | 225/75R15 |
| | | 205/70R15 | 235/75R15 |
| 16″ | | 17″ | |
| --- | --- | --- | --- |
| 205/55R16 | 215/65R16 | 215/55R17 | 225/55R17 |
| 205/60R16 | 225/50R16 | 215/60R17 | 225/60R17 |
| 205/65R16 | 225/60R16 | 215/65R17 | 225/65R17 |
| 215/55R16 | 235/60R16 | 225/45R17 | 235/55R17 |
| 215/60R16 | 235/65R16 | 225/50R17 | |
Weather-Master S/T 2 Ratings By Consumer