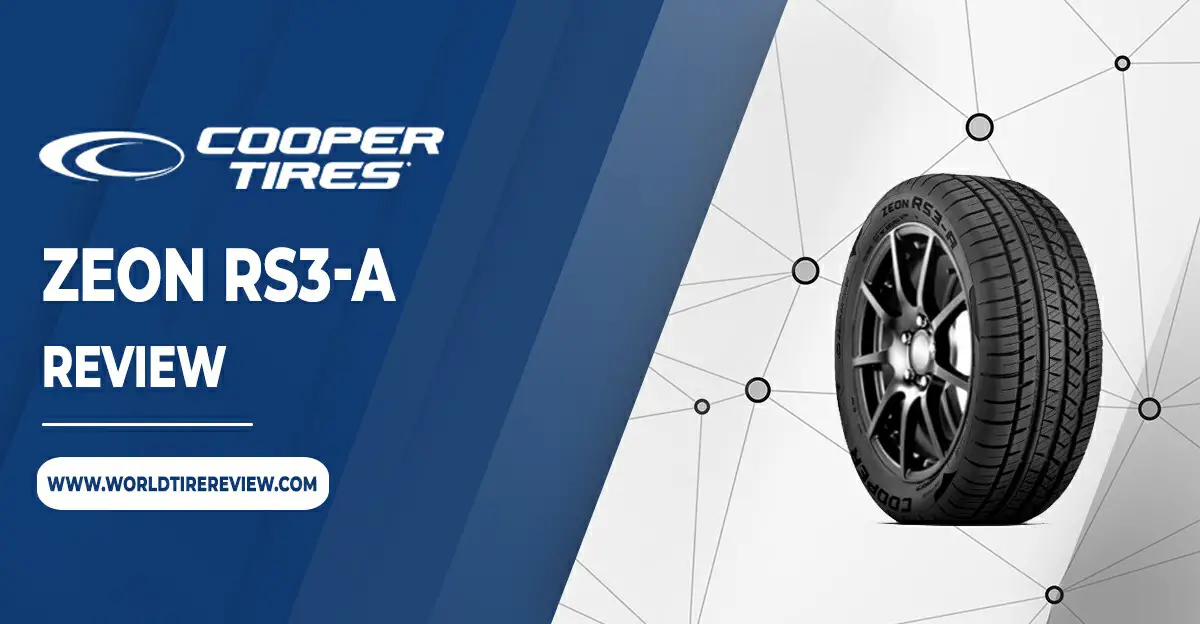 In this article, we will give you the Cooper Zeon RS3-A review. This model is a high-performance, all-season tire that comes from Cooper's performance class. The well-known manufacturer designs this tire to fit passenger cars.
Cooper has a history of over 100 years in the tire industry. It may not be the biggest name on the tire market. Yet, its products are comparable to those of Goodyear and Michelin while being more affordable. It is also known for providing an independent manufacturer, providing a wide variety of replacement tires.
Zeon RS3-A has an asymmetric tread pattern. Additionally, the molding profile with square tread allows for more tread-to-road contact. This attribute results in cross rotations. Thus heel-toe wear will be less of a concern.
The 3-D Micro-Gauge Siping provides for great handling and tire control and reduces potential stone retention. The increased biting edges also mean an improvement in wet or light snow traction.
Two wide circumferential grooves direct water away from the tire. This feature helps to increase hydroplane resistance while giving an increased steering response.
When it comes to the shoulder, the laterally oriented groove allows for even wear. The offset shoulder, together with joined larger tread elements, reduce outside road noise. The smoothness of the ride and the cornering stability is noticeably improved.
Last but not least, with silica tread compound, the tires can stand up pretty well on different weathered and seasoned road conditions.
Overall, Zeon RS3-A has an impressive UTQG grade: treadwear – 500, traction – AA, temperature – A.
Cooper Zeon RS3-A Review: Pros & Cons
Tire Drive Test
After using the Cooper Zeon RS3-A for six months now, putting on about 10,000 miles, we feel that it deserves all the praises that it receives.
With thick rubber on the outside shoulder and intermediate grip, the tires provide a very smooth and quiet drive. They have great corner grip too.
These types of tires provide effective savings if you live in a medium climate. Since they can perform in wet and dry conditions, they are fuel-efficient and offer better handling than strictly summer or winter tires.
It is rainy where we live, so we have especially focused on tires featuring good traction throughout the years. And the Cooper Zeon RS3-A does not disappoint.
We feel safe and comfortable driving and braking. We also heard from some friends that the tires are pretty decent performing in the snow. We are still waiting for the first snow to test them out.
However, if the weather where you live differs extremely between summer and winter, Cooper Zeon RS3-A is neither the best fitting for the warm season nor the cold one. In that case, summer or winter tires would give you better grip and handling.
We have also heard some complaints about uneven wear. Since we have not had the tires for long enough, we cannot review this aspect.
However, taking various factors into account, like affordable pricing, safe performance, fuel efficiency, and brand name, we'd say this UHP tire is worth the purchase. There are reasons why Cooper enjoys considerable popularity in North America, being among the top five brands by sales in the US.
Compared to other tire manufacturers, Cooper is a relatively new name. They only design and manufacture tires for passenger cars, trucks, and SUVs. Their limited selection of OEM tires means you may have to turn to higher-end models.
Hope you find this Cooper Zeon RS3-A Review, and good luck finding the right tire replacement.
Competitors & Alternatives
| | |
| --- | --- |
| Treadlife Warranty: | Unlimited Time / 40,000 miles  Half mileage for rear if different size than front  |
| Uniformity Warranty: | First 2/32″ of wear |
| Workmanship & Materials Warranty: | Unlimited Time / Free replacement first 2/32″ of wear, then prorated until 2/32″ remaining depth |
| Manufacturer's Road Hazard Warranty: | None |
| Manufacturer Special Warranty: | 45-Day Road Test (1) |
| Additional Information: | (1) Exchange for another Cooper brand tire |
Zeon RS3-A Warranty summary for replacement tires purchased on or after 01/01/19 – TireRack
| 16″ | | 17″ | |
| --- | --- | --- | --- |
| 205/55R16 | 225/55R16 | 205/40R17 | 235/45R17 |
| 215/55R16 | 245/50R16 | 205/45R17 | 235/50R17 |
| 225/50R16 | | 205/50R17 | 235/55R17 |
| | | 215/45R17 | 245/40R17 |
| | | 215/50R17 | 245/45R17 |
| | | 215/55R17 | 255/40R17 |
| | | 225/45R17 | 275/40R17 |
| | | 225/50R17 | |
| 18″ | | 19″ | |
| --- | --- | --- | --- |
| 215/45R18 | 245/40R18 | 245/40R19 | 255/40R19 |
| 225/40R18 | 245/45R18 | 255/35R19 | 275/40R19 |
| 225/45R18 | 245/55R18 | | |
| 225/50R18 | 255/35R18 | | |
| 235/40R18 | 255/45R18 | | |
| 235/50R18 | 275/35R18 | | |
Zeon RS3-A prices range approximately from $45.99 – $107.31 – TireBuyer
Goodyear Eagle Sport All Season
Michelin Pilot Sport AS 3
Michelin Pilot Sport All Season 4
Vredestein Quatrac Pro
Nokian WR G3
Falken Azenis PT722
Cooper Zeon RS3-A – Compare Prices
We found 4 online tire retailers selling Cooper Zeon RS3-A. Refer to the details below to get the best price:
Cooper Zeon RS3-A
PRICE
SOLD BY
 

Offers

$45.99

Offers

Offers
Zeon RS3-A Ratings By Consumer