It seems like everyone has been missing out on the importance of maintaining the correct tire pressure. However, by the time you finish reading this piece, hopefully you will have a better understanding of this matter!
Don't worry; We are here to help you catch up on the necessary information!
What Should Your Car Tire Pressure Be?
Tire air pressure is a vital factor affecting a tire's tread life, handling, and mileage. It's common to see air loss in tires. No matter how good yours are, the amount of air lost will be more or less depending on weather conditions. 
That's why you should check them regularly. If your tire is overinflated, it has little to no contact with the road, severely reducing friction and grip. But if the tire doesn't have enough air, it will not be able to cushion you for a very smooth ride, and subject the tire to all kinds of external forces.
Keep your eyes on the door edge, doorpost, fuel door, or glove box door. You may easily find a label inside which contains the company's suggestion about proper tire pressure. The label also includes guidelines for the front and rear tires and spare as well. Yet, what should your tire pressure be if there isn't a label at all? In this case, take a breath to prevent yourself from panicking. Open your owner's handbook, and you'll see every single specification you need to know.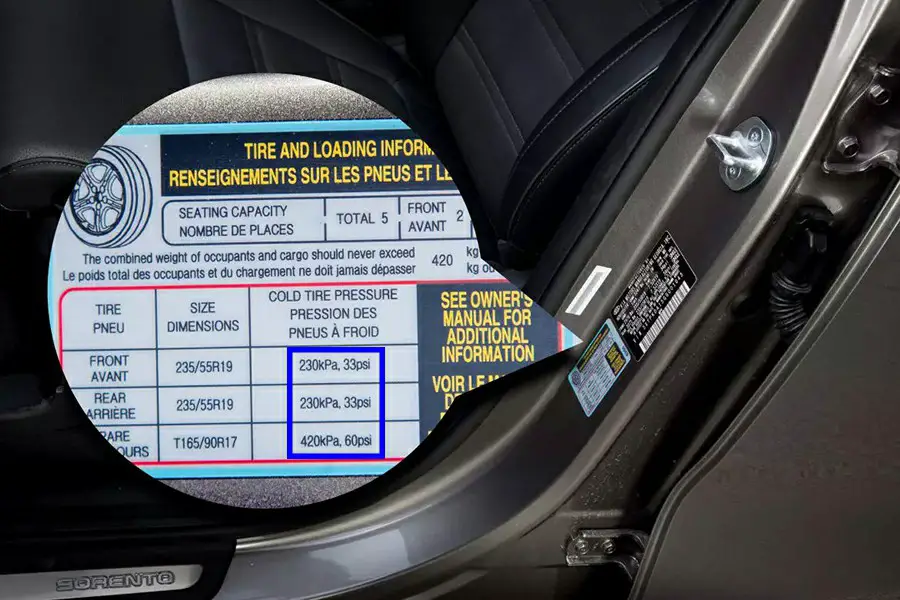 Air pressure in tires is measured in pounds per square inch, or PSI. Typically, the recommended pressure is between 30 and 35 PSI.
How Can I Check My Car's Tire Pressure?
There are two options for you to choose from: taking your car to the parts store, mechanics, or gas stations near your place and asking for help, or DIY.
In case you choose the latter, let's see all the steps needed to succeed. You must prepare some necessary items such as: a tire pressure gauge, air compressor, and a pair of pen and paper. 
See more: Tire pressure in winter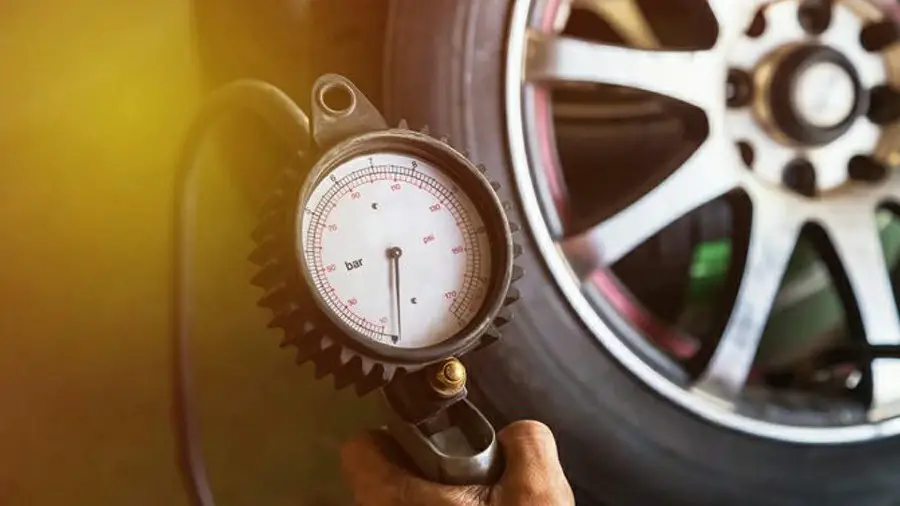 Once you're ready, you should choose a befitting time to conduct the test. Because the temperature can influence the tire a lot, the ideal time is when the tire is completely cold after being left overnight.
You can work with the tire pressure gauche quite easily. Remove the valve cover and push the gauge firmly against the piston rod until the gushing stops. Don't forget to keep reading the parameter while the tool is attached to the tire.
Soon it will be time for you to jot down every figure. So that later, you can have a doublecheck with the optimum PSI, measurement of tire pressure found inside the car door. It's almost done when coming to this stage: Use the air compressor to refill the tires till they reach the normal tire pressure. Afterward, the final thing to do is checking again with the gauche. Things could hardly go wrong with this simple test, right?
See more: Tire pressure in summer
How To Maintain The Proper Tire Pressure?
Learning the proper PSI for your tires is important. However, understanding how those numbers work is even better. More than simply pointing out the response to your inquiry, we can show you what you should do to maintain the right tire pressure!
Some experts advocate monitoring the air pressure every time you refuel at the gas station, while others might say once a month is adequate. Keep doing it whenever you can. The more frequently, the better quality you get!  
Please remember to pay more attention to colder seasons such as autumn and winter, as these weather conditions can likely make your tires lose more air than usual. For every degree Celsius drop, the tire loses 1 PSI, so use the average temperature in your area and make up the difference. Above is all the sharings about how to keep the correct tire pressure for your car. It would be an honor if our post could be a great help to you.