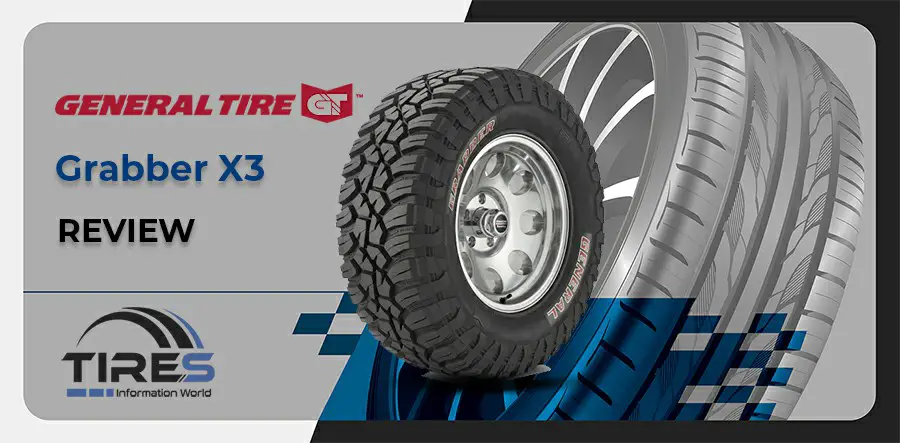 True off-road SUVs remain popular despite the flood of crossovers that have joined the market in recent years. Off-road driving enthusiasts appear to think the General Grabber X3 is worth purchasing. It's not an exaggeration to claim that it's currently one of the best off-road tires for hard-core SUVs and trucks.Let's dive into our detailed General Grabber X3 review now!
Overview
Before moving to the detailed review part, we will look at the manufacturer and some tire features. Keep reading!
The General Tire Company
Continental Tire North America, Inc. owns General Tire, located in Fort Mill, South Carolina. The company contributes to increased driving safety as a supplier of braking systems, off-road tires, technical elastomers, etc. The General Grabber is one of the most significant models in their lineup.
General Grabber X3 Features
Technologies
The two notable technologies this tire incorporates are:
DuraGen Technology: This technology brings cuts in the Grabber X3's tread, which provides the tire with a better grip on the road, ideal for driving on slippery roads.
Acoustic Technology: As the name implies, acoustic technology deals with noise reduction. It accomplishes this by modifying the tread's composition to reduce ear irritation.
On-road Design Features
The General equips their Grabber X3 with multiple impressive on-road design features, such as:
Siped Design: If you look attentively at the tread's border, you'll notice a few full-depth sides which assist in giving improved traction on icy or wet surfaces.
Multi-pitch Pattern: The Grabber X3 comes with a multi-pitch pattern that serves two purposes. First and foremost, it collaborates with Acoustic technology to reduce tire noise as it travels along the roadway. Moreover, it improves tire traction in off-road situations.
Aggressive Styling: Aggressive styling of a tire has little bearing on its performance. The Grabber X3, with its distinctive tread design and red sidewall lettering, does the same thing.
Off-road Design Features
A tire's off-road design features always pique the interest of car enthusiasts. In this section, the Grabber X3 will not let you down!
Open Tread Design: Brings the high grip in dirt, sand, mud, and gravel, as well as the ability to self-clean. 
Alternating Shoulder Scoops: These scoops expand up the tire's surface, which improves grip. It also allows breaking huge mud particles trapped inside the tire tread.
Block Chambers and Traction Notches: The two design characteristics help the X3 give superior grip and stability on loose terrain.
Stone Bumpers: Stone bumpers clear trash and stones from the inner side of the tire to reduce stone drilling and avoid tire puncturing.
Sidewall Protection Lugs: Boost the tire performance by offering outstanding adhesion, improving the X3's chip, and cut resistance.
Pros & Cons Of The General Grabber X3
Here is a quick rundown of this amazing tire's pros & cons:
Tire Drive Test: General Grabber X3 Review
To take a closer look at this model, we have decided to go for a test drive to turn insight into a true experience and gain credibility for this review. Three characteristics of the General Grabber X3 stood out from the test, being:  
Treadwear and Durability
The treadwear compensates for the tire's lack of technical features. We feel this tire has at least 5,000 miles left in it before it needs to be replaced, even after driving it across the country.
However, there was one aspect that didn't quite satisfy us. This model lacks the Visual Alignment Indicator (VAM) or Tread Wear Indicator (TWI) on most off-road General tires. It tells you when it's time to replace the tire. This drawback results in you having to rely on your decision-making ability to get a new tire.
Off-road Performance
The Grabber X3 takes center stage, with its primary focus on off-road traction and durability. As a specialist mud-terrain tire, it prioritizes performance in difficult off-road conditions. The 3-ply construction, tread blocks, and high void-tread pattern are all committed to conquering mud, dirt, and rough terrain.
Sidewall protection lugs and deflection ribs on the Grabber X3 provide more traction while protecting the sidewall from damage and punctures. When you look at the Grabber X3's design, you'll see that it's built for off-road dominance.
Competitors & Alternatives
| | |
| --- | --- |
| Treadlife Warranty: | None |
| Uniformity Warranty: | 1 Year / first 2/32″ of wear |
| Workmanship & Materials Warranty: | 6 Years / Free replacement first year or 2/32″ of wear, then prorated until 2/32″ remaining depth (1) |
| Manufacturer's Road Hazard Warranty: | None |
| Manufacturer Special Warranty: | 45-Day or 1st 2/32″ Customer Satisfaction Trial(2) |
| Additional Information: | (1) Repair voids warranty (2) Whichever comes 1st,purchase 4 exchange for another set of General. |
Warranty summary for replacement tires purchased on or after 01/01/18
| 15 | | 16 | |
| --- | --- | --- | --- |
| LT 31X10.50R15 | LT 33X12.50R15 | LT 265/75R16 | LT 315/75R16 |
| LT 33X10.50R15 | LT 35X12.50R15 | LT 285/75R16 | |
| 17 | | 18 | |
| --- | --- | --- | --- |
| LT 255/75R17 | LT 315/70R17 | LT 265/70R18 | LT 33X12.50R18 |
| LT 265/70R17 | LT 33X12.50R17 | LT 275/65R18 | LT 35X12.50R18 |
| LT 285/70R17 | LT 35X12.50R17 | LT 275/70R18 | LT 37X12.50R18 |
| LT 295/70R17 | LT 37X12.50R17 | LT 295/70R18 | |
| 20 | | | |
| --- | --- | --- | --- |
| LT 275/65R20 | LT 33X12.50R20 | | |
| LT 295/55R20 | LT 35X12.50R20 | | |
| LT 295/65R20 | LT 37X13.50R20 | | |
| LT 305/55R20 | | | |
Grabber X3 prices range approximately from $191.99 to $595.93 (Tire Rack)
BFGoodrich Mud-Terrain T/A KM3
Firestone Destination M/T2
BFGoodrich Mud-Terrain T/A KM2
Kumho Road Venture MT KL71
Goodyear Wrangler MT/R with Kevlar
General Grabber X3 – Compare Prices
We found 7 online tire retailers selling General Grabber X3. Refer to the details below to get the best price:
General Grabber X3
PRICE
SOLD BY
 

Offers

Offers

Offers

Offers

$199

Offers

Offers
Grabber X3 Ratings By Consumer