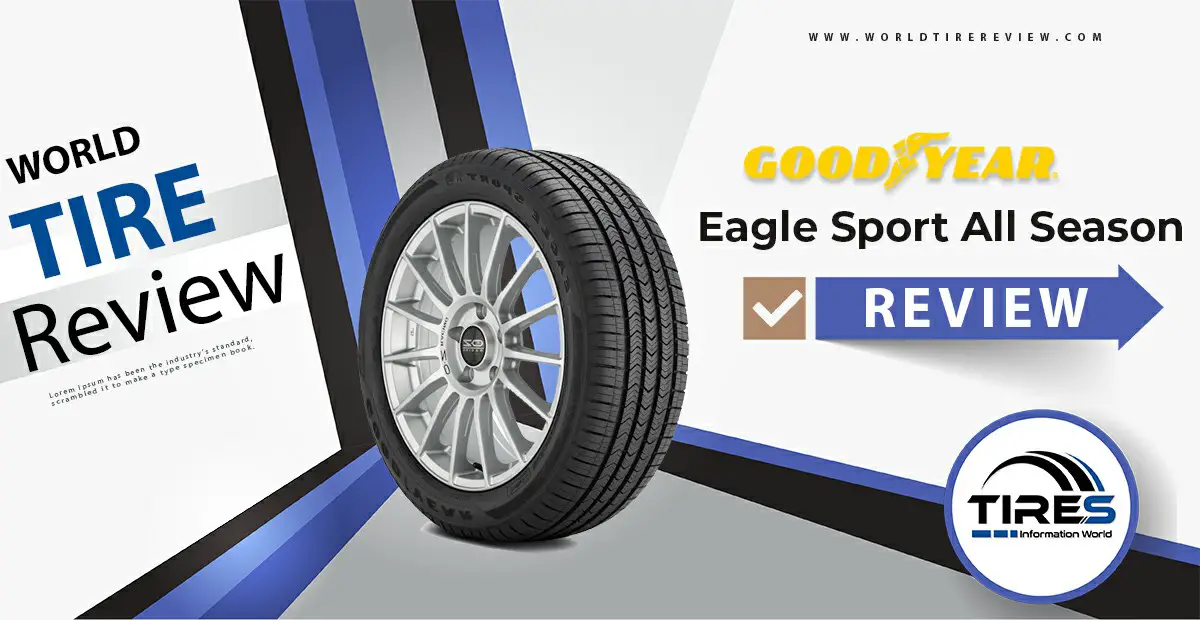 Goodyear has always been reputed as a reliable brand name in the universal tire market. What really put it on the map is its massive purchasing power and positive acknowledgment of enjoyable using trials. 
Today, one of its latest designs, Goodyear Eagle Sport All-Season, also known as a splendid heir to its popular former Eagle GT, is on the stage. 
Just have a glance at the consuming figures despite the time this tire was first accessible to the public, you will know why the Goodyear Eagle Sport All-Season has been figured out as a new phenomenon in the speed-aholics' community. 
But is it really flawless as it's supposed to be? Let's dive into our review.
Goodyear Eagle Sport All-Season Reviews
What makes it exceptional in its design is the asymmetric tread and groundbreaking tread compound. 
That is not simply the matter of appearance. This kind of design also offers astonishingly good dry and wet traction as well as enhances the performance of the car itself through its excellent cornering grip, especially in ice and snow. 
Another feature that should be put into consideration is responsive handling, adding in the ride quality, thanks to the asymmetric pattern.
Besides, the full-depth sipes are designed to support the tire, which enables the car to create impressive grips in case the tire is nearly attrited. That is counted as a plus in comparison with the last designs, since the tire's prolonged longevity really can save your budget! 
If you are confused about its protection, especially in the irritating weather, don't worry, the rim protector is available here to aid you in defending against unexpected obstacles on the road.
Tire Drive Test
As car lovers, we have no hesitation in seeking out an appropriate tire brand for our car. That's the reason why we chose the Goodyear Eagle Sport All-Season for trial when it first appeared to the public after weighing the pros and cons. 
Here is our own point of view, and maybe it is not as ideal as the introduction you read above. There is no denial that the car drives smoothly during dry and wet seasons. 
Different from the past brand in our tire lists, this tire performs nicely when it rains, which used to be a disaster for us to drive out. But most surprisingly, we were absolutely impressed by its balanced handling around corners. It makes us feel extremely relaxed and confident when driving. 
We think our ride quality has escalated remarkably after using it. About the treadlife, we have no definite conclusion because we have enjoyed it only for a short period of time and until now, it works quite well for us. 
However, maybe not to everyone, we find it challenging to start a journey by car in snowy weather. To tell the truth, it does not come up to our expectations, and the grip is quite terrible when it's snowy. 
To compare with the old tires, it merely makes no difference in winter traction, about which we are very disappointed. Furthermore, it makes annoying noises when we are about to speed up or brake. 
But we think it does not affect us much. If you would rather seek out advice from us whether to buy this tire or not, our answer is one-hundred-percent yes! 
Goodyear Eagle Sport All-Season is now in our preference list in spite of some existing drawbacks. For us, we still choose it for the next usage, simply because it suits us well. 
We think if you can receive a tire with such exceptional performance at an affordable price like this, why not give it a try? It is a real bargain, though. 
Yet, people who are searching for a tire for winter holidays or likely to be affected by irritable noises should consider carefully before making a purchase.
Competitors & Alternatives
| | |
| --- | --- |
| Treadlife Warranty: | 6 Years / 50,000 Miles  Half mileage for rear if different size than front  |
| Uniformity Warranty: | 1 Year / first 2/32″ wear |
| Workmanship & Materials Warranty: | 6 Years / Free replacement first year or 2/32″ of wear, then prorated until 2/32″ remaining depth |
| Manufacturer's Road Hazard Warranty: | None |
| Manufacturer Special Warranty: | 30 Day Test Drive (1) |
| Additional Information: | (1) Exchange for a different Goodyear brand tire |
Eagle Sport All Season warranty summary for replacement tires purchased on or after 04/01/19 at Tire Rack
| 15″ | | 16″ | |
| --- | --- | --- | --- |
| 195/55R15 | 195/65R15 | 195/55R16 | 215/60R16 |
| 195/60R15 | | 205/50R16 | 225/50R16 |
| | | 205/55R16 | 225/55R16 |
| | | 205/60R16 | 225/60R16 |
| | | 215/55R16 | |
| 17″ | | 18″ | |
| --- | --- | --- | --- |
| 205/45R17 | 225/55R17 | 215/45R18 | 235/60R18 |
| 205/50R17 | 235/45R17 | 225/40R18 | 245/40R18 |
| 215/45R17 | 235/50R17 | 225/45R18 | 245/45R18 |
| 215/50R17 | 235/55R17 | 225/55R18 | 245/50R18 |
| 215/55R17 | 245/40R17 | 225/60R18 | 255/35R18 |
| 225/45R17 | 245/45R17 | 235/40R18 | 255/40R18 |
| 225/50R17 | 255/40R17 | 235/45R18 | 255/55R18 |
| | | 235/50R18 | 255/60R18 |
| | | 235/55R18 | 265/45R18 |
| 19″ | | 20″ | |
| --- | --- | --- | --- |
| 235/50R19 | 255/45R19 | 235/55R20 | 255/50R20 |
| 245/40R19 | 255/50R19 | 245/35R20 | 255/55R20 |
| 245/55R19 | 255/60R19 | 245/45R20 | 265/40R20 |
| 255/35R19 | 265/50R19 | 245/50R20 | 275/40R20 |
| | | 255/35R20 | 275/55R20 |
| | | 255/45R20 | |
Eagle Sport All Season prices range approximately from $137.71 to $339.99 – Tire Rack
Michelin Pilot Sport AS 3
Michelin Pilot Sport All Season 4
Vredestein Quatrac Pro
Nokian WR G3 – 80
Falken Azenis PT722
Goodyear Hydragrip
Goodyear Eagle Sport All Season – Compare Prices
We found 5 online tire retailers selling Goodyear Eagle Sport All Season. Refer to the details below to get the best price:
Goodyear Eagle Sport All Season
PRICE
SOLD BY
 

Offers

$86.96

Offers

$88.61

Offers
Eagle Sport All-Season Ratings By Consumer