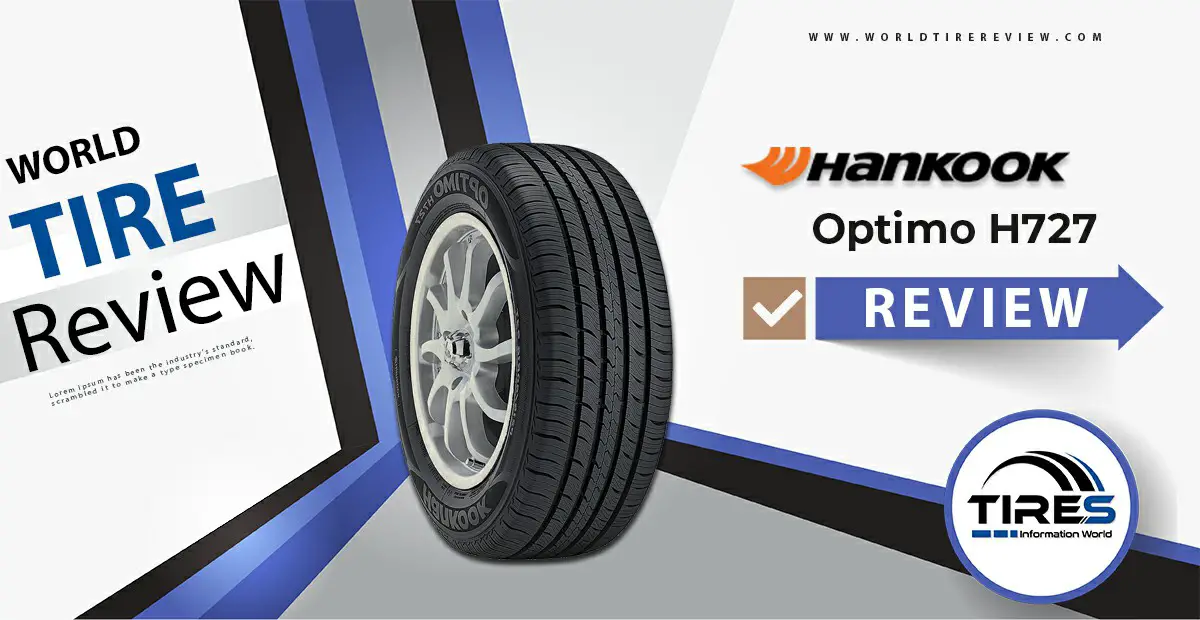 Hankook is among the largest tire manufacturers worldwide, with up to $6 billion in revenue every fiscal year. Among its product line, Hankook Optimo H727 is the go-to option for drivers these days because of its charm, durability, and flexibility. In this Hankook Optimo H727 review, we will analyze the characteristics of this tire to help you decide whether it is a great fit for your car.
The Hankook Optimo H727 is specifically developed for coupes, sedans, minivans, and crossovers. This tire has been a solid choice among drivers of these vehicles since its debut, thanks to its quiet ride and long tread life.
Hankook uses shining copper to make the bead, which bends gracefully to embrace the wheel inside. The sidewall is slightly flatter and broader than other tires on the market, giving Optimo H727 some space to print the logo of Hankook and the product line's name in a fashionable font. 
Not only giving your car a classy look, but it also brings you a nice driving experience on the road. Hankook uses special Carbon Compounding Technology and Footprint Shape Optimization to make the tread, which offers a longer tread lifespan, quieter, and a smoother ride. 
At the center of the tire locates two extra-wide belts composed of high-tensile steel and a nylon cap which enhances durability and handling. 
There are hundreds of distinct sipes and four circumferential grooves in the tread, making driving on snowy, wet, and even ice-covered roads safer. We have tested, and surprisingly, the Hankook Optimo H727 tire can rock up to 6 inches of snow easily. 
Tapered lateral slots and continuous center rib increase feeling while driving and improve cornering and steering responses. You can confidently drive in any weather with these features of Hankook Optimo H727. 
Last but not least, Hankook offers a 100,000-mile tread life warranty for the tire, making it one of the most comprehensive warranties available these days.
Hankook Optimo H727 Review: Pros & Cons
Tire Drive Test
Hankook Optimo H727 has many amazing features that can satisfy the need for your car to look cool and perform well at the same time. 
Thanks to its solid performance in all weather conditions, classy appearance, and smooth driving experience, it is easy to see why Optimo H727 has been one of Hankook's most popular models in their lineup.
Traction on the road is good all year round, with only heavy winter weather posing a problem. The ride is comfortable, as one would anticipate from a tire of this type. The tread life is also adequate, according to our experience with this tire. 
Hankook Optimo H727 is suitable for drivers with families and usually drive their kids around or on road trips. It can be called the family tire because you know it will protect your family well when being on the go. The tire ensures your beloved ones' safety, especially under bad weather conditions. 
Hankook has created a winning tire when you consider the exclusive deal of a 100,000-mile warranty.
Competitors & Alternatives
| | |
| --- | --- |
| Treadlife Warranty: | 6 Years / 100,000 miles  Half mileage front and rear if different sizes |
| Uniformity Warranty: | 1 Year / first 2/32″ of wear |
| Workmanship & Materials Warranty: | 6 Years / Free replacement first year or 2/32″ of wear, then prorated until 2/32″ remaining depth |
| Manufacturer's Road Hazard Warranty: | None |
| Manufacturer Special Warranty: | None |
| Additional Information: | None |
| 14″ | | 15″ | |
| --- | --- | --- | --- |
| P 185/65R14 | | P 185/60R15 | P 205/70R15 |
| | | P 195/60R15 | 215/60R15 |
| | | P 195/65R15 | P 215/70R15 |
| | | P 205/65R15 | P 235/75R15 |
| 16″ | | 17″ | |
| --- | --- | --- | --- |
| P 205/55R16 | P 225/60R16 | P 215/60R17 | P 225/60R17 |
| P 205/60R16 | 225/65R16 | P 215/65R17 | P 225/65R17 |
| P 205/65R16 | P 235/60R16 | P 225/55R17 | P 235/60R17 |
| P 215/60R16 | P 235/65R16 | | |
| P 215/65R16 | | | |
| 18″ | | " | |
| --- | --- | --- | --- |
| P 215/55R18 | P 225/55R18 | | |
| P 225/50R18 | | | |
Optimo H727 prices range approximately from $112.24 and up
Hankook Optimo H727 – Compare Prices
We found 1 online tire retailers selling Hankook Optimo H727. Refer to the details below to get the best price:
Hankook Optimo H727
PRICE
SOLD BY
 

Offers
Optimo H727 Ratings By Consumer