If you are a car owner or simply a person with a passion for four-wheel engines, you must have heard the name Mastercraft once. As a well-known tire brand in the SUV and small sports segment, this is the favorite choice of many people.So what makes it stand out from other competitors?
About Mastercraft Tire 
Overview
Established in 1909, Mastercraft is a subsidiary of the famous Cooper Tire & Rubber Corporation, with its headquarters located in Ohio, USA.
After more than a hundred years of construction and growth, it has become one of the world's leading tire manufacturing companies. The company owns many production plants located in various places, such as three states: the US, UK, Serbia, and China.
This brand focuses mainly on small trucks, passenger cars, small sport utility vehicles, light trucks, and crossovers. This is the home of familiar names like Courser AXT2, Stratus A/S, Courser MXT, HSX Tour, AXT2, etc.
With smart design and outstanding quality, the products of this brand have successfully built the trust of customers. By then, it is always the top choice of drivers.
Mastercraft Tires Competitiveness
As a veteran in automobile tire production, this brand owns an excellent team of engineers and technicians. Along with that are modern technologies, machines, and production lines. These contribute significantly to improving the quality of the product.
Its products are all durable, and its performance is at an ideal level. Rubber has an optimal void ratio, good traction, and anti-slip properties in many different conditions such as rain and snow.
In addition, states such as tread, traction, treadwear, speed rating, and braking meet high-quality standards to ensure safety. Its products move smoothly so that you won't worry about noise problems.
Its fuel consumption is also low thanks to soft, lightweight, and durable materials, which help reduce air resistance when traveling. Thus, helping the car save a significant amount of fuel and limit vibrations when driving, creating comfort for users.
Pros & Cons
Mastercraft's Most Popular Tire Models
let's look at some of the brand's hottest tires right now. Does it live up to expectations?
Mastercraft Stratus A/S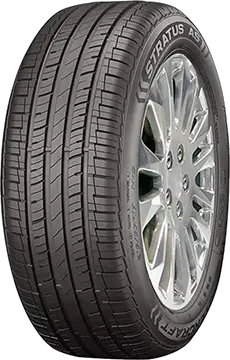 Specifications

Brand: Mastercraft
Model: Stratus A/S
Weight: 20 – 30 lbs
Available sizes: 15″, 16″, 17″, 18″, 20″

Ratings
This is a product suitable for drivers who own midsize sedans, compact cars, small crossovers, or subcompacts.
The combination of strong grip and tread gives it good adhesion on many types of terrain. Thanks to the large circumference grooves, this product drains water quite well and quickly, helping to ensure the safety of drivers when driving on wet roads.
A plus for this version is that it's pretty quiet. When traveling at low speed, you almost don't hear any noise until you accelerate. However, these noises are not too loud.
Besides, its design also helps to absorb shock effectively. When the car rolls over the small spots on the road, the movement is very small, so sometimes you will not feel it. It only becomes stronger at potholes or some irregularities on the road.
Regarding other indicators such as M + S, temperature, speed rating, braking, and fuel, this version also shows its advantages compared to many other cheap models.
Mastercraft Courser MXT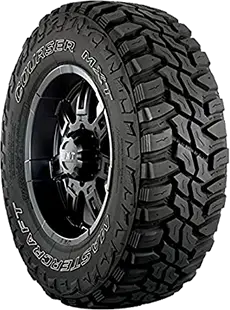 Specifications

Brand: Mastercraft
Model: Stratus A/S
Weight: 70 – 80 lbs
Available sizes: 15″, 16″, 17″, 18″, 20″

Ratings
Following the article, we will move to the Courser MXT template. This is a line of car tires researched and manufactured on modern technological lines to bring the best quality products to consumers.
As a product in the mid-priced segment, MXT sells well in many markets. These branded tire models all possess outstanding features such as good performance and perfect traction under all weather conditions.
In addition, the comfort level also helps the car to move smoothly, especially for long journeys.
Mastercraft Courser HSX Tour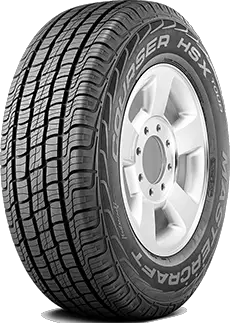 Specifications

Band: Mastercraft
Model: Courser HSX
Weight: 28 – 41 lbs
Available sizes: 20", 18", 17", 16", 15"

Ratings
It would be a mistake not to have the Courser HSX Tour. Thanks to many modern features and high durability, this version is favored by many car owners.
Like its brothers, it is the product of modern tire manufacturing technologies, such as increasing the stiffness of the spike block to optimize durability. It also helps limit tire wear while preserving the necessary traction.
Besides, the technology helps to increase grip better, increase tire usage time, and is suitable for many types of terrain. The only minus point of this version is quite loud noise.
Mastercraft Courser AXT2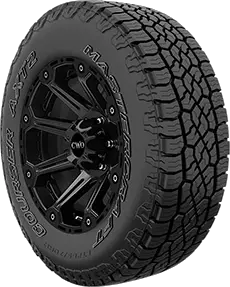 Specifications

Brand: Mastercraft
Model: Courser AXT2
Weight: 35 – 45 lbs
Available sizes: 15, 16", 17", 18", 20"

Ratings
The next representative in the Mastercraft tire review is Courser AXT2. This version is ideal for SUVs, 4×4 vehicles, pickup trucks, etc. Outstanding design from sturdy, durable silica material; Powerful with 5-rib tread. The 12% thicker groove density on the sides helps it grip the road better.
The grooves are deep and staggered so that you can move on snow and mud more easily. Although there is a slight limitation in traction on rough roads and inclement weather, it still does well in the rest of the conditions.
The Courser AXT2's noise can also be loud, but it's not too much of a problem. The AXT2 does a pretty good job of damping when you're driving through bumps in terms of comfort.
That doesn't mean it can keep you away from all the little vibrations, but it's not too much of a hassle. Overall, this product has everything you need from a small tire.
Cooper Weather-Master S/T 2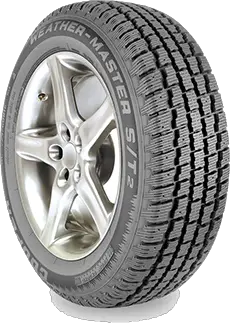 Specifications

Brand: Mastercraft
Model: Weather-Master S/T 2
Weight: 17 – 24 lbs
Available sizes: 13", 14", 15", 16", 17", 18"

Ratings

No rating yet
It features a unique tread groove structure, which helps the car have good traction in all weather; whether it's dry or wet, the tire's grip does not decrease.
This type of tire is suitable for traveling in winter, on heavy snow roads, or when it rains. In terms of noise level, it is quite smooth and does not cause much discomfort to the user.
Cost of Mastercraft Tires  
In SUVs and small sports cars, these products have mid-range prices. It costs more than budget brands but is more economical than big names like Michelin, Goodyear, or Bridgestone.
Depending on the model, the selling price varies; the price of a tire ranges from 70 to 120 dollars. Thus, on average, you will have to pay about 300 – 500 dollars for four wheels.
However, let's try a simple comparison like this. Cheap tires are often of poor quality and only warranties up to 45,000 miles (or not). Meanwhile, it comes from a famous brand with guaranteed quality and a warranty period of 80,000 miles.
So, even if the price is slightly higher, it is still a good choice.
Why Choose Mastercraft Tires?  
Superior Design
As analyzed above, most versions of this brand possess great features and ideal specifications. This not only helps users to drive safely but also provides a comfortable experience.
Warranty
Instead of a short warranty like cheap products, Mastercraft's warranty shows the manufacturer's dedication. The warranty period of up to 80,000-mile helps buyers feel more secure when deciding.
Brand Reputation
As a brand with over a hundred years of history, quality has always been a priority for this brand. Its products have won the trust of many generations of customers.
Mastercraft Tires review by consumer
Positive Experiences with Mastercraft Tires
"I just got them on my Toyota Corolla LE and they give me a wonderful very steady ride! I would highly recommend them to anyone looking for a great, reliable set of tires for a Fantastic price!"

David R Marco via Simple Tire
Negative Experiences with Kelly Tires
"This thing is not good in rain after one season in Portland. Spins like crazy. Also got many flats though who knows. I wouldn't buy it again."

Evan Myers at Simple Tire
FAQs:
Are Mastercraft Tires Good?
Yes. With a special design, it has a good grip on the road, reduces friction, helps the cargo quickly, and is suitable for many different types of terrain. Its quality has conquered a large number of consumers.
Who Makes Mastercraft Tires?
It has been a product of a famous car tire company in the US, Cooper Tire & Rubber, since 1909.
Are Mastercraft Tires Made In China?
This brand has many factories located in many countries worldwide, and China is one of them. Not all of its products come from here.
How Many Miles Are Mastercraft Tires Good For?
About 50,000 miles.
Conclusion 
Above is information about Mastercraft tires. With improved design and quality, this brand has a special place in the heart of car lovers. If you're looking for a new tire for your four-wheeled friend, this will be an option worth considering.
Please like and share if this article was useful to you. Thanks for reading.