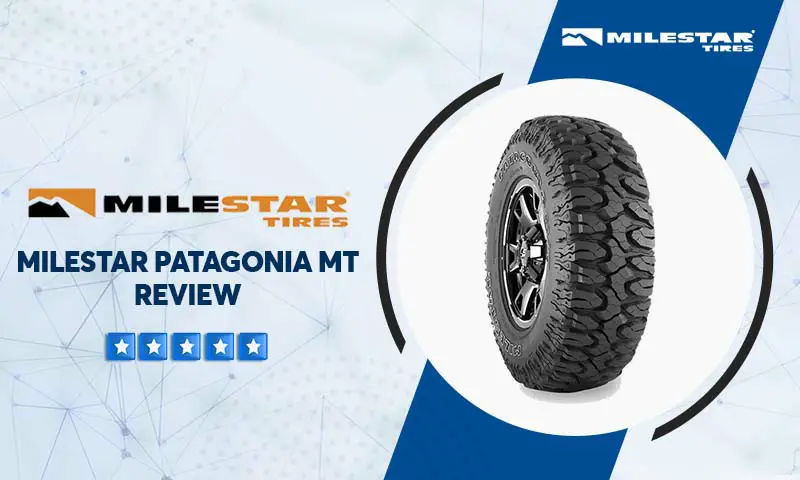 Before going into the detailed Milestar Patagonia MT about its features, let's explore some information about this brand.
About Milestar Patagonia MT
Born in 2006, Milerstar is a famous product line of Nankang Rubber Tire Corporation and TIRECO with headquarters in California. Up to now, it has built a distribution network worldwide.
Their tires are always diverse in types and provide outstanding performance during use. This brand's product sells very well and has an open market, especially the Milestar Patagonia MT. 
Thus, it is the ideal choice for trucks, heavy-duty vehicles, CUVs, etc., to ensure the trip's safety.
Features:
Tread
This tire type comes with a continuous center-tread lug pattern, providing constant contact. Thus, it significantly improves the vehicle's overall handling, providing the driver with ultimate control. 
Moreover, the staggered off-center tread blocks and ribs have a wide circumference to increase traction and on-road stability. The driver will have stable steering feel no matter what surface he is driving on.
Off-Road
This model has ideal stiffness and durability against surfaces such as mud, sand, dirt, deep rock, gravel, etc. 
The arrangement of staggered spikes helps increase traction, especially when traveling on rough terrain. Its 3-layer sidewalls have effective impact resistance and help with cornering.
Dry 
The tread is staggered with many grooves to improve handling performance and better dry grip. The width of the shoulder block also helps increase performance when cornering.
Wet 
Because there are many grooves on the tire surface, it is better anti-slip. The gaps between the grooves also help water drain away from its surface more quickly. This helps increase the ability to stick between the road surface and the tire.
Snow 
Traction performance in snow conditions is pretty excellent. The staggered spike blocks and deep grooves help provide good traction when driving in the snow. These products also meet the minimum requirements when traveling on muddy or snow-covered roads.
Noise Level And Comfort
Another must-mentioned feature in this Milestar Patagonia MT is the noise level. This tire has quiet and smooth performance. Thanks to the continuous center-tread lug pattern, it can constantly contact the road, reducing much noise as possible.
The spike blocks in the tire surface center have better stability and less vibration when traveling on the road.
Pros & Cons
Personal Opinion
The information above will not carry much weight if you do not try and feel the features of this model. Therefore, from the perspective of a group of tire lovers, we have had several driving experiences with this product, and here are our subjective assessments:
At first, we drove it on the road in front of the house and on the suburbs' gravel roads. That is a plus point about the controllability of this Patagonia MT line. It grips the road very well, giving me more peace of mind while driving.
Next, I tried driving in various conditions, such as rain and dry weather. I also don't expect much because driving in the rain is difficult, but this worry is unnecessary. It is still moving steadily. 
It has excellent braking on wet roads, probably due to the benefit of the staggered tracks. It's a pity that I haven't had a chance to test its power in the snow yet.
In terms of comfort, it is quite smooth when moving sometimes, there is still a slight vibration, but it is acceptable. The noise is not too loud, but it's probably still a small note for those who are sensitive to sound.
So is it worth the investment?
After all, we still appreciate the manufacturer's designs and improvements for this model. If you do not need to pursue high-end products, this is a good choice to experience. In addition, it is also suitable for ordinary customers.
Conclusion 
Above is the features and some sharing about our experience with the Milestar tire model. Tires are the only part in direct contact with the road surface and are also the most susceptible to wear. Therefore, you need to consider carefully before deciding which type to use.
Hope the information will be useful to you. Thanks for reading.
Competitors & Alternatives
| | |
| --- | --- |
| Treadlife Warranty: | None |
| Uniformity Warranty: | 3/32″ of wear (Discount Tire) |
| Manufacturer's Road Hazard Warranty: | None |
| 15 | | 16 | |
| --- | --- | --- | --- |
| 31X10.50R15LT | 35X12.50R15LT | LT265/75R16 (32X10.50R16LT) | LT305/70R16 (33X12.50R16LT) |
| 33X12.50R15LT | | LT285/75R16 (33X11.50R16LT) | LT315/75R16 (35X12.50R16LT) |
| 17 | | 18 | |
| --- | --- | --- | --- |
| 33X12.50R17LT | LT265/70R17 (32X10.50R17LT) | 33X12.50R18LT | LT275/70R18 (33X11.00R18LT) |
| 37X12.50R17LT | LT285/70R17 (33X11.50R17LT) | 35X12.50R18LT | LT285/65R18 (33X11.50R18LT) |
| 38X13.50R17LT | LT295/70R17 (34X12.00R17LT) | LT275/65R18 (32X11.00R18LT) | |
| 40X13.50R17LT | LT315/70R17 (35X12.50R17LT) | | |
| 20 | | 22 | |
| --- | --- | --- | --- |
| 35X12.50R20LT | LT275/65R20 (34X11.00R20LT) | 33X12.50R22LT | 37X13.50R22LT |
| 37X12.50R20LT | LT285/55R20 (33X11.50R20LT) | 35X12.50R22LT | |
| 37X13.50R20LT | LT295/60R20 (34X12.00R20LT) | | |
| 38X15.50R20LT | LT305/55R20 (33X12.50R20LT) | | |
Patagonia MT prices range approximately from $168.00 to $429.00 (Discount Tire)
prices range approximately from
Milestar MS932 Sport – Compare Prices
We found 4 online tire retailers selling Milestar MS932 Sport. Refer to the details below to get the best price
Milestar MS932 Sport
PRICE
SOLD BY

Offers

Offers

Offers

Offers