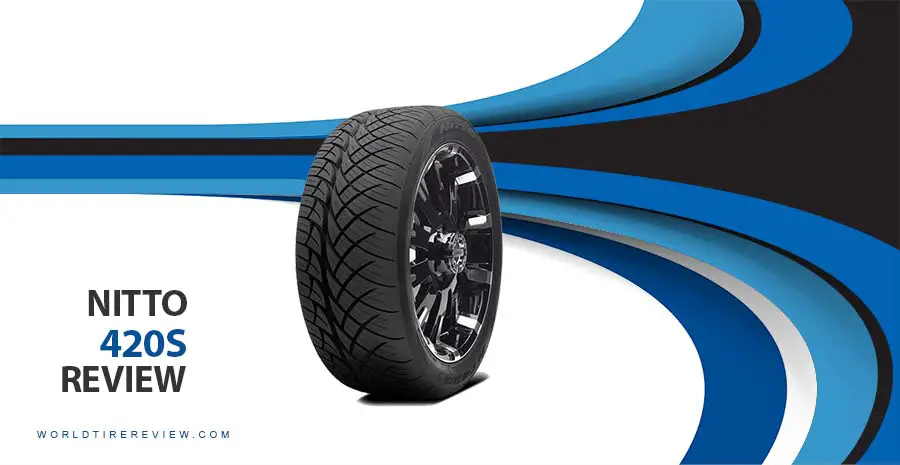 Introduction 
About Nitto
Nitto Tire is a branch of the Toyo Tire & Rubber Co., Ltd., founded in 1949. Then in the 1980s, they began manufacturing tires for the U.S market. 
Nitto products' design results from cutting-edge research, meticulous production, and stringent testing, enabling the company to manufacture first-rate tires with long tread life and enhanced traction to satisfy driver experiences.
Features
Design
The product features an asymmetrical tread pattern and a silica-enhanced tread compound. This design creates two separate zones for handling damp and waterless roads and allows diagonal rotation to extend tread life with an eye-catching design. 
The Nitto NT 420S has a large outer shoulder ball that enhances dry road grip and cornering performance. Moreover, there are spiral-wound nylon-reinforced twin steel belts inside the tire to add more strength and durability.
Performance
The Nitto 420S could be the tire for you if you're seeking an excellent-performance tire for your sports vehicle or SUV. 
The special swoosh-groove tread evacuates water away to reduce the risks of hydroplaning, which provides a combination of traction and good corner grip for extended life. This way, 420S can perform well in both wet and dry weather. 
Tread pattern layout has lessened the noise of tire operation to bring drivers a comfortable ride than ever. Yet, you might remember that when the tires wear out, the quality isn't that good when the tires wear out. So, you will suffer from a higher noise level.
Nitto 420S reviews: Pros & Cons
Despite being a good product with many positive customer evaluations, the NT 420s nevertheless has the following pros and weaknesses:
Nitto 420S: Drive Test
As a tire enthusiast who has driven many vehicles with different tires, we wanted to share our thoughts on tires and why we chose them as follows:
Feature analysis
For an overview, the Nitto 420S can be one of the top choices for a set of the high-quality street and highway tires for our SUV or pickup lorry. Grip and high-efficiency with these tires are unsurpassed, bringing the instantaneous and precise steering response. 
At any speed, you can control. Aside from that, ride comfort for a tire of this type is above average compared to others in the same price segment.
This tire, made with an anti-wear compound and a silica-reinforced tread, has a long tread life. Although we haven't used it for long enough, other drivers who have gone 50000–60000 miles on it agree to this.
There are also available in H and V speed ratings. Depending on the needs, drivers can choose the best suitable one for their vehicles. Overall, the NT 420s are good for larger wheel attachments if you need a UHP tire.
In addition to its fantastic features, some people have complained about a little noise when the tires are worn, but this is not a major issue. 
Although this product line can handle wet and light snow conditions well, we haven't had a good experience using it on deep snow. It's a bit challenging to keep pace and stability. Thus, if you live in a country with harsh winter, this one isn't an ideal option.
Why do you choose this tire?
Reduce tire noise due to improved tread pattern layout.
Advanced double layer with polyester shell design provides outstanding handling and stability while reducing external shoulder wear.
Tread grooves provide biting edges for traction in damp circumstances.
Long life with excellent grip thanks to an anti-wear compound and a silica-reinforced tread.
Spikes with a high void ratio are waterproof.
Large blocks on the outside tread provide exceptional dry cornering performance while abrasion resistance on the outer shoulder.
It helps to protect the rims from damage.
Conclusion
If you are bewildered when shopping for tires, this Nitto 420s Review has provided you with an affordable option while still ensuring good quality. 
Although this product line is not the best one, it's worth your consideration if you live in a country without heavy snow.
Competitors & Alternatives
| | |
| --- | --- |
| Treadlife Warranty: | None |
| Uniformity Warranty: | 3/32″ of wear |
| Manufacturer's Road Hazard Warranty: | None |
| 17 | | 18 | |
| --- | --- | --- | --- |
| 275/60R17 | | 235/55R18 | 255/55R18 |
| | | 255/50R18 | |
| 19 | | 20 | |
| --- | --- | --- | --- |
| 255/50R19 | 275/45R19 | 245/45R20 | 275/55R20 |
| 255/55R19 | 275/55R19 | 255/40R20 | 285/40R20 |
| | | 255/45R20 | 285/50R20 |
| | | 255/50R20 | 305/50R20 |
| | | 265/50R20 | |
| 22 | | 23 | |
| --- | --- | --- | --- |
| 265/35R22 | 285/40R22 | 305/40R23 | |
| 265/40R22 | 285/45R22 | | |
| 275/40R22 | 295/30R22 | | |
| 275/45R22 | 305/40R22 | | |
| 285/35R22 | 305/45R22 | | |
| 24 | | 26 | |
| --- | --- | --- | --- |
| 285/30R24 | 305/35R24 | 305/30R26 | |
| | 315/35R24 | | |
Nitto 420s prices range approximately from $784 to $1,028 for a set
Nitto 420S – Compare Prices
We found 1 online tire retailers selling Nitto 420S. Refer to the details below to get the best price
Nitto 420S
PRICE
SOLD BY

Offers



420S Ratings By Consumer