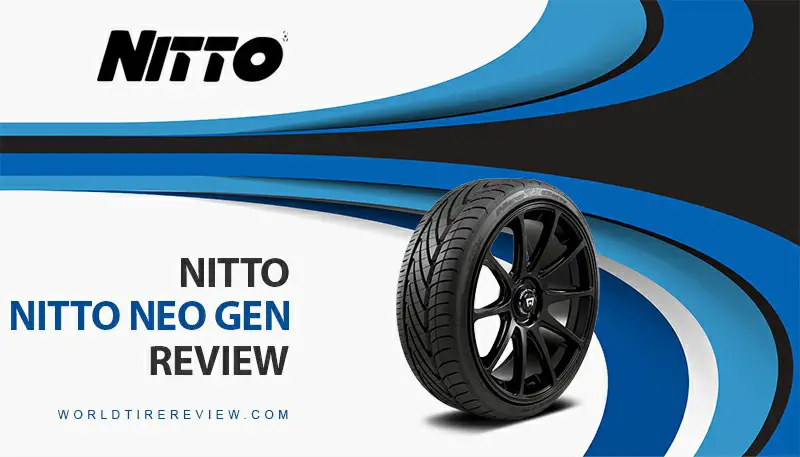 If you are a driver who is interested in vehicles, I bet you have heard of the Nitto brand once. This company is owned by Toyo Tire, the headquarter based in Japan. As a branch of Toyo Tire & Rubber Cop, Nitto makes tires for the North-American market. Today, we will give you an overview of one popular kind of tire from this brand – Nitto Neo Gen.
Nitto Neo Gen review: Design & Features
Design & Technology
It's evident that Nitto Neo Gen has an aesthetically cool look with three-dimensional tread blocks, which is a trademark of the brand. Besides, those little 3D Multi Wave sipes from left to right will increase your traction for dry and wet conditions but still maintain a comfortable ride.
Wet traction 
There are big, thick two ridges at the center of the grip going all the way down the big sipes. Those will help evacuate the water from the face of the tread.
The Nitto comes with deeper circumferential grooves to provide the slanted 3D blocks. This will ensure that the tire can resist hydroplaning when traveling on a wet road or highway.
Reduced wear
The inner shoulder is created from a single, continuous block, which explains why Nitto Neo Gen is considered a wise choice for lowered vehicles. Moreover, this feature maintains stability and works excellent with higher degrees of negative camber to decrease flex. 
Strengthened cornering
On the opposite, the larger outside patch is engineered to increase the surface contact of the tire. It will improve traction and enhance outstanding performance while turning as well. Therefore, this could increase the agility and steering feel for customers. 
Size & Price
The other killer thing about this tire is you have many sizes from 15 to 22-inch applications. The price point is probably moderate and economical too.
As the company proclaimed, the Nitto Neo Gen tire is estimated to be of good quality with Treadwear: 280, traction ranked AA, and temperature ranked A.
Pros & Cons
See more: Nitto Crosstek 2 Review
Nitto Neo Gen Test Drive
When it comes to our experience of Nitto tire, we both feel aggressive when turning and docile while driving straight. This tire provides exemplary performance in wet pavement, even in freezing temperatures, but falls short a little in dry conditions.
In the dry, although looking extreme, the Nitto Neo Gen tire can handle some high-speed driving but is not good at stability and handling in point-and-shoot driving. However, it's still acceptable in almost lowered American, Japanese, and European cars.
Comfort and noise, which are not the merits of this tire, still provide acceptable comfort levels with lower road noise. To be honest, the tire is OK if you compare it to other cars in the same class, not with the newer generation one. Especially when speaking of well-priced, Neo Gen tires are the real deal, so you should try this one as soon as possible!
Conclusion
On the whole, with the high rate, aggressive design, superior features at an affordable price range, Nitto has done an excellent job with this tire. We hope that our review post today could give you enough information to make up your mind.
Competitors & Alternatives
There is no mileage treadlife warranty on this model. There is a 6-months or first 2/32 inch of wear guarantee on the tire's uniformity.
Materials and workmanship are warranted for 6 years and include free tire replacement during the first year or the first 2/32 inch of wear. A prorated amount is given for the remaining time period or down to the final 2/32 inch of tread depth.
| 15″ | | 16″ | |
| --- | --- | --- | --- |
| 205/50R15 | | 205/40R16 | 205/50R16 |
| | | 205/45R16 | |
| 17″ | | 18″ | |
| --- | --- | --- | --- |
| 205/40ZR17 | 215/45R17 | 205/40ZR18 | 235/40ZR18 |
| 205/45ZR17 | 225/45ZR17 | 215/35ZR18 | 245/40ZR18 |
| 215/40ZR17 | 225/50ZR17 | 215/40ZR18 | 275/40ZR18 |
| | 235/50ZR17 | 225/40ZR18 | |
| 19″ | 20″ | | 22″ |
| --- | --- | --- | --- |
| 215/35ZR19 | 225/30ZR20 | 245/30ZR20 | 235/30ZR22 |
| 245/35ZR19 | 225/35ZR20 | 305/25ZR20 | |
| 275/35R19 | 235/30ZR20 | | |
| | | | |
Neo Gen prices range from approximately $94.00 – $342.00 – Tirebuyer
Goodyear Eagle Sport All Season
Michelin Pilot Sport AS 3
Michelin Pilot Sport All Season 4
Vredestein Quatrac Pro
Nokian WR G3
Falken Azenis PT722
Nitto Neo Gen – Compare Prices
We found 5 online tire retailers selling Nitto Neo Gen. Refer to the details below to get the best price:
Nitto Neo Gen
PRICE
SOLD BY
 

$94

$94

Offers

$94

Offers
Neo Gen Ratings By Consumer