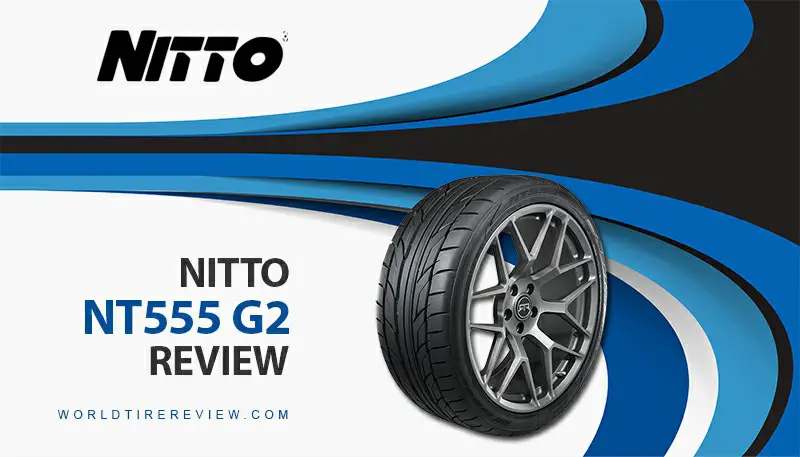 The Nitto NT555 tire has been quite a well-known model on the market. But now there's an updated version of it called the Nitto NT555 G2, claiming to be able to outperform its preceding model. Has the NT555 G2 really done such a feat?
Overview
Like their parent company Toyo Tire & Rubber Co., Ltd., Nitto is committed to catering to as large a base of customers as possible. Ever since their debut into the American scene in the 1980s, Nitto's array of tires have served all, from car enthusiasts to day-to-day commuters. 
Nitto prides themselves on their passion and innovation; this is clear through the Nitto NT555 G2 tire for sports coupes and sedans.
After the NT555 has attracted the trust of many consumers, the NT555 G2 debuts and offers even more for Nitto followers. The second tire generation of NT555 has a rather aggressive approach to traction, as it claims to be an ultra-high performance summer tire. This makes for a tire that's intended for use in above 45 degrees temperature.
Aside from a rather unconventional design on their tread with a double rib in the middle, the Nitto NT555 G2 also features an intense stiff and silica-enhanced tread compound on top to boost the tire's traction, braking, handling, and cornering on both wet and dry pavement.
The developers at Nitto also improve the tire model by tapering the tire's sizable tread blocks and strengthening the shoulder blocks to improve corner grip. All these changes from its predecessor give Nitto NT555 G2 a step-up and a makeover. You can say that the Nitto NT555 G2 tire is a great balance between looks and functionality!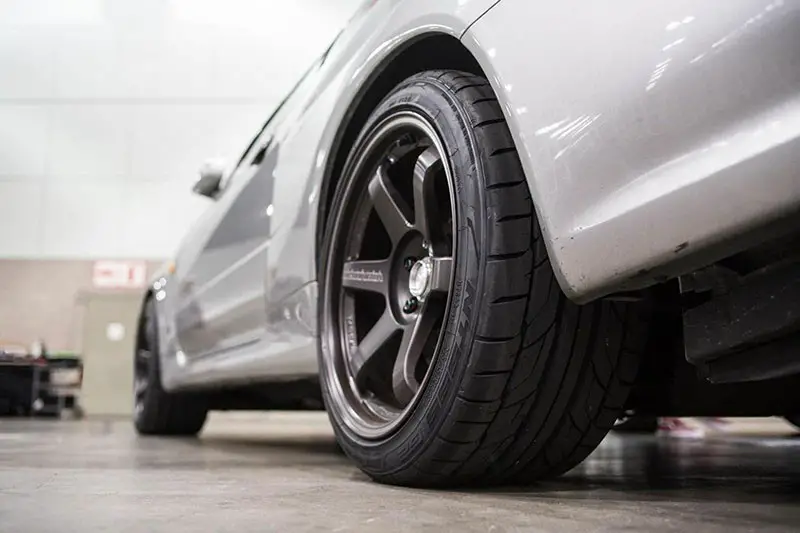 The Nitto NT555 G2 Tire is quite comfortable to ride on. It has great straight-line stability as well as accurate response to braking and cornering, thanks to its wide circumferential grooves to help with splashing and preventing hydroplaning.
You'll also notice another improvement when taking a look at the NT555 G2's UTQG numbers that it is much harder than the original model. This means that treadwear rating is much larger (~320), making for a much longer tire lifespan.
Now that we're all caught up with the basic features of the NT555 G2, let's put in on the practical scale and check how it performs in our Pros & Cons segment of this Nitto NT555 G2 Review!
See more: Nitto NT05 Review
Nitto NT555 G2 Test Drive
To us, the Nitto NT555 G2 tire is suitable for day-to-day driving. It's quite an affordable tire that can easily be replaced should the occasion comes, and it's reliable enough to perform all-season duties as well.
As for its downside of not handling itself too well on wet surfaces and snow, our point still stands. It's always a good idea to get a set of snow tires specifically for winter, but other than that, if you want to put your trust in the NT555 G2, that's also an option.
Conclusion
As you can see throughout this Review, it's quite a strong summer purchase. It outperforms the original Nitto NT555 in so many categories; you won't see that every day. 
Nitto NT555 G2 is superb in wet and dry weather conditions and is economical as well, making it an extremely good fit for those who wish to get the most value for their money. We highly recommend the Nitto NT555 tire!
Competitors & Alternatives
Nitto provides a limited tread warranty on the NT555 G2. There is a first 1/32 inch of wear guarantee on the tire's uniformity. Materials and workmanship are backed for 5-years and include free replacement within the first 25% of wear. The amount is prorated for the remaining time period or until the tire reaches its final 2/32 inch of tread depth.
| 17″ | | 18″ | |
| --- | --- | --- | --- |
| 225/45ZR17 | 255/50ZR17 | 225/40ZR18 | 255/45ZR18 |
| 225/50ZR17 | 275/40ZR17 | 225/45ZR18 | 265/35ZR18 |
| 235/45ZR17 | 275/50ZR17 | 235/40ZR18 | 275/35ZR18 |
| 245/45ZR17 | 285/40ZR17 | 235/50ZR18 | 275/40ZR18 |
| 255/40ZR17 | 315/35ZR17 | 245/40ZR18 | 285/35ZR18 |
| 255/45ZR17 | | 245/45ZR18 | 285/40ZR18 |
| | | 255/35ZR18 | 295/40ZR18 |
| | | | 295/45ZR18 |
| 19″ | | 19″ | |
| --- | --- | --- | --- |
| 235/35ZR19 | 265/40ZR19 | 235/35ZR20 | 275/35ZR20 |
| 245/35ZR19 | 275/30ZR19 | 245/30ZR20 | 275/40ZR20 |
| 2245/45ZR19 | 275/40ZR19 | 245/35ZR20 | 285/30ZR20 |
| 255/40ZR19 | 285/35ZR19 | 245/40ZR20 | 285/35ZR20 |
| 265/35ZR19 | 305/30ZR19 | 245/45ZR20 | 295/35ZR20 |
| | 305/35ZR19 | 255/35ZR20 | 295/40ZR20 |
| | | 255/45ZR20 | 305/30ZR20 |
| | | 265/35ZR20 | 305/35ZR20 |
| | | 275/30ZR20 | 315/30ZR20 |
| | | | 315/35ZR20 |
Michelin Pilot Sport Cup 2 Connect
Yokohama Advan A052
Yokohama ADVAN Neova AD08R
Kumho V70a
Accelera 651 Sport
Dunlop Direzza DZ03
Nitto NT555 G2 – Compare Prices
We found 5 online tire retailers selling Nitto NT555 G2. Refer to the details below to get the best price:
Nitto NT555 G2
PRICE
SOLD BY
 

$145

$143

Offers

$143

Offers
Nitto NT555 G2 Ratings By Consumer