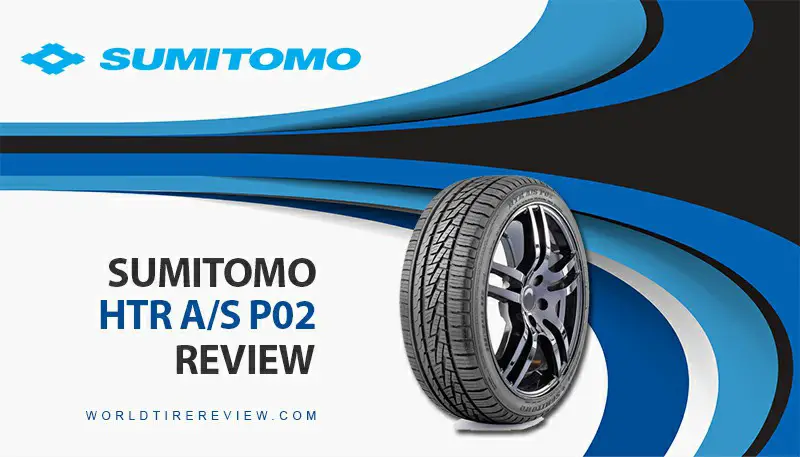 True all-season high-performance tires are extremely hard to find on the market since a lot of tires claim the title without actually putting in the work. But once you're here in this article, you're on the right track to strike gold.
Sumitomo HTR A/S P02 Overview:
As we've mentioned before, Sumitomo HTR A/S P02 is a high-performance, high-quality tire for all seasons. The tire's suitable for sports coupes and high-class sedans, and it actively encourages efficiency and maximum potential for users. 
Sumimoto's HTR A/S P02's silica tread compound allows for great grip and handling on wet and dry terrain, giving it the flexibility it needs to stay relevant in the market. Its tread pattern also provides great cornering and stability, thanks to its wider shoulder blocks and notches.
And that's not all to this tire model. The deep circumferential grooves are accompanied by a stiff center rib to give Sumitomo HTR A/S P02 exceptional grip on the road. This design also allows this tire to prevent hydroplaning, securing its use all year round. 3D sipes can also be added to the model to increase grip on wet surfaces.
Inside the tire is a pair of steel belts formed in a spiral design to ensure speed, security, and comfort on the road. These steel bands are stronger than those currently on the market, thanks to full-width nylon bands installed by the developers at Sumitomo. This technology allows a tremendous improvement in integrity and makes the tire much lighter.
To cater to their customer's needs, Sumitomo manufactures the HTR A/S P02 in a great array of sizes that span from 15-20 inches. Their speed rating/performance of H, V, or W. Within the price tag on each tire is a 65K mile treadwear warranty (may vary upon speed rating), making it one of the world's best protection plans.
If you're still unsure about the HTR A/S P02, the company allows up to 30 days of free test drive and two years of roadside assistance.
That's the basic breakdown of the features on the tire. But how well does the tire do on a practical analysis?
Pros & Cons
Sumitomo HTR A/S P02 Test Drive
After a series of tests, we can see that Sumitomo HTR A/S P02 description is quite truthful: Its grip on both wet and dry surfaces is reassuring, and its steering and braking responses are speedy and accurate. Riding on the tires is quiet and comfortable as well.
Despite it all, we advise utilizing a dedicated snow tire for such weather. Other than that, the Sumitomo HTR A/S P02 has excellent performance on dry and wet roads, great handling, and ride comfort.
We highly recommend using the Sumitomo HTR A/S P02 tire series for dry highways and streets that require high traction and steer response since it does its job reliably and doesn't cost an arm and a leg to get!
Conclusion
We can confidently claim that the tire is a bang for its buck and a great investment for those who treasure their safety, comfort and are value-conscious. It offers a lot for an average price tag, and passing up on this deal would be a waste!
Competitors & Alternatives
| | |
| --- | --- |
| Treadlife Warranty: | 5 Years / 65,000 Miles Half mileage for rear if different size than front |
| Uniformity Warranty: | First 2/32″ of wear |
| Workmanship & Materials Warranty: | 5 Years from purchase or 6 Years fr / Free replacement for 6 Years from date of purchase or worn to 2/32″ remaining depth |
| Manufacturer's Road Hazard Warranty: | None |
| 15″ | | 16″ | |
| --- | --- | --- | --- |
| 175/65R15 | 205/60R15 | 185/55R16 | 205/65R16 |
| 185/65R15 | 205/65R15 | 195/50R16 | 215/55R16 |
| 195/60R15 | 215/60R15 | 195/55R16 | 215/60R16 |
| 195/65R15 | 215/65R15 | 205/50R16 | 215/65R16 |
| | | 205/55R16 | 225/50R16 |
| 235/45ZR17 | 275/40ZR17 | 205/60R16 | 225/60R16 |
| | | | 235/60R16 |
| 17″ | | 18″ | |
| --- | --- | --- | --- |
| 205/45R17 | 225/65R17 | 215/45R18 | 235/50R18 |
| 205/50R17 | 235/45R17 | 215/55R18 | 235/60R18 |
| 215/45R17 | 235/50R17 | 225/40R18 | 235/65R18 |
| 215/50R17 | 235/55R17 | 225/45R18 | 245/45R18 |
| 215/55R17 | 235/65R17 | 225/50R18 | 245/60R18 |
| 225/45R17 | 245/40R17 | 225/55R18 | 255/35R18 |
| 225/50R17 | 245/45R17 | 225/60R18 | 255/40R18 |
| 225/55R17 | 245/50R17 | 235/40R18 | 255/45R18 |
| | 275/40R17 | 235/45R18 | |
| 19″ | | 20″ | |
| --- | --- | --- | --- |
| 235/55R19 | 245/55R19 | 235/55R20 | 255/35R20 |
| 245/40R19 | 255/35R19 | 245/45R20 | 255/45R20 |
| 245/45R19 | 275/40R19 | 245/50R20 | 275/40R20 |
HTR A/S P02 prices range approximately from $69.99 and up- Simpletire
Sumitomo HTR A/S P02 – Compare Prices
We found 3 online tire retailers selling Sumitomo HTR A/S P02. Refer to the details below to get the best price:
Sumitomo HTR A/S P02
PRICE
SOLD BY
 

Offers

$71.95

Offers
HTR A/S P02 Ratings By Consumer