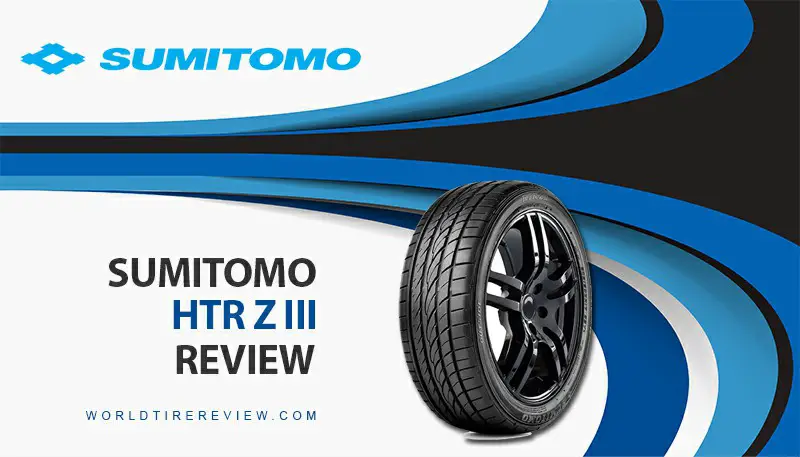 You probably don't know much about Sumitomo tires since this company doesn't invest as much in advertising as other brands. However, Sumitomo Rubber Industries.Ltd, a sub-sector of Sumitomo Corporation, is a very well-known Japanese tire company with many popular brands under its portfolio.
The 3rd generation of Sumitomo HTR Z  improved much compared to previous generations has become one of their best performance summer tires. If you want to have the best performance summer tire in your vehicle and replace tires for the winter, this tire is for you! Our Sumitomo HTR Z III review will provide you with detailed features to determine if these tires are a proper fit for you and your vehicle. Let's scroll down!
Sumitomo HTR Z III Overview
Overview
The Silica-enhanced premium tread compound, together with an asymmetric design of 5-rib and large outboard shoulder blocks,  increase traction in wet and dry conditions. The tire's middle tread blocks and the big center ribs provide outstanding lateral grip, added steering responsiveness, and stability at high speed. 
The inside shoulder with connected longitudinal ribs is designed to keep outside road noise at a minimum and increase the tire's longevity. Due to this unique tread design, the model is one of the most comfortable riding tires in the line.
Hard rubber filler added to the sidewall can increase lateral grip and prevent the tire from bending. Thanks to the efficient conduction of water from the tire surface, the longitudinal grooves help enhance wet traction.
Two wide polyamide-wrapped steel belts are the key factor in ensuring strength and stable driving at high speeds. The polyester in the cord body can increase ride comfort.
This brand offers sizes ranging from 17-22 inches with a load index of 98.
View more: Sumitomo HTR A/S P02 Review
Sumitomo HTR Z III Test Drive
We bought a full set of HTR Z 3 for our Lexus NX30 and sold the car with the 13,000-mile tires. We felt confident when driving with these tires due to the good traction in most conditions. Sumitomo has its R&D center to design and test every tire rigorously before putting it on the market. Most tire manufacturers don't do the same and instead use existing tread designs. Thus, Sumitomo HTR Z III can provide safe traction in most conditions, especially for great daily drivers.
One thing that we were very pleasantly surprised about is braking and acceleration. This performance is dependable even once my car is  curve.
For us, who enjoy canyon driving, perhaps the product's best characteristic is ride comfort. There is not much road noise coming from the tires over larger potholes. Moreover, we hardly heard the noise in urban areas, and the noise is only mild at higher speeds on the highway.
The steering is responsive enough to keep you in control, even though we would've liked more communication.
In our Sumitomo HTR Z III tire review, we have nothing bad to describe about these tires on the street other than the treadlife needs improving. However, the way you drive is one of the determining factors in its longevity.
In Conclusion
All in all, Sumitomo provides sporty car drivers with a qualified model. If you're on a budget, why do you try the HTR Z III from Sumitomo?
Did our Sumitomo HTR Z 3 review help you choose the tires for your car? Let us know your decision or comment below.
Competitors & Alternatives
| | |
| --- | --- |
| Treadlife Warranty: | None  |
| Uniformity Warranty: | First 2/32″ of wear |
| Workmanship & Materials Warranty: | 5 Years from purchase or 6 Years fr / Free replacement for 6 Years from date of purchase or worn to 2/32″ remaining depth |
| Manufacturer's Road Hazard Warranty: | None |
| 17″ | | 18″ | |
| --- | --- | --- | --- |
| 205/50ZR17 | 235/50ZR17 | 215/35ZR18 | 255/40ZR18 |
| 215/45ZR17 | 235/55ZR17 | 215/40ZR18 | 255/45ZR18 |
| 215/50ZR17 | 245/40ZR17 | 225/40ZR18 | 265/35ZR18 |
| 225/45ZR17 | 245/45ZR17 | 225/45ZR18 | 265/40ZR18 |
| 225/50ZR17 | 255/40ZR17 | 235/40ZR18 | 275/35ZR18 |
| 235/45ZR17 | 275/40ZR17 | 235/50ZR18 | 275/40ZR18 |
| | | 245/40ZR18 | 285/30ZR18 |
| | | 245/45ZR18 | 285/35ZR18 |
| | | | 295/30ZR18 |
| 19″ | | 20″ | |
| --- | --- | --- | --- |
| 225/35ZR19 | 255/40ZR19 | 225/35ZR20 | 275/30ZR20 |
| 225/40ZR19 | 265/30ZR19 | 235/30ZR20 | 275/35ZR20 |
| 235/35ZR19 | 275/30ZR19 | 245/30ZR20 | 285/30ZR20 |
| 245/35ZR19 | 275/35ZR19 | 245/35ZR20 | |
| 245/40ZR19 | 275/40ZR19 | 245/40ZR20 | |
| 245/45ZR19 | 285/35ZR19 | 255/30ZR20 | |
| 255/35ZR19 | | 255/35ZR20 | |
HTR Z III prices range approximately from $146.99 and up- Simpletire
Yokohama Advan Sport V103
Cooper Zeon CS Sport
Fulda SportControl
Pace AZURA Pace
Nexen N Fera SU4
Giti GitiSport S1
Sumitomo HTR Z III – Compare Prices
We found 2 online tire retailers selling Sumitomo HTR Z III. Refer to the details below to get the best price:
Sumitomo HTR Z III
PRICE
SOLD BY
 

Offers

Offers
HTR Z III Ratings By Consumer