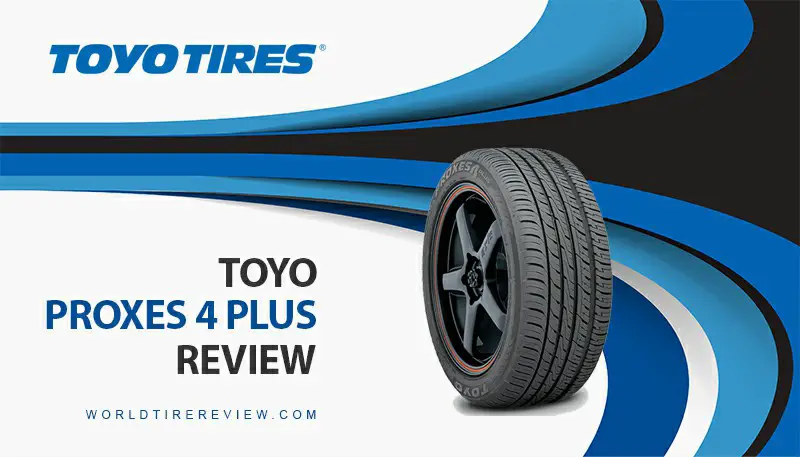 As you might know, Toyo is becoming a competitive opponent in the tire market, thanks to its outstanding features- one of its flagship products-Toyo Proxes 4 Plus. It is designed with the amazing ability of cornering, extremely suitable for drivers who love sporty style as well. 
Toyo Proxes 4 Plus is designed with 4 circumferential grooves that can work smoothly even on wet surfaces and prevents hydroplaning. Moreover, driving on snow-covered streets is not a big deal when this tire is designed with functional sipes that can increase grip on slippery roads.
Toyo Proxes 4 Plus is appreciated by its function of tread compound. This function helps the tire to be more effective in handling wet and dry traction; therefore, its tread life also lasts longer.
You may wonder how this tire can get such a high duration? You will be surprised as the tire has 2 steel belts that are carefully nylon-wrapped. The cord body was made with polyester that can give a better experience in driving. Toyo Proxes 4 Plus has a size of around 16 to 20 inches, the tread guarantee is up to 50,000 miles.
Pros and Cons
Tire Drive Test
This product is so innovative that it is hunted quickly in the market. As we have experienced, its cornering grip is no short of amazing that can compare with any Summer Tire at the same price. However, it is about a few miles of driving so that the tire can be smooth in the corner.
One more outstanding feature about Toyo Proxes 4 Plus we think is that there is almost no noise while driving. This noiseless tire also gives you a comfortable experience with its smooth drive. Another good news that we would like to inform you, its tread life is so good that it is highly recommended by many experts in this field. Its long warranty is also a plus point for Toyo Proxes 4 Plus in the competitive market.
Conclusion
To sum up, Toyo Proxes 4 Plus is an effective tire product of Toyo with high duration, the ability of cornering grip, high performance, and a good warranty. Besides, it also has some drawbacks that you should consider how it is suitable for you. Many thanks for reading this Toyo Proxes 4 Plus Review, and have a good day!
Competitors & Alternatives
| | |
| --- | --- |
| Treadlife Warranty: | 5 Years / 50,000 Miles (V- & W-rated only) 5 Years / 45,000 Miles (Y-rated only) Half mileage for rear if different size than front |
| Uniformity Warranty: | First 1/32″ of wear |
| Workmanship & Materials Warranty: | 5 Years / Free replacement first 25% of wear, then prorated to final 2/32″ remaining depth |
| Manufacturer's Road Hazard Warranty: | None |
| Manufacturer Special Warranty: | No Regrets 500 MIle or 45 Day Trial (1) |
| Additional Information: | (1) Whichever comes first, must purchase 4 |
Proxes 4 Plus warranty summary for replacement tires purchased at Tire Rack
| 16″ | | 17″ | |
| --- | --- | --- | --- |
| 205/50R16 | 205/55R16 | 205/40R17 | 225/50R17 |
| | | 205/45R17 | 235/45R17 |
| | | 205/50R17 | 235/50R17 |
| | | 215/45R17 | 235/55R17 |
| | | 215/50R17 | 245/40R17 |
| | | 215/55R17 | 245/45R17 |
| | | 225/45R17 | 255/40R17 |
| | | | 275/40R17 |
| 18″ | | 19″ | |
| --- | --- | --- | --- |
| 215/45R18 | 245/40R18 | 225/35R19 | 255/30R19 |
| 225/40R18 | 245/45R18 | 225/40R19 | 255/35R19 |
| 225/45R18 | 255/35R18 | 225/45R19 | 255/40R19 |
| 225/50R18 | 255/40R18 | 235/35R19 | 255/45R19 |
| 235/40R18 | 255/45R18 | 235/40R19 | 265/30R19 |
| 235/45R18 | 265/35R18 | 245/35R19 | 275/30R19 |
| 235/50R18 | 275/35R18 | 245/40R19 | 275/35R19 |
| | 285/35R18 | 245/45R19 | 275/40R19 |
| | | 245/50R19 | 295/30ZR19 |
| 20″ | | | |
| --- | --- | --- | --- |
| 225/30R20 | 255/35R20 | | |
| 225/35R20 | 255/45R20 | | |
| 235/30ZR20 | 275/30R20 | | |
| 245/35R20 | 275/35R20 | | |
| 245/40R20 | 275/40R20 | | |
| 245/45R20 | 295/25ZR20 | | |
| 255/30R20 | 295/30R20 | | |
| | 315/35R20 | | |
Proxes 4 Plus prices range approximately from $118.71 – $236.55 – Tirebuyer
Maxtrek FORTIS T5
BFGoodrich gForce Profiler 2
Triangle SporteX TH201
Zeetex HP2000 vfm
Lassa Impetus Revo 2 Plus
Yokohama AVS Sport
Toyo Proxes 4 Plus – Compare Prices
We found 5 online tire retailers selling Toyo Proxes 4 Plus. Refer to the details below to get the best price:
Toyo Proxes 4 Plus
PRICE
SOLD BY
 

Offers

Offers

Offers

Offers

$149
Proxes 4 Plus Ratings By Consumer