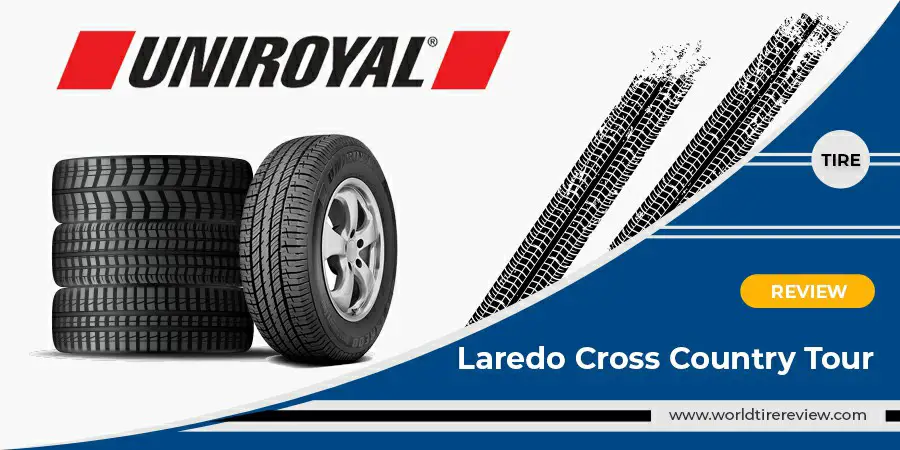 Uniroyal Laredo Cross Country Tour Review
Designed with outstanding high-performed features on the road, this tire model promises to take your car to the next level. Figure it out yourself just by a glance at our Review
Uniroyal Overview
Uniroyal is well-known as the leading American manufacturer that produces perfect tires that assist vehicles on the toughest terrains and conditions.
One of their influential products is Tiger Paw, featured as the standard equipment for millions of muscle cars. 
The brand combines both traditions of innovation on its latest products, promising a future of top durable and efficient tires. Like always, Uniroyal takes their pleasure in the saying, "As long as  vehicles are on the street, Uniroyal will be there too."
Uniroyal Laredo Cross Country Tour Features
For those seeking the perfect tire with high reliability and safety, Uniroyal Laredo Cross Country Tour is the wise choice at a reasonable price. Scroll down to get more details!
With state-of-the-art equipment, this Uniroyal model provides all-season traction while maintaining a consistent and pleasant ride. So, the question here is: How well can it do that?
The tire compound should be the first to come. Utilizing the latest robust and sturdy DuraShield technology with asymmetric five-rib design, Laredo not only offers the feelings of smoothness and relaxation through all the trips but also prolongs tread life and safeguards from collisions and shocks. 
To reinforce this design, a persistent middle rib aids in delivering constant braking sensation and a solid but faster-steering response. 
Meanwhile, the wider shoulder blocks help improve cornering stability and encourage evenly tread wear over time by effectively distributing forces on the tire.
Hydroplaning resistance is another marvelous factor. Thanks to four large circumferential grooves, it provides excellent wet traction, serving to drive water away from the contact surface. 
Therefore, no matter how wet it is, this tire model will enable you to have excellent controllability over your vehicle! 
Compared with other impressive features, the handling performance, though, is not as satisfactory as expected. In fact, we can infer this from the structural dissection. 
The tread patterns are more about keeping the long-running life than creating the tire's sports qualities for perfect handling performance.
Pros & Cons
Tire Drive Test
There are way more fascinating practical details on this tire model. Continue reading to have a closer look at the result of our drive test with this product!
Why Should You Choose Uniroyal Laredo Cross Country Tour For Your Car? 
All brands do their best to flatter their products, and Uniroyal is not an exception. Then, how can we check the truth? Our tire drive test is here to help you!
Now, let us start with treadwear, commonly the first factor brought up in any tire discussion. Most of the Reviews suppose that it has nothing to complain about. Yet, is that all the truth? 
Concerning the tire's tread system, the brand has invested in significant technology to minimize early wear as much as possible. 
Individual grooves also partly contribute to extending tread life by assisting dissipate any wear-causing pressure with uniformly the weight distribution of the tire.
Coming to dry performance, we can say that this model's braking ability in such a condition is beyond doubt. By utilizing the vehicle's force of mass, it has amazing controllability and balance at incredible speeds. That's why cornering will not be an issue for you.
How about wet roads? The Uniroyal Laredo, like other all-season tire manufacturers, guarantees excellent efficiency on this sort of surface. 
The tire reduces road shocks while enabling water to drain quickly, decreasing the risk of water damage thanks to its large circumferential grooves.
Though there's some light winter grip, we do not recommend it for those required to drive in very harsh weather. Coping with wild snow is in control of this tire model; still, the heavier snowfall or thicker ice is far beyond its capability.
Which Type Of Car Would Suit Uniroyal Laredo Cross Country Tour?
Uniroyal Laredo is the ideal tire model for SUV, light truck, van, pickup, or even sport-utility vehicle drivers looking for a tire to accompany in various kinds of rough terrain.  
Driving with Uniroyal Laredo Cross Country could be a tremendous experience for both of you and your vehicle! So what else can prevent you from picking up this tire? That would be all of our Review. Hope you found our article to be somewhat useful! Now go and get the best choice for your cherished vehicle.
| | |
| --- | --- |
| Treadlife Warranty: | 6 Years / 60,000 Miles  |
| Uniformity Warranty: | 1 Year / first 2/32″ of wear |
| Workmanship & Materials Warranty: | 6 Years / Free replacement first year, 2/32″ or 25% of wear, then prorated until 2/32″ remaining depth |
| Manufacturer's Road Hazard Warranty: | None |
| Manufacturer Special Warranty: | 60-day satisfaction (1), 3-yr flat changing |
| 15 | | 16 | |
| --- | --- | --- | --- |
| P 225/70R15 | 235/75R15 | P 215/70R16 | 235/70R16 |
| P 235/70R15 | | P 225/70R16 | 245/70R16 |
| | | 225/75R16 | 245/75R16 |
| | | P 235/60R16 | 265/70R16 |
| | | P 235/65R16 | |
| 17 | | 18 | |
| --- | --- | --- | --- |
| 225/65R17 | 255/65R17 | P 235/60R18 | 255/65R18 |
| P 235/60R17 | 265/65R17 | P 235/65R18 | |
| P 235/65R17 | 265/70R17 | | |
| 245/65R17 | | | |
| 19 | | 20 | |
| --- | --- | --- | --- |
| 245/55R19 | | P 245/50R20 | 275/55R20 |
Laredo Cross Country Tour prices range approximately from $117.30 to $177.71 (Tire Rack)
Uniroyal Laredo Cross Country Tour – Compare Prices
We found 6 online tire retailers selling Uniroyal Laredo Cross Country Tour. Refer to the details below to get the best price:
Uniroyal Laredo Cross Country Tour
PRICE
SOLD BY
 

Offers

Offers

$102.69

Offers

$102.69

Offers
Laredo Cross Country Tour Ratings By Consumer