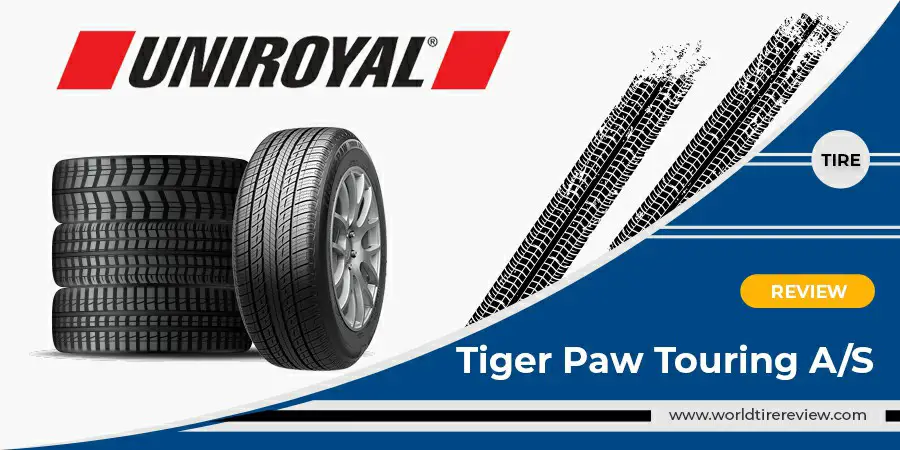 It can be hard to know which ones suit you best when it comes to getting new tires. This Uniroyal Tiger Paw Touring A/S will help you make an informed decision about whether or not these tires are worth the purchase for your vehicle. Scroll down for more!
An Overview Of The Uniroyal Tires Company And Uniroyal Tiger Paw Touring A/S
The Uniroyal Tires Company
The Uniroyal Tires company is well-known for its tire manufacturing and other artificial rubber products for military use, such as weaponry, dynamite, and other government-owned activities.
For over five generations, Uniroyal® tires have been a trusted part of American life. The company made its first appearance in 1892 with the name of United States Rubber Company and is still going strong today!
Uniroyal Tiger Paw Touring A/S Features
The Tiger Paw Touring A/S is a product of Uniroyal with extremely high efficiency, making it perfect for almost all sports cars, coupes, and sedans. The tire's traction ability will never let you down in any season – even if there are light snowfalls!
Uniroyal employs an all-season tread compound that has been sculpted into a symmetric pattern to reduce road noise and offer a comfortable ride. 
Being a part of an optimized footprint using Tru-Last Technology, the centre rib helps improve steering responsiveness and brake uniformity while extending the tread's contact patch's lifetime.
Tiger Paw Touring A/S also comes with four huge circumferential grooves and lateral notches to keep the wheels from slipping. The centre tread design looks like scallops, combined with outside drains to create edges for boosting traction on snow, significantly improving slippery condition traction.
The structure inside the tire includes two layers of polyester cover, bringing a comfortable drive. Over the belts, a single nylon reinforcing ply boosts the speed and response at high speeds.
Pros & Cons Of The Tiger Paw Touring A/S
Tire Drive Test 
Performance on the road is always an utmost concern when it comes to buying a new tire. If you want to know what goes through our heads while driving on this Uniroyal Tiger Paw Touring A/S, keep reading!
On-road Feelings
During a real-world test, we can not deny that the Uniroyal Touring A/S has high performance at an affordable price. The tire works perfectly in both common wet and dry conditions and supports dry braking efficiency.
Still, the traction in the snow does not live up to our expectations. Inches of snow can make tires struggle to handle. 
We sometimes hear some noise while driving on the road, but it does not affect the whole quality of the tour much. They consume pretty good quivering and waving; therefore, we feel it fairly comfortable. 
Some Special Notes
After using it, we realize that Uniroyal is not used for energetic drive. This tire is pretty easy to spouse on dry ramps. We alert you not to drive it even on wet roads. 
Besides, this Uniroyal Tiger Paw Touring A/S isn't the go-to tire for driving on wet ramps even though the thing is pretty easy to drive with dry roads. So, don't try it when things get slippery out!
Uniroyal's warranty for the Tiger Paw treads is one of the best around, and it gets better with speed ratings. Here's what they have in store if that interests you: 
45-day money-back guarantee
H-speed-rated tires have a limited guarantee of 120,000km.
V-speed-rated tires have a limited guarantee of 105,000 km.
In general, Tiger Paw Touring A/S is reasonably impressive, and we list it in the upper half of this segmentation. If you want to buy tires for your sedan or sports car, it might be a good choice.
Competitors & Alternatives
| | |
| --- | --- |
| Treadlife Warranty: | 6 Years / 75,000 Miles (H-Speed Rated)  6 Years / 65,000 Miles (V-Speed Rated)  None |
| Uniformity Warranty: | 1 Year / first 2/32″ of wear |
| Workmanship & Materials Warranty: | 6 Years / Free replacement first year, 2/32″ or 25% of wear, then prorated until 2/32″ remaining depth |
| Manufacturer's Road Hazard Warranty: | None |
| Manufacturer Special Warranty: | None |
| 16 | | 17 | |
| --- | --- | --- | --- |
| 205/55ZR16 | 225/50ZR16 | 205/45R17 | 225/60R17 |
| 215/55ZR16 | | 205/50R17 | 225/65R17 |
| | | 205/55R17 | 235/45R17 |
| | | 215/45R17 | 235/50R17 |
| | | 215/50R17 | 235/55R17 |
| | | 215/55R17 | 235/60R17 |
| | | 215/60R17 | 235/65R17 |
| | | 215/65R17 | 245/45R17 |
| | | 225/45R17 | 245/50R17 |
| | | 225/50R17 | 245/65R17 |
| | | 225/55R17 | 265/70R17 |
| 18 | | 19 | |
| --- | --- | --- | --- |
| 215/50R18 | 235/65R18 | 225/55R19 | 245/45R19 |
| 215/55R18 | 245/40R18 | 235/40R19 | 245/55R19 |
| 225/40R18 | 245/45R18 | 235/45R19 | 255/40R19 |
| 225/45R18 | 245/50R18 | 235/50R19 | 255/45R19 |
| 225/50R18 | 245/60R18 | 235/55R19 | 255/50R19 |
| 225/55R18 | 255/55R18 | 245/40R19 | 255/60R19 |
| 225/60R18 | 255/60R18 | | |
| 235/45R18 | 255/65R18 | | |
| 235/50R18 | 255/70R18 | | |
| 235/55R18 | 265/60R18 | | |
| 235/60R18 | 265/65R18 | | |
| 20 | | 21 | |
| --- | --- | --- | --- |
| 235/55R20 | 255/55R20 | 265/40R21 | 275/40R21 |
| 245/45R20 | 265/50R20 | | |
| 245/50R20 | 275/55R20 | | |
| 245/60R20 | 275/60R20 | | |
| 255/50R20 | | | |
Tiger Paw Touring A/S prices range approximately from $68.32 to $130.71 (Tire Rack)
Kumho Solus TA11
Cooper CS5 Grand Touring
Uniroyal Tiger Paw Touring A/S – Compare Prices
We found 5 online tire retailers selling Uniroyal Tiger Paw Touring A/S. Refer to the details below to get the best price:
Uniroyal Tiger Paw Touring A/S
PRICE
SOLD BY
 

Offers

$59.97

Offers

Offers

Offers
Tiger Paw Touring A/S Ratings By Consumer