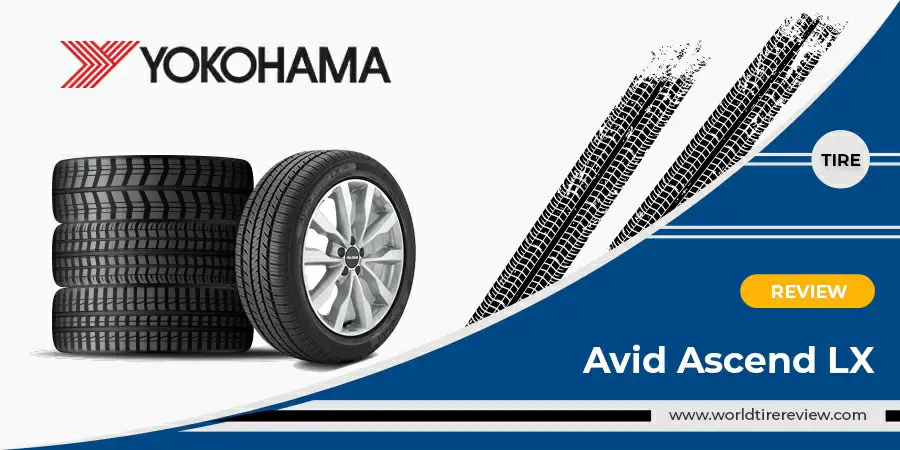 For a smooth and comfortable long road trip, you need to equip your car with good quality tires, and Yokohama Avid Ascend LX can help you with that!
In this post, we are pleased to provide you with the most detailed information about this Yokohama tire. Is this what you are looking for? Keep scrolling down to discover our Yokohama Avid Ascend LX right now
Yokohama Avid Ascend LX Review
About Yokohama
Yokohama is a giant in the motor tire manufacturing industry located in Tokyo, Japan, founded in 1917.
In the beginning, the company was a joint venture between America's BFGoodrich and Yokohama Electric Cable Manufacturing, also known as Furukawa Electric Co.
In 1930, they launched Goodrich tires and changed the name to Yokohama 7 years later.
The corporation had successfully established itself as a leader in the global tire industry since its expansion into the United States in 1969. Also, it is a pioneer in achieving ISO9001 quality accreditation in design, installation, manufacturing,  tire development, and related services in Japan.
Yokohama Avid Ascend LX
To help you have the best overview of the product, let's take a look at the Avid Ascend LX's features:
Wet Traction
The tire offers reliable wet braking thanks to a design that includes a wide circumference groove. The smart side groove makes it easy to drain water, and it has outstanding water resistance.
Quiet Ride
The staggered tread design in a five-block chain minimizes road-noise, creating a smooth, relaxing experience for the driver.
All-seasons Traction
Wavy 3D grooves design on the notch and shoulder midrib offer multiple angles for brilliant traction on various terrains.
Long Trade Life
The improved contour is wider and flatter, creating a large gap to help distribute the anti-wear pressure when friction with the road surface, improving the life of the tread.
In addition to the above features, you should buy Avid Ascend LX for your vehicle because it comes equipped with a polyester shell and reinforced nylon. Nylon will increase the tire's durability and smoothness when traveling long distances.
Pros & Cons
Tire Drive Test
The best reviews should be based on actual experiences when using. From the perspective of tire lovers, we have honest reviews of the features of the Yokohama Avid Ascend LX as follows:
Smoothness On The Highway
First of all, this tire makes for a smooth and quiet ride all the way! The Yokohama Avid Ascend LX did what we expected in this category.
Progressive Grip
Normal tires can easily lose grip when you make sudden turns. Fortunately, this product has a good grip that provides an absolute sense of security when driving.
Dry Traction
The all-weather design allows the tire to operate easily in snow, wet, and dry conditions. 
For the rubber layer to contact the road surface and the continuous middle ribs of the tire, the manufacturer has added large shoulder blocks. 
This design has aided in the dry response of the tire and when the car turns around. According to practical experience, sudden cornering does not make a shrill sound. 
The minus point is that the wheel reacts slowly for a few seconds before reaching its full potential since the heat accumulated will take a while to stimulate the rubber's composite.
Snow And Wet Traction
Biting edges and high-density 3D adaptive tubes improve traction on snow-covered roads. 
They also include double steel belts reinforced by nylon rolled on top of layers of polyester material reinforced with double steel belts, minimizing slippage when traveling in snow and wet roads.
Tread Life
Yokohama promises a tire warranty of up to 85,000 miles so that you can enjoy many journeys with such an affordable and quality tire.
This product not only has many good features but is also suitable for many vehicle segments, from crossovers, minivans to passenger cars. Should you buy the Yokohama Avid Ascend LX? According to our reviews, the answer is YES. Try and rate this tire for yourself; we're sure you'll love it!
Competitors & Alternatives
| | |
| --- | --- |
| Treadlife Warranty: | 5 Years / 85,000 Miles (2)  |
| Uniformity Warranty: | First 2/32″ of wear |
| Workmanship & Materials Warranty: | 5 Years / Free replacement first year or 2/32″ of wear, then prorated to 2/32″ remaining depth |
| Manufacturer's Road Hazard Warranty: | None |
| Manufacturer Special Warranty: | 30 Day Test Drive (1) |
| 15 | | 16 | |
| --- | --- | --- | --- |
| 185/60R15 | 205/65R15 | P 195/60R16 | 215/60R16 |
| 185/65R15 | 205/70R15 | 205/55R16 | 215/65R16 |
| 195/60R15 | 215/70R15 | 205/60R16 | 225/60R16 |
| 195/65R15 | | 205/65R16 | 225/65R16 |
| | | 205/70R16 | 235/60R16 |
| | | 215/55R16 | 235/65R16 |
| 17 | | 18 | |
| --- | --- | --- | --- |
| 205/50R17 | 225/55R17 | P 215/50R18 | 235/45R18 |
| 215/45R17 | 225/60R17 | 225/45R18 | 235/55R18 |
| 215/50R17 | 225/65R17 | 225/55R18 | 235/60R18 |
| 215/55R17 | 235/50R17 | 225/60R18 | |
| 215/60R17 | 235/60R17 | | |
| 215/65R17 | 235/65R17 | | |
| 225/50R17 | | | |
Avid Ascend LX prices range approximately from $98.99 to $180.99 (Tire Rack)
Continental TrueContact Tour
Goodyear Assurance MaxLife
Michelin Defender T+H
Pirelli P4 Four Seasons Plus
Yokohama Avid Ascend LX – Compare Prices
We found 6 online tire retailers selling Yokohama Avid Ascend LX. Refer to the details below to get the best price:
Yokohama Avid Ascend LX
PRICE
SOLD BY
 

Offers

$98.99

Offers

Offers

Offers

Offers
Avid Ascend LX Ratings By Consumer