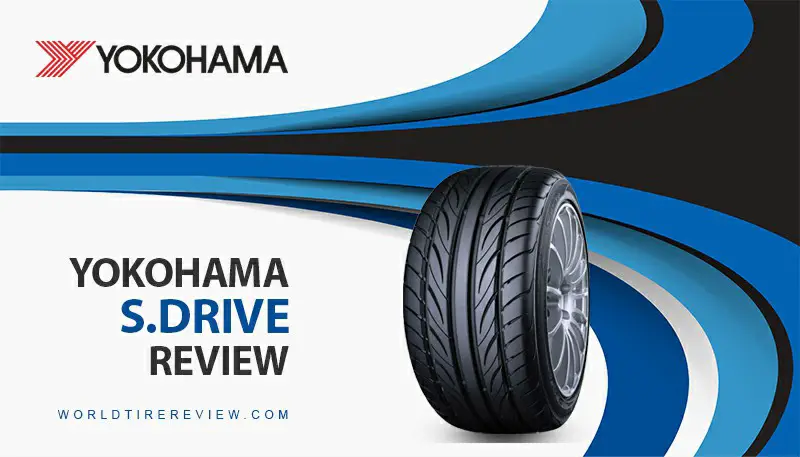 Yokohama is one of the most well-known tire brands in the market for a long time; its products are popular due to their durability and consistency.
Grip And Handling Capacity
The S.drive radial delivers an exceptional grip and handling capacity on both wet and dry roads by applying high-tech advancements. Like other summer tires, people don't use the S.drive radial for freezing conditions like snow or ice.
Its silica-based compound maximizes tired contact with the road, enhancing the cornering grip on dry and wet surfaces. 
To remain the cornering stability and constantness,  Yokohama has designed a directional tread to feature three criteria: shoulder blocks, intermediate ribs, and center ribs.
The Traction
Wet pavement traction now becomes much more convenient with enhancing circumferential grooves in width and variable angled grooves. This combination evacuates water to resist the risk of hydroplaning, which gives drivers better driving sight when driving in rainy weather. 
Yokomaha applies the groove-in-groove technology (or tiny scores on the groove walls) to promote more even treadwear by disseminating the stress loads.
Weight And Size
Another interesting fact about Yokohama S.Drive is its weight is lighter than other tires in the same class. Although it is just around 3 pounds lighter for each tire, this innovative version still makes an outstanding difference.
Besides, Yokohama offers consumers a great variety of tire sizes. You can choose more than 70 different tire sizes in the market, which come in V, W, and Y speed ratings.
Quick Rundown Of Yokohama S.Drive:
View more: Yokohama YK740 GTX Tire Reviews
Yokohama S.Drive Test Drive
The S.drive is Yokohama's Ultra-High-Performance summer tire. This design suits all sports cars, sporty coupes, or performance sedans, especially for those looking for the most innovative and excellent performance tire.
Honestly, we are impressed with the aggressive and unique design of the Yokohama S. Drive tread. The handling and steering response of this tire is also wonderful. 
Another feature of these tires that impress us is their excellent traction on wet surfaces; the tread is also unexpectedly long-lasting. 
However, there are some disadvantages about Yokohama S.Drive that you need to take into serious consideration. We think that Yokohama S.Drive tires would ingratiate more potential customers if they could reduce the highway roads' noise. 
Conclusion
After our Yokohama S.Drive review, we bet that you have got your answer. Put away the noise issue; Yokohama S.Drive is still a really good summer tire that you should not miss. We will rank this model as the above-average of the summer high-performance class tire. 
We hope that this article is helpful for your reference and choice!
Competitors & Alternatives
| | |
| --- | --- |
| Treadlife Warranty: | 5 Years / 70,000 Miles for rear if different size than front |
| Uniformity Warranty: | 1 Year / first 2/32″ of wear |
| Workmanship & Materials Warranty: | 5 Years / Free replacement first year or 2/32″ of wear, then prorated to 2/32″ remaining depth |
| Manufacturer's Road Hazard Warranty: | None |
| Manufacturer Special Warranty: | 30 Day Test Drive |
| 14″ | | 15″ | |
| --- | --- | --- | --- |
| 185/55R14 | | 185/55R15 | 195/55R15 |
| | | 195/45R15 | 205/50R15 |
| | | 195/50R15 | 205/55R15 |
| 16″ | | 17″ | |
| --- | --- | --- | --- |
| 175/50R16 | 205/55R16 | 195/40R17 | 225/45R17 |
| 195/40R16 | 215/35R16 | 195/45R17 | 225/50R17 |
| 195/45R16 | 215/40R16 | 205/40R17 | 225/55R17 |
| 205/45R16 | 215/55R16 | 205/45R17 | 235/40R17 |
| 205/50R16 | 225/50R16 | 205/50R17 | 235/45R17 |
| | 225/55R16 | 215/35R17 | 235/50R17 |
| | | 215/40R17 | 235/55R17 |
| | | 215/45R17 | 245/40R17 |
| | | 215/50R17 | 245/45R17 |
| | | 215/55R17 | 255/40R17 |
| | | 225/35R17 | 275/40R17 |
| 18″ | | 19″ | |
| --- | --- | --- | --- |
| 205/40R18 | 235/40R18 | 215/35R19 | 245/45R19 |
| 215/35R18 | 235/50R18 | 225/35R19 | 245/50R19 |
| 215/40R18 | 245/35R18 | 225/40R19 | 255/30R19 |
| 225/35R18 | 245/40R18 | 225/45R19 | 255/35R19 |
| 225/40R18 | 245/45R18 | 235/35R19 | 255/40R19 |
| 225/45R18 | 255/35R18 | 245/30R19 | 265/30R19 |
| 225/50R18 | 255/45R18 | 245/35R19 | 275/30R19 |
| | 265/35R18 | 245/40R19 | 275/35R19 |
| | 275/35R18 | | 275/40R19 |
| | 275/40R18 | | |
| 20″ | | | |
| --- | --- | --- | --- |
| 225/35R20 | 245/45R20 | 275/30R20 | 285/30R20 |
| 245/35R20 | 255/30R20 | 275/35R20 | 245/50R19 |
| 245/40R20 | 255/35R20 | 275/40R20 | 255/30R19 |
S.Drive prices range approximately from $98.00 to $198.00 – Discounttire
Yokohama Advan Sport V103
Cooper Zeon CS Sport
Fulda SportControl
Pace AZURA Pace
Nexen N Fera SU4
Giti GitiSport S1
Yokohama S.Drive – Compare Prices
We found 3 online tire retailers selling Yokohama S.Drive. Refer to the details below to get the best price:
Yokohama S.Drive
PRICE
SOLD BY
 

Offers

Offers

Offers
Yokohama S.Drive Ratings By Consumer