From the perspective of automobile enthusiasts, Arroyo tires provide a premium set of tires and a specific level of durability and tire longevity.
This American brand has the perfect combination of pricing and performance. That has helped Arroyo tires become the first choice of those who have previously used them.
There is a lot of information offered on numerous websites, making it difficult to recognize the difference between Arroyo's variants.
Arroyo Tire Overview
Arroyo is an American tire manufacturer with headquarters in Castaic, California. On the other hand, the tires are made in two factories, one in Turkey and one in Thailand.
This American tire manufacturer specializes in producing high-quality tires for passenger automobiles. These tires are made with cutting-edge innovations that provide a safer driving experience and improved performance in all weather conditions. So, you can rest assured about Arroyo tires quality.

These tires offer superior performance, accurate handling, fuel efficiency, braking grip, comfort, lifespan, and low noise levels. 
Arroyo is dedicated to assisting customers in reducing costs while increasing operational efficiency. At the same time, the negative impact on the environment is kept to a minimum. These tires were created with your requirements and safety in mind, and they're ready to be updated when customer demands change.
If you choose Arroyo tires with high grip, handling, braking power, and lifespan, you won't worry about expenses. However, in case you stick to one need, such as all-terrain or mud-terrain models, you'll burn a hole in your wallet.
Most Popular Arroyo Tire Models 
Arroyo Grand Sport A/S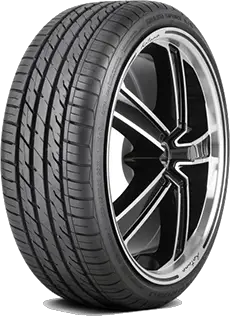 Specifications

Section Width: 185, 195, 205, 215, 225, 235, 245, 255, 265, 275, 285, 295, 315
Tread Depth: 9, 10, or 11
Tire Aspect Ratio: 25, 30, 35, 40, 45, 50, 55, 60
Load Index Rating: Vary from 82 to 111
Diameter: 14 to 20, 22, 24
Max pressure: 49 PSI

Ratings

No rating yet
All-weather traction is excellent with the Grand Sport A/S. With its wide tire grooves and exquisite tire detail, the all-season material and tread pattern securely grip dry, wet, and winter road conditions. 
The four circumferential grooves in the tread efficiently reduce hydroplaning by removing water and mud beneath the tire's footprint. The tire can securely grip the pavement surface in any situation, ensuring excellent year-round driving safety. 
This model also ensures that the model is very easy to manage. Closed diagonal grooves in the tire pattern boost traction while also improving stability.
The tread's outer shoulder has anti-eccentric wear bars that help Grand Sport A/S last longer. The driving pressure is distributed evenly throughout the tread area. The acceleration, turning, and braking forces are evenly dispersed throughout the tire surface, preventing uneven wear patterns. That allows it to endure longer.
Arroyo Grand Sport 2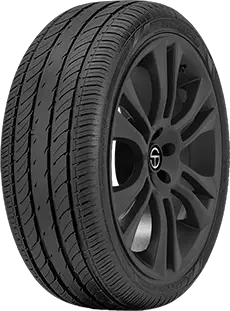 Specifications

Season: all seasons
Section Width: 165, 175, 185, 195, 205, 215, 225, 235, or 245
Tread Depth: 10
Tire Aspect Ratio: 16, 40, 45, 50, 55, 60, 65, 70
Load Index Rating: Vary from 10 to 105
Diameter: 12 to 20
Max pressure: 44 PSI

Ratings

No rating yet
The Arroyo Grand Sport 2 is an all-season, high-performance tire designed for passenger cars and SUVs. This model comes with a 50,000-mile treadwear guarantee from Arroyo.
Because of the robust compound materials and unique tread design, this model provides great grip in all weather situations. The asymmetric tread pattern provides good grip on dry, rainy, and snowy roads, and the durable compound keeps the rubber flexible in both hot and cold weather. 
Water and slush are channeled away from the footprint by the large circumferential grooves, maintaining it clean at all times.
The combination of siping and notch design improves turning and braking distance. These tread components produce friction, reducing braking distance and making high-speed driving safer.
Arroyo Eco Pro HT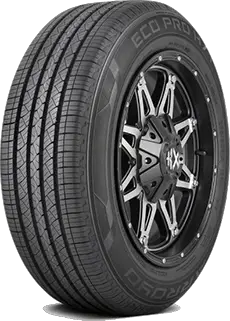 Specifications

Season: all seasons
Section Width: 215, 225, 235, 245, 265, or 275
Speed rating: S, T, H, V, W
Load Index Rating: Vary from 100 to 116
Diameter: 15 to 21, 23
Max pressure: 44 PSI

Ratings

No rating yet
The Eco Pro HT is a high-performance highway terrain tire ideal for SUVs and light trucks. This tire has everything drivers look for when searching for a new pair of tires for their car, thanks to its reasonable price and good features.
The load-carrying capacity of the Eco Pro HT is outstanding. The tire's road contact is greatly improved thanks to the adjusted pitch width and rib design, while the shoulder grooves help to decrease heat accumulation. 
The model's load capabilities and longevity are enhanced by greater road contact and reduced levels of heat accumulation. Under load pressure, the tire retains its ideal shape, allowing it to operate to its full potential in every situation.
The five-degree pitch difference reduces road noise when the tires are in motion. That reduces road noise in the car's cabin when the tires move.
Arroyo Tamarock M/T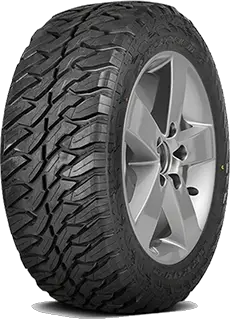 Specifications

Season: All-season, especially in the rainy conditions
Section Width: 22, 33, 35, or 285
Tread depth: 19
Load Index Rating: 114, 119, 120, 121, 122, 125, or 128
Diameter: 17, 18, 20, or 22
Max pressure: 44 or 49

Ratings

No rating yet
Thanks to a combo of robust compound materials and an optimal tread design that eliminates stone retention, the Arroyo Tamarock M/T offers outstanding usage.
The tire's robust tread pattern and substance enable it to perform well on various terrain types. Even in thick mud and snow, the staggered tread blocks and high void ratio keep the tire moving forward, improving overall off-road efficiency.
What is more? Mud, snow, and pebbles are ejected from the footprint, preventing them from being caught between the tread components. That enables the tire to handle soft, sloppy, irregular terrain readily and function safely on various terrain surfaces.
Arroyo Tamarock A/T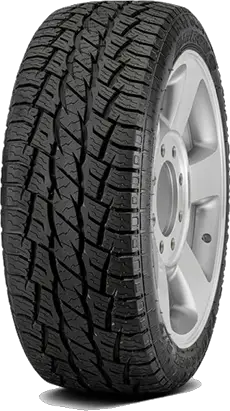 Specifications

Season: all seasons
Section Width: Vary from 31 to 305
Speed rating: S, T, H, R, Q
Load Index Rating: Vary from 109 to 126
Diameter: 15-18, 20, 22
Max pressure: 49 PSI

Ratings

No rating yet
The Tamorock A/T is classified as an all-terrain tire, and it features firm treads wrapped around a stiff and robust carcass. This tire's sidewalls are strengthened to prevent pebbles or other objects from slicing or whittling away at the tread. 
In addition, the tire has larger grooves between the tread blocks to improve traction in off-road conditions. On the other hand, these treads are staggered and built in such a manner that they don't cause excessive vibration when rolling on flat surfaces like roadways. That can contribute to the tire driving on roadways without wearing out or causing the driver to become agitated.
If you have a closer look, you can recognize that the footprint of this tire is flatter than that of other AT tires, helping to improve road usability.
Cost of Arroyo Tires
A new tire brand would not be anticipated to cost a lot of money, but Arroyo defies expectations. While we won't claim that they are the most costly tires on the market, we must also acknowledge that they aren't the cheapest.
Arroyo all-season tires are ideal for drivers looking for an adaptable and long-lasting tire. The pricing of this tire starts at $63/each.
Tire manufacturers of Arroyo are attempting to compete in the upper tier, which will require them to provide a more premium range of tires. Therefore, we guess the price of these tires will change soon. Despite not being the most budget-friendly, they provide good value for money that are worthy for their functions.
Overall, Arroyo Tires is a great option for anyone looking for something a bit more than value tires without spending a premium price.
Why Choose Arroyo Tires? 
Arroyo tires are popular among automobile enthusiasts because they are one of the most dependable tires in their price range. This is credited to the well-designed construction. Whether you select a passenger or off-road model, you can count on Arroyo tires to endure.
But that's not all. These tires have big grooves that channel rainwater away from the tread and offer long-term stability at highway speeds. In addition, they are built with extra-deep treads that improve slick, uneven terrain handling. Consequently, you'll be able to drive confidently off-road in almost any weather or trail condition.
Additionally, most Arroyo Tire types have a 45,000 or 50,000 miles tread wear guarantee. The typical life expectancy of an Arroyo tire is between four and five years. 
However, various mitigating variables may impact the tire's real lifespan. If you drive in bad weather or on bad roads, that may shorten the tire's lifespan.
Arroyo tires are meant to make as little noise as possible. Still, that depends on other factors. For instance, Arroyo's passenger tires will produce the least noise because of their basic design. You should expect additional road noise because of the greater size and deeper treads of Arroyo off-road tires.
Arroyo Tires Reviews by consumer
Positive Experiences with Arroyo Tires
"I've had my tires for about a month now and have had a chance to experience rain/slush/and snow. I've noticed a huge difference in quality from my old tires. They are a pretty solid tire for what you pay. I'd recommend to friends and family."

– Paul Conito via Simple Tire
"This tire is excellent for an all season tire, I purchased it for my ford explorer and Ive gotten thousands of miles for it. I really recommend purchasing this tire for anyone that wants affordable and quality type tires."

– Vahe via Simple Tire
Negative Experiences with Arroyo Tires
"Basic tires. Nothing fancy, handling and road noise is a bit more profound than other tires I have used"

– Lucas via Mavistire
FAQs
Are Arroyo Tires Good?
Our quick answer is Yes. Arroyo Tires provides high-quality products with excellent features.
When you first start looking at Arroyo Tires' products, you'll probably be startled by how little their variety is, but don't let that deter you. 
Arroyo Tires produces fewer tire varieties, but the ones they do create are of excellent quality and sophisticated design. Instead of using outdated, overused technology from other firms, you can expect to see innovative technology in their products.
Conclusion 
After following our article, you can clearly see that Arroyo products are worth purchasing because of their innovative design, remarkable features, and excellent performance. Furthermore, the product may please even the most discerning automotive enthusiast at a reasonable price!
We believe that this post will assist you in determining the best tire for the majority of your requirements.