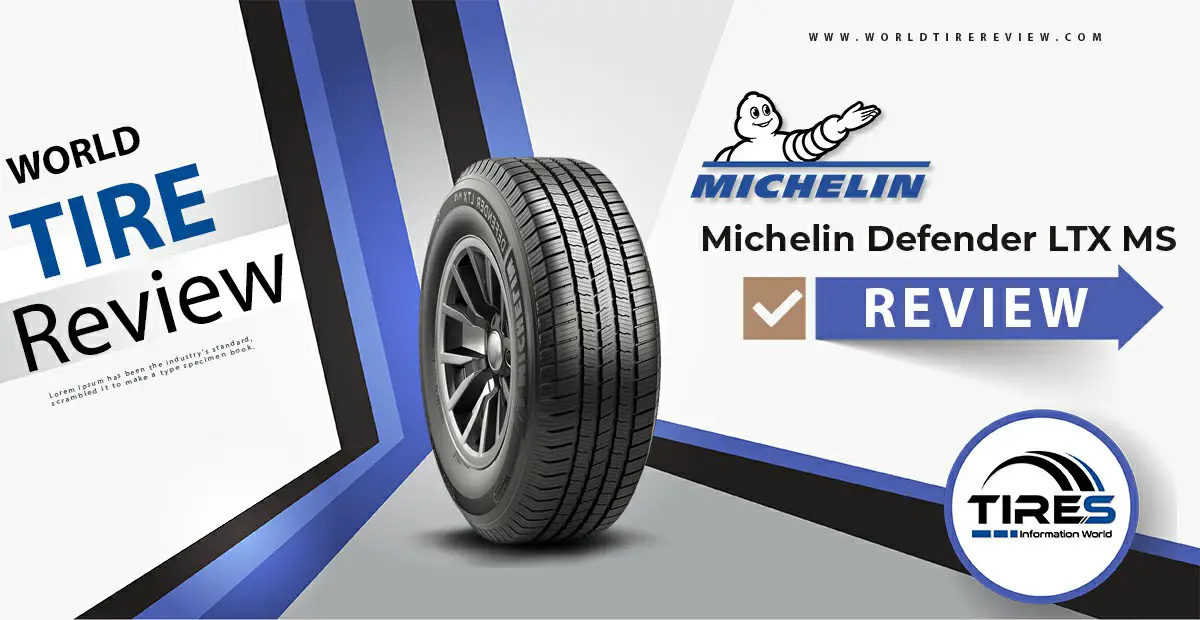 If you're after a long-lasting, premium-quality tire that can handle heavy loads, you've come to the right place. Our review will answer all your inquiries about this tire regarding its characteristics, advantages, and disadvantages.
Michelin Defender LTX M/S Overview
Michelin is a French tire manufacturer known for excellent workmanship and a lower defect rate than its competitors. The company is recognized worldwide as a pioneer in technological innovation.
Its LTX/M S2 tire has still been the talk of the town among truckers throughout North America for its sturdiness and long-lasting tread life. This means that it has set the bar high for other latecomers in the category, especially its successor – Michelin Defender LTX MS.
The Michelin Defender LTX MS is by far the most powerful and efficient all-season highway tire available. It's designed for drivers of any vehicle in a range of 12 to 15-inch wheel diameter. The characteristics of this tire assist all types of trucks, larger or smaller SUVs, and even most crossover vehicles.
The notable feature of this LTX MS tire starts with better driving dynamics that have a 10% improvement in longevity compared to its predecessor. This A-temperature tire can combat uneven surfaces and extreme situations like driving on the hardpacked ground in dry, snowy, or rainy weather.
In terms of traction, the tire's Evertread compound features a symmetric tread design that holds up to tough conditions, promoting superb dry handling, wet traction, and short braking distance. 
Given a massive boost to this compound, the MaxTouch Construction can enhance the contact patch and improve overall stability and durability.
It's made to disperse the stresses of acceleration, braking, and cornering more evenly, resulting in lower rolling resistance and longer tread life. Depending on the speed rating, the tread can go up to 70,000 miles.
Not only can you get reliable tires for your truck, but your vehicle's fuel economy will also improve. Michelin claims that they can save up to 65 gallons of fuel over the tire's life.
And to provide the best driving experience, Michelin offers noise-canceling patterns and insulation to reduce road noise. Except for hard grooved pavement, the Defender LTX offers a smooth ride and insignificant road noise on all types of surfaces.
However, keep in mind that most all-season tires are not built for extreme weather, especially heavy snow. 
With the tire's incredible performance, generous warranty offerings, and satisfaction guarantees, it comes as no surprise that the price is higher than other models in the same class.
Michelin Defender LTX M/S Review: Pros & Cons
See more: Michelin Defender LTX M/S Tire Reviews
Tire Drive Test
According to our road test, this tire offers better traction and shorter stopping distances than its competitors in all types of weather, notably on wet and dry surfaces. 
The MaxTouch construction has equally distributed the stresses of braking, cornering, and accelerating across the tread surface. We didn't notice anything unusual on the tread area after driving it for about 2,000-4000 miles. 
As for the wet, dry, and snow performance, we have come to our expected results. It distributes acceleration and braking forces smoothly on dry roads while giving a better grip in wet areas.
The Michelin LTX MS tire is not for snow-packed roads since it lacks traction. Therefore, we recommend you invest in dedicated winter tires rather than having this LTX MS tire for snowy roads.
You should opt for the Michelin LTX MS if you're looking for impressive tread life, great all-season grip, and better fuel efficiency. 
It undoubtedly combines all of the best attributes available in this tire segment, including excellent year-round grip, braking, and handling, as well as a comfortable ride and extended tread life.
Competitors & Alternatives
| | |
| --- | --- |
| Treadlife Warranty: | 6 Years / 70,000 Miles (T- & H-Speed Rated)  6 Years / 50,000 Miles (R-Speed Rated)  Half mileage for rear if different size than front |
| Uniformity Warranty: | 1 Year / first 2/32″ of wear |
| Workmanship & Materials Warranty: | 6 Years / Free replacement first year, 2/32″ or 25% of wear, then prorated until 2/32″ remaining depth |
| Manufacturer's Road Hazard Warranty: | None |
| Manufacturer Special Warranty: | 60-day satisfaction (1), 3-yr flat changing |
| Additional Information: | (1) Exchange for Michelin, BFGoodrich, or Uniroyal |
Defender LTX M/S warranty summary for replacement tires purchased on or after 06/01/19 at Tire Rack
| 15″ | | 16″ | |
| --- | --- | --- | --- |
| 205/65R15 | 235/75R15 | 215/55R16 | LT 245/75R16 |
| 215/75R15 | LT 31X10.50R15 | 215/70R16 | 255/65R16 |
| | | LT 215/85R16 | 255/70R16 |
| | | LT 225/75R16 | 265/70R16 |
| | | 235/70R16 | 265/75R16 |
| | | 235/75R16 | LT 265/75R16 |
| | | LT 235/85R16 | 275/70R16 |
| | | 245/70R16 | LT 285/75R16 |
| | | 245/75R16 | |
| 17″ | | 18″ | |
| --- | --- | --- | --- |
| 215/50R17 | LT 245/75R17 | 235/55R18 | 265/70R18 |
| 225/55R17 | 255/65R17 | 235/60R18 | LT 265/70R18 |
| 225/65R17 | 255/70R17 | 235/65R18 | 275/60R18 |
| LT 225/75R17 | 255/75R17 | 245/60R18 | 275/65R18 |
| 235/65R17 | 265/65R17 | 255/55R18 | LT 275/65R18 |
| 235/70R17 | 265/70R17 | 255/65R18 | LT 275/70R18 |
| 235/75R17 | LT 265/70R17 | LT 255/65R18 | 285/60R18 |
| 245/65R17 | LT 285/70R17 | 265/60R18 | LT 285/65R18 |
| LT 245/70R17 | LT 295/70R17 | 265/65R18 | LT 295/70R18 |
| 19″ | | 20″ | |
| --- | --- | --- | --- |
| 235/45R19 | 255/50R19 | 245/60R20 | 285/50R20 |
| 235/55R19 | 255/60R19 | 255/50R20 | LT 285/60R20 |
| 245/55R19 | | 255/55R20 | LT 285/65R20 |
| | | 265/50R20 | LT 295/60R20 |
| | | LT 265/60R20 | LT 295/65R20 |
| | | 275/55R20 | 305/50R20 |
| | | 275/60R20 | LT 35X12.50R20 |
| | | LT 275/65R20 | |
| 22″ | | " | |
| --- | --- | --- | --- |
| 275/50R22 | 305/40R22 | | |
| 285/45R22 | | | |
Defender LTX M/S prices range approximately from $151.99 – $399.99 – Tirebuyer
Goodyear Vector 4Seasons SUV
Goodyear Vector 4 Seasons Gen 2 SUV
Yokohama Geolander AT G015
Dunlop Grandtrek ST20
Continental ContiCrossContact LX 2
Nokian WeatherProof SUV
Michelin Defender LTX M/S – Compare Prices
We found 7 online tire retailers selling Michelin Defender LTX M/S. Refer to the details below to get the best price:
Michelin Defender LTX M/S
PRICE
SOLD BY
 

$151.99

Offers

$151.99

Offers

Offers

Offers
Defender LTX M/S Ratings By Consumer