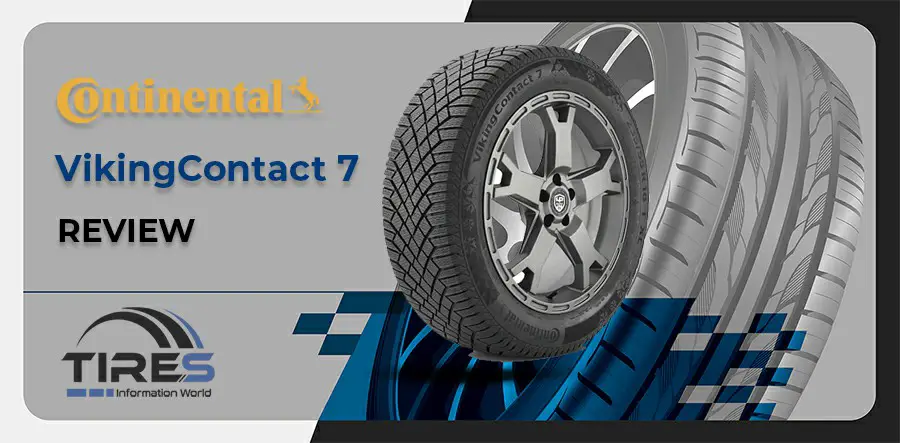 Continental VikingContact 7 Review-Overall Features 
We'll divide this Continental VikingContact 7 section into two parts, about the company and the product.
An Overview On Continental
Continental is a well-known vehicle component and tire manufacturer. Founded in 1871, it began as a rubber manufacturer and was the first to develop grooved, tubeless, patterned tires.
This famous brand undertakes comprehensive tire testing and uses superior manufacturing and design to offer optimal comfort and safety. The Continental VikingContact 7 is another high-end product based on cutting-edge innovation with enhanced material and production. 
Continental VikingContact 7- Overall Features
Compatibility
Despite its bizarre origins and menacing moniker, the Viking Contact 7 is designed to fit various vehicles, including coupes, minibusses, and sedans.
It's also a probable match for your OE wheels, and it comes in various sizes spanning from 15 inches to 20 inches in diameter, allowing easy seasonal tire changes. In addition, this continental tire variant helps you save money on an additional set of tires to deal with winter conditions.
Another key feature that makes Viking Contact 7 stand out on the market is its external design. Inspecting this tire, you'll see that the tread (rubber grooves) are both asymmetric (the tire's inner edge has a distinct pattern than the outer) and symmetric. 
This bizarre design is a winter-focused, state-of-the-art soft tire compound. It helps keep malleable in freezing temperatures, directional tread, varied sipes, snow-holding tread grooves for snow-on-snow grip, etc. 
Signs on installing the tire are imprinted on all of these tires to make it easier for customers who do the installation on their own.
Winter Features
Unlike the "studdable" Winter Tires, the Continental Viking Contact 7 is a "Studless Ice and Snow" tire. Continental's newest winter tire innovation helps to provide stud-rivaling traction in snowy winters. 
It has a winter-oriented, innovative soft tire composition. Thanks to that feature, it can remain flexible in freezing temperatures, navigating tread, different sipes, snow-holding tread grooves for snow-on-snow traction, and other benefits.
Noise
Tires used in snowy winters of the past were notoriously loud, particularly at higher velocities. However, this fact is not the case for the Continental VikingContact 7. 
The secret here lies that Continental VikingContact 7 has "ContiSilent Technology," which maintains the contemporary trend of bettering winter tire comfort. As examined by EU tire assessment, the tire came close to meeting the minimal noise level criterion, around 67 and 71 decibels, while recorded 72 decibels noise.
Pros & Cons
Tire Drive Test
Let's go over a deeper analysis of this tire based on our actual driving experiences: 
On-Road Performance
Tires produced by Continental perform admirably in wet and rainy weather, and the Continental VikingContact 7 has shown the Continental reputation in real driving tests. It has a groove system and a strategically planned pattern to establish a direct line for liquid and slush to exit the tire.
As a consequence, even in intense rainfall, the tire delivers enough accelerating traction. Even at a greater speed, the hydroplaning tolerance and the corner traction are still great.
Braking Distance
However, during the braking process in wet conditions, we notice that the VikingContact 7 experiences longer braking distances than its counterparts, but the variation is not huge. Overall, safety on the road is still 100% guaranteed.
Noise
In terms of noise, we are pretty comfortable with the low decibel that the tire makes. Unfortunately, we realize that the sound is louder during the test when the tire passes on a pumped pavement or uneven surfaces. 
Steering Feel And Responsiveness
Regarding the steering feel and responsiveness, the Continental VikingContact 7 gives us a slightly weak steering feel and seems disconnected from the road to a certain extent. Yet, overall, we give this tire an 8.5 on a 10-point scale.
Who Should Choose This Tire?
So, who is suitable with Continental VikingContact 7? 
Since the tire can work in wet and dry environments, drivers can use it in hot and cold seasons. Nevertheless, we recommend using this product in winter to deal with wet, slushy, or snow-covered roads. If you're a typical truck driver who lives in snowy weather, this tire is the best choice for you!Hopefully, our review has provided you with helpful information to assist your purchase decision.
Competitors & Alternatives
| | |
| --- | --- |
| Treadlife Warranty: | None |
| Uniformity Warranty: | 1 Year / first 2/32″ of wear |
| Workmanship & Materials Warranty: | 6 Years / Free replacement first year or 2/32″ of wear, then prorated until 2/32″ remaining depth |
| Manufacturer's Road Hazard Warranty: | 1 Year / first 2/32″ of wear |
| Manufacturer Special Warranty: | 60-day or 1st 2/32″ trial (2), 3-yr flat changing |
| Additional Information: | Repair voids warranty (2) Whichever comes 1st, purchase 4 exchange for another set of Conti. |
VikingContact 7
warranty summary for replacement tires purchased at
Tire Rack
| 15 | | 16 | |
| --- | --- | --- | --- |
| 145/65R15 | 195/55R15 | 195/50R16 | 215/65R16 |
| 175/55R15 | 195/60R15 | 195/55R16 | 215/70R16 |
| 175/65R15 | 195/65R15 | 195/60R16 | 225/55R16 |
| 185/55R15 | 205/65R15 | 205/55R16 | 225/60R16 |
| 185/60R15 | 205/70R15 | 205/60R16 | 225/65R16 |
| 185/65R15 | | 205/65R16 | 225/70R16 |
| | | 215/55R16 | 235/70R16 |
| | | 215/60R16 | 245/70R16 |
| 17 | | 18 | |
| --- | --- | --- | --- |
| 205/45R17 | 225/60R17 | 215/50R18 | 235/60R18 |
| 205/50R17 | 225/65R17 | 225/40R18 | 235/65R18 |
| 205/55R17 | 235/45R17 | 225/45R18 | 245/40R18 |
| 215/45R17 | 235/50R17 | 225/50R18 | 245/45R18 |
| 215/50R17 | 235/55R17 | 225/55R18 | 245/60R18 |
| 215/55R17 | 235/60R17 | 225/60R18 | 255/45R18 |
| 215/60R17 | 235/65R17 | 235/40R18 | 255/60R18 |
| 215/65R17 | 235/70R17 | 235/45R18 | 265/60R18 |
| 225/45R17 | 245/45R17 | 235/50R18 | 275/65R18 |
| 225/50R17 | 245/65R17 | 235/55R18 | |
| 225/55R17 | 245/70R17 | | |
| | 265/65R17 | | |
| | 265/70R17 | | |
| 19 | | 20 | |
| --- | --- | --- | --- |
| 155/70R19 | 245/45R19 | 245/45R20 | 255/45R20 |
| 225/45R19 | 255/35R19 | 245/50R20 | 265/45R20 |
| 235/35R19 | 255/40R19 | 255/35R20 | 275/55R20 |
| 235/40R19 | 255/45R19 | | |
| 235/55R19 | 255/50R19 | | |
| 245/40R19 | 265/55R19 | | |
VikingContact 7 prices range approximately from $90.00 to $204.00 (Discount Tire)
Bridgestone Blizzak WS90
Michelin X-Ice Xi3
Yokohama iceGUARD iG52c
Goodyear Ultra Grip Ice WRT
Continental VikingContact 7 – Compare Prices
We found 6 online tire retailers selling Continental VikingContact 7. Refer to the details below to get the best price:
Continental VikingContact 7
PRICE
SOLD BY
 

Offers

$89.99

Offers

Offers

$90

Offers
VikingContact 7 Ratings By Consumer