General Tire Review & Rating of all Features
Last updated: August 30, 2023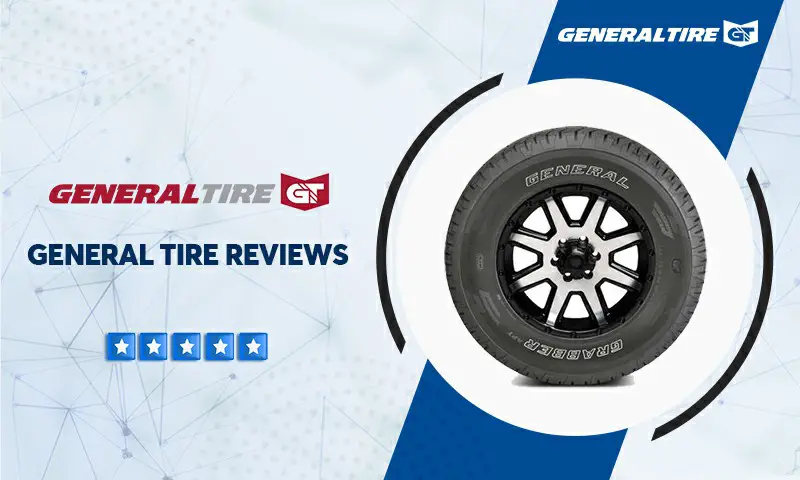 General Tire company was founded in 1915 in Akron, Ohio, USA. The founder of the company is William F. O'Neil, and a friend is Winfred E. Fouse. Initially, they sold tires together in Kansas City – Missouri. And in 1915, General Tire Company was officially established with General Tire Company and Rubber's original name.
For the tire manufacturing industry, General also contributed to important achievements. The company was born when the tire industry was extremely prosperous, with the number of cars in the United States rising to a record, exceeding 2 million. The middle class, or even lower, can afford a car. 
Therefore, the tire business at this time is very prosperous, and General Tire Company has always had a good profit right from the first year of operation.
General's current tire range is diverse and covers all terrains, from low-noise, road-holding summer tires to tough and special tires. Consumers can easily choose a product that suits their vehicle and individual needs.
General Tire tires use Smart Grip Technology and StabiliTREAD Technology, creating a sure-footed grip to help the car grip the road than on a wet road surface. 
In addition, the brand owns the exclusive StabiliTREAD Technology to help drivers feel more confident in cornering. This tech allows the car to control brakes on each of the four wheels to respond to driving situations on winding roads or when entering the highway. This can help provide drivers with a more optimal stream through a turn.
Pros And Cons of General Tires
General Tire drive test
General Tire has a variety of tire models to meet the many different needs of customers.
If you regularly run on the highway or city road, tires like the G-MAXTM RS of the Performance segment are a perfect choice.
They have low noise and vibration to provide comfort for passengers in the car. However, these product lines have the disadvantage of small braking distance, long-term surface contact, which will be more prone to heat and poor slip pressure.
Wide tires like GRABBERTM HTS60 or GRABBERTM APT has the ability to increase traction for the vehicle. 
They can be used for off-road or efficient mud runs. However, their downside is that the friction surface is large, making a rubber sound clapping on the road surface and entering the cockpit, causing annoyance.
General Tire is the world's leading brand in the tire manufacturing and marketing industry. This is also a heritage brand of the United States and is known as the tire manufacturer with the largest amount of tire exports worldwide. General Tire's tire products are also very diverse and suitable for many different customers. Thank you for reading, and don't forget to share this with your family and friends.
Consumer Reviews by General Tire Model
| | | |
| --- | --- | --- |
| ltra High Performance Summer | Grand Touring All-Season | |
| G-MAX RS | AltiMAX RT43 (H- or V-Speed Rated) | |
| – | – | |
| Ultra High Performance All-Season | Standard Touring All-Season | |
| G-MAX AS-05 | AltiMAX RT43 (T-Speed Rated) | |
| G-MAX AS-03 | – | |
| High Performance All-Season | Studdable Winter / Snow | |
| G-MAX Justice | Altimax Arctic 12 | |
LIGHT TRUCK/SUV TIRE REVIEWS
| | | |
| --- | --- | --- |
| Street/Sport Truck Summer | Off-Road Maximum Traction | |
| Grabber UHP | Grabber X3 | |
| – | – | |
| Highway All-Season | Light Truck/SUV Studdable Winter / Snow | |
| AmeriTrac | Grabber Arctic | |
| Grabber HD | Grabber Arctic LT | |
| Grabber HTS | Grabber Red Letter | |
| Grabber HTS 60 | | |
| | | |
| On-/Off-Road All-Terrain | | |
| Grabber A/TX | | |
| Grabber APT | | |
| Grabber AT 2 | | |
| Grabber AT3 | | |
Automotive Experts at World Tire Review
Hi everyone, I'm 
David
 (
Tireguy
). I believe that finding tires can lead to a lot of confusion and frustration for almost every driver. That's why I would like to bring my experiences and knowledges to develop World
Tire Review blog
, it will give people a deeper understanding of what choosing the right tire is really like!