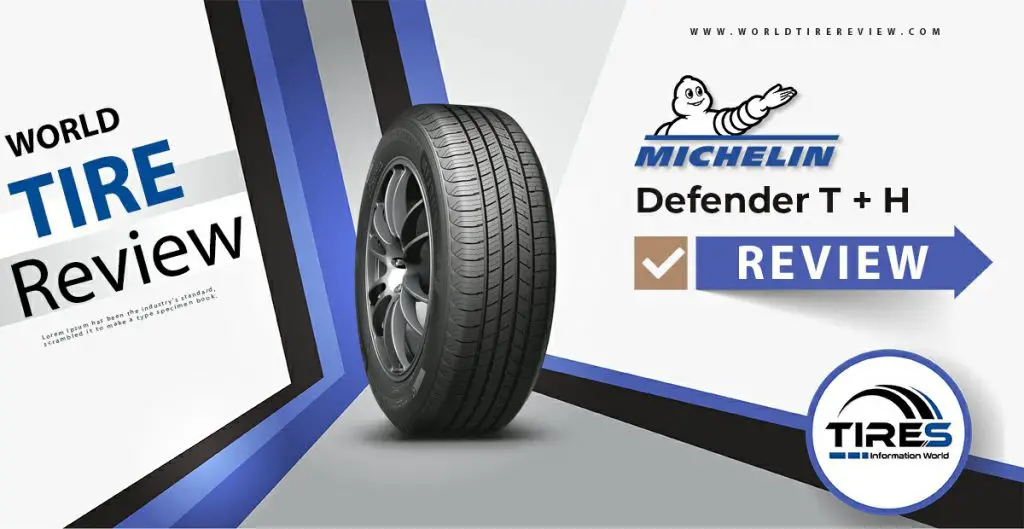 After a long time of use, your tires wear out and have poor road grip? It's the time when you need replacement tires, and our Michelin Defender T + H review will help you out with suggestions from our experts.
Michelin is one of the leading and trustworthy tire brands on the Fortune Global 500 list. Therefore, you can count on the qualified premium tires of this brand.
Defender T + H is a top-selling product of Michelin. The tires will provide you a safe and reliable driving experience with IntelliSipe technology. This technology features interlocking zig-zag sipes on the tire to provide a stable drive and consistent grip during use.
They come with a high grade of traction thanks to silica compounds and asymmetric tread patterns. You will find them consistent handling and braking on dry surfaces.
On the other hand, when you drive in rain or light snow, these tires' sipes and biting edges of these tires still work effectively, making them one of the best all-season products.
Many online Michelin Defender T + H reviews also show that the items provide smooth and comfortable rides without loud noise on most terrains. 
This model is an all-season tire that suits most passenger cars, including medium-size minivans, sedans, and SUVs. The brand offers plenty of sizes for your car, from 14 inches to 18 inches wheel diameter.
Michelin Defender T + H Review: Pros & Cons
View more: Michelin LTX A/T2 Tire Reviews
Tire Drive Test
There are hundreds of Michelin Defender T + H tire reviews on the Internet, but are they all true? Here is our honest opinion after testing out the product.
Michelin has been a popular choice of car tires in the USA since its establishment. Beside a long treadwear warranty, its product provides consistent performance through years. 
Though Defender T + H are premium tires of this brand, they still have some minus points. Since they are made of high-grade compounds, the price is slightly high compared to other products on the market. However, the outstanding benefits still make them worth the price.
One thing that we are concerned about is its traction on roads covered by the thick snow. This is also the problem that most all-season tires have to deal with in harsh conditions of weather.
We suggest you buy a set of dedicated snow tires for more reliable winter traction to fix the situation.
We hope that our Michelin Defender T + H review gives you an objective view of this product to decide whether it is suitable for your needs.
Overall, the advantage outweighs the minor disadvantages in these tires. We highly recommend this high-grade product since it gives you stable and safe driving due to consistent grip and long-term treadwear.
Competitors & Alternatives
| | |
| --- | --- |
| Treadlife Warranty: | 6 Years / 80,000 Miles  Half mileage for rear if different size than front |
| Uniformity Warranty: | 1 Year / first 2/32″ of wear |
| Workmanship & Materials Warranty: | 6 Years / Free replacement first year, 2/32″ or 25% of wear, then prorated until 2/32″ remaining depth |
| Manufacturer's Road Hazard Warranty: | None |
| Manufacturer Special Warranty: | 60-day satisfaction (1), 3-yr flat changing |
| Additional Information: | (1) Exchange for Michelin, BFGoodrich, or Uniroyal |
Defender T + H warranty summary for replacement tires purchased on or after 06/01/19 at Tire Rack
| 14″ | | 15″ | |
| --- | --- | --- | --- |
| 185/65R14 | 195/70R14 | 185/60R15 | 205/60R15 |
| 185/70R14 | | 185/65R15 | 205/65R15 |
| | | 195/60R15 | 205/70R15 |
| | | 195/65R15 | 215/70R15 |
| 16″ | | 17″ | |
| --- | --- | --- | --- |
| 185/55R16 | 215/65R16 | 215/55R17 | 225/60R17 |
| 205/55R16 | 225/60R16 | 215/60R17 | 225/65R17 |
| 205/60R16 | 225/65R16 | 215/65R17 | 235/50R17 |
| 205/65R16 | 235/60R16 | 225/50R17 | 235/55R17 |
| 215/60R16 | 235/65R16 | 225/55R17 | 235/60R17 |
Defender T + H prices range approximately from $101.44 – $205.99 – TireBuyer
Michelin Defender T + H – Compare Prices
We found 7 online tire retailers selling Michelin Defender T + H. Refer to the details below to get the best price
Michelin Defender T + H
PRICE
SOLD BY
 

$109.99

$97.99

$109.99

Offers

$110

Offers

Offers
Defender T + H Ratings By Consumer