These days, there are multiple choices of tires for our sedans, SUVs, CUVs, etc. However, the flood of information on the Internet makes us confused about choosing the appropriate one. In reality, owners always consider the features, pros & cons, prices, or experience before deciding.
Brief overview
About The Brand
The Goodyear Tire and Rubber Company, a tire manufacturing company established in 1898, owns the Douglas brand. Besides, the tires are produced by a reliable manufacturer established in 1894. This also contributes to developing consumers' trust in general. 
This brand is most famous for its affordable price along with reliable performance. In addition, it also comes in a variety of sizes for minivans, cars, and CUVs, increasing the accessibility and flexibility of the brand.
One of the special things here is that Douglas products are sold inclusively through the Walmart system.  We can visit Walmart stores or their official website to find out more!
About The Tire
One of the advantages here is its various sizes. Although Douglas is affordable, it doesn't limit the sizes. It develops two main products, DOUGLAS® ALL-SEASON and DOUGLAS® PERFORMANCE. Each of them has its distinct advantages and drawbacks. 
In general, they are both standardized, have attractive designs, and are entitled to a 45,000 miles treadwear warranty.
This brand's products are developed with the feature of all-season traction. In other words, these products are comfortable in all weather conditions, including wet, stone, or sand roads. This feature makes drivers feel more reliable, confident, and safe through bad road conditions.
Nevertheless, because of its affordability and good performance, it is sometimes limited in availability. Some models may generate noise and are unsuitable for heavy snow or icy conditions. In overall, it's not as smooth as other higher-priced tires.
We can choose the suitable one for our vehicles depending on our preferences and needs.
Douglas's Most Popular Tire Models
Douglas All-Season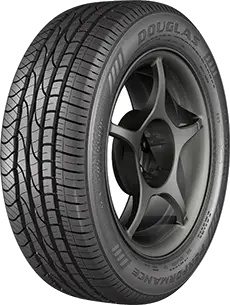 Specifications

Brand: Douglas
Model: All-season
Vehicle Types: Car/Minivan/SUV/CUV
Tire Speed Ratings: S, T, H, W
Available Sizes: 13'', 14'', 15'', 16'', 17'', 18''
Manufacturer: Goodyear Tire And Rubber Co.

Ratings

No rating yet
These tires are designed to be both comfortable and efficient. It has circumferential grooves, blades, and centerline notches to enhance grip and traction in various weather situations. 
The sidewalls are black and rated for at least 45 thousand miles of resistance. The streamlined tread pattern on this all-season black sidewall tire helps to decrease road noise. 
Douglas All-Season is ideal for cars, minivans, SUVs, and CUVs. All-season tires provide all-season traction and often come with a 45,000-mile guarantee. They come in various sizes (from 13 to 18 inches), in diverse speed ratings (including S, T, H, and W), and different tire load indexes (from 79 to 104)
Regarding performance, All-Season products are given reasonable adjectives of compliments. For example, people say "good" but not "best". They appear to be competent on dry roads. In other words, it does not make much difference between an affordable all-season tire and the other expensive one. 
In the wet performance, most people believe it's good to handle. The grip and traction in the rain are still good, making users feel comfortable. In winter conditions, they are totally fine in modest snowfall. 
However, in heavy snowfall or icy surfaces, they can't work as well as they can in dry and wet weather. The road noise reduces thanks to the smart tread pattern, bringing drivers a smooth experience.
Douglas Performance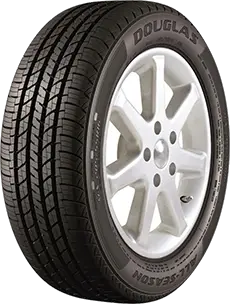 Specifications

Model: Performance
Vehicle Types: Car/Minivan/SUV/CUV
Tire Speed Ratings: H, V
Available Sizes: 15'', 16'', 17'', 18''
Manufacturer: Goodyear Tire And Rubber Co.

Ratings

No rating yet
The Douglas Performance line is developed as all-season traction that is sturdy and balanced. These tires fit a wide range of minivans and vehicles. About the design, they have black sides for a more attractive appearance. The brand offers a 45,000-mile warranty. This type is a little higher than the previous, but it's still reasonably priced.
The asymmetric tread pattern on this tire provides outstanding all-weather grip. The circumferential grooves and blades are intended to improve traction on wet roads further. 
This tire also has a big sturdy shoulder that improves our vehicle's handling and steering responsiveness. In short, the Performance products are improved in handling, giving an excellent all-season performance.
The available sizes are ranged from 15 to 18 inches with different tire speed ratings (H and V) and load indexes from 85 to 100.
Most users describe the Performance products as perfect or great in dry conditions regarding the operation, especially their handling ability. In rainy or wet conditions, there is not much change. The traction and steering response are considered good and stable. 
A little more outstanding, this type performs pretty well with great handling and adequate grip in snow conditions. The tires are quiet and smooth for many drivers, and even some people lean towards these products over other previously used brands.
The Prices of Douglas
The prices are varied, depending on the models, sizes, and specs. In general, we would like to give an average range for consideration.
All-season: $37 – $96 (per tire), meaning $148 – $384 (a set of 4)
Performance: $95 – $108 (per tire), meaning $380 – $432 (a set of 4)
We suppose that this brand is offering quite competitive, affordable prices in the market. Along with its pretty good performance, those prices may somehow convince us.
Why Pick Douglas Tires?
Douglas tires are almost certainly within our reach. We can find these tires in Walmart shops all around the country. Or we may also purchase online through the website Walmart.com. Because there are over 4,000 Walmart Supercenters and bargain stores countrywide, we believe this sort of convenience is an advantage.
This brand's products are one of the more cost-effective options available today. They're comparable in price to other budget-friendly manufacturers. For example, Laufenn, Ironman, etc.
Douglas is not only affordable, but it also comes with a 45,000 miles treadwear warranty. After-buying service plays an important role in today's society, and this brand is doing well.
However, there is a notice here. To register a warranty claim, we should ensure the tires must be installed at a Walmart location. It may not be easy to acquire a warranty claim if we purchased from Walmart and installed it elsewhere. We've heard the problem from other customers, so buyers should learn more about the warranty policy through Walmart staff before deciding.
Douglas Tires Reviews by consumer
Positive Experiences with Douglas Tires
"Installed 4 Douglas All-Season Tire 215/60R16 95H SL on my 2008 Nissan Altima. Took a 1200 mile trip. The ride was comfortable and quiet. The car handles very well with these tires. The price was very reasonable."

Propicturetake via Walmart – Douglas All-Season
"Had these tires put on right before a torrential rain. I was amazed at how nice the drive felt and quietness of the tires were amazing. When the road flooded, I actually felt the tires gripping the road. I was the only car that didn't hydroplane off the road that night. I am truly grateful that I was able to afford a great set of tires. I will definitely purchase Douglass Performance Tires in the future." – Douglas Performance

Jo1Colorado Via Walmart Tire – Douglas Performance 215/45R17 87V Tire
Negative Experiences with Douglas Tires
"I've had these tires on my car sense april 2019, when I first got them on they rode smooth not loud but after about 5 months they got really loud started turning a brown color even though I wash my car regularly, my rear tires are a different band and I've had them for 2 1/2 years and still are black with tread on them, the dextro tread does not last long at all, it starts getting bald in under a year of having them, I would not buy again or recomend unless they need a spare tire but definitely not a long term tire to have"

Mad via Walmart – Douglas Performance 215/45R17 87V Tire
"You get what you pay for. It's a tire, with tread. That'a about it. Rain handling is horrible, slips out at every signal and stop/go. Squishy in corners at any speed. Basically rolls like a tire that is 4+ years old. OK in dry conditions. I'd spend more next time and get a decent tire. This is a 1 year review as well, so I actually have some miles on them to give an accurate review."

Tony via Walmart – Dextero DHT2 – Douglas All-Season 225/65R17 102H Tire
FAQs
Are Douglas Tires Good?
Based on the affordability and reliability of the brand and users' experience, we believe that they're good.
Although they are not as excellent or marvelous as other higher price tires, Douglas tires are so good compared to the money we spent. Besides, the products are guaranteed for 45,000 miles, which is pretty ideal. If we don't have to face severe weather, this brand is one of the best and optimal choices. 
Who Makes Douglas Tires?
Douglas Tires is a brand owned by Goodyear Tire & Rubber Company. So, the brand's products are manufactured by Goodyear and supplied exclusively by Walmart. Douglas is not an independent manufacturer. Douglas products aren't technically Goodyear's off-brand tires. 
Are Douglas Tires The Same As Goodyear?
They are among the most cost-effective tires available. However, do not be fooled by the low price. Douglas tires can provide outstanding safety and performance. However, it's hard to overcome the reputation of Goodyear. Because of the friendly prices, they can't be compared with authentic Goodyear tires.
Conclusion
In conclusion, both All-season and Performance Tires of Douglas are competitive, standardized, and popularly qualified to our expectations. Unless the living weather conditions are dramatic, we think these tires handle well in most circumstances.
Besides, the brand is reinforced by a trustworthy tire company. If the saving element plays the main role, then we should consider Douglas.