Introduction
In recent years, one of the most popular companies that serve the high demand of customers around the world has been the Finnish manufacturer Nokian. Years of hard work and product innovation have earned them a well-deserved reputation. 
The Nokian company's main principle is updating and modernizing all tire components regularly. Over years of producing high-quality products, their tires are considered the best products for both summer and winter use.
Nokian Tire Overview
The company's origins can be traced back to an 1898 pulp mill. Suomen Gummitehdas Oy (Finnish Rubber Works Ltd) began manufacturing automobile tires in 1932 and expanded over time. Nokian Tires has created the 'Kelirengas' (rough translation as 'weather tire,' the first tire that offers a rugged tread capable of climbing Finland's snowiest roads and trails.
This first winter tire, introduced in 1934, was a game-changer for Nordic residents experiencing harsh Scandinavian winters. Kelirengas were originally designed for trucks to allow them to move through heavy snow.
The tire's revolutionary tread pattern penetrates the snow like a rail, making snowy peaks much easier to reach.
Two years later, the company produced the first Hakkapeliitta winter tires, paving the way for future growth and international expansion. For over 80 years, Nokian Tires Hakkapeliitta has been a leading winter tire brand.
Although the first winter tire, the 'Kelirengas,' was a one-of-a-kind offering at the time, it was simply a winter tire by modern tire styling standards. Kelirengas used a similar rubber compound, which is stiff like summer tires, so traction depends entirely on the treads.
Natural and synthetic rubber are now used in non-stone winter tires. Natural rubber behaves consistently across a wide temperature range, allowing the tread compound to remain flexible while maintaining a good grip.
The proportion of black carb in the tire has been replaced with silica, which greatly improves fuel efficiency and wet grip. The company continues to advance its research in the design and construction of winter tires, and the company remains the market leader and most prominent innovator in the field.
Nokian's Most Popular Tire Models
Nokian eNTYRE 2.0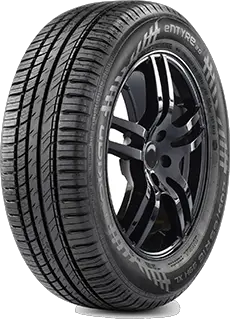 Specifications

Brand: Nokian
Model: eNTYRE 2.0
Weight: 26.2 pounds
Available Size: 15″, 16″, 17″, 18″, 19″

Ratings
While Nokian is apparently best known for its winter tire lineup, the Nokian Entyre 2.0 all-season touring tire is about to change that. The Entyre 2.0 is designed for drivers of coupes, sedans, minivans, and crossovers, and it provides excellent handling and traction all year long for a comfortable ride.
The firm employs a brand new high modulus tire compound with silica and a comforting base compound to provide a smoother, more comfortable, and sportier ride quality.
The mix of silent sidewall technology and a silent tread design gives the kind of ride comfort found on the most premium all-season touring tires on the market today. Not only is the ride more relaxed, but the noise level has been massively reduced.
Nokian Hakkapeliitta 10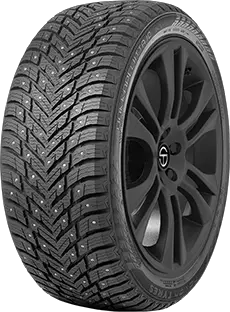 Specifications

Brand: Nokian
Model: Hakkapeliitta 10
Weight: 26.1 pounds
Available Size: 14″, 15″, 16″, 17″, 18″, 19″, 20″

Ratings

No rating yet
The Hakkapeliitta 10 is engineered to provide the grip, traction, handling, and braking required to navigate the harshest winter road conditions.
The environmentally-friendly rubber, combined with the Green Elasto Proof biomaterial, creates these tires stiffer and more flexible, particularly in subzero temperatures. These winter tires are designed specifically for use in the winter to provide the necessary grip when cornering, braking, or accelerate
The sturdy sidewalls of this tire ensure that you can lean on them and that they are less likely to be cut or affected by any impact while driving. These studs also improve braking and acceleration.
Nokian ZLINE A/S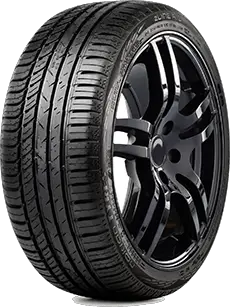 Specifications

Brand: Nokian
Model: ZLINE A/S
Weight: 32.2 pounds
Available Size: 16″, 17″, 18″, 19″, 20″

Ratings

No rating yet
Nokian ZLine A/S is designed for superior traction, traction, and a smoother, more comfortable ride.
Cooling Edge technology improves handling, cornering, and steering in dry and hot conditions by cooling any areas of the tire that begin to overheat.
The company has prioritized safety and comfort with innovative features such as a unique tread design, stiffer outer shoulder, wider inner shoulder grooves, and wider inner shoulder grooves, allowing the rider to better grip in wet conditions and avoid water skidding on wet surfaces.
The ZLine A/S 'Silent Groove' design on the tire's longitudinal sidewalls improves comfort and noise reduction even more. The airflow is controlled, which reduces the amount of noise produced by these tires, resulting in a much smoother ride.
Nokian Nordman 7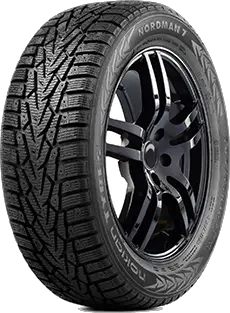 Specifications

Brand: Nokian
Model: Nordman 7
Weight: 25 pounds
Available Size: 14″, 15″, 16″, 17″, 18″, 19″, 20″

Ratings

No rating yet
Thanks to the firmness, the tires stay firmly on the road, even on ice, so you don't have to worry about driving too slowly during turns. It is indeed famous for its great capacity in winter conditions, as well as the surprisingly low price. 
You will get a comfortable drive with this tire, as it obtains the unique stud tech which ensures comfort and safety for drivers.
Cost Of Nokian Tires
This tired line includes a variety of segments and options to suit every user's budget. Depending on the tire size, tires start at around $56.00 to $210. High-performance tires can be pricier but only compared to other premium brands. A set of four tires will start at $224 to $840 and gradually increase in price as the size increases. 
However, compared to other well-known tire manufacturers worldwide, Nexen almost always wins in terms of value for money.
Why Choose Nokian Tires? 
According to users and people who have experienced many different types of tires, Nokia tires have many outstanding advantages, such as the DIS system developed and patented by engineers to help accurately identify abrasion over time.
The manufacturer has increased the surface width because the contact between the road surface and the tire is critical for safety.
Furthermore, the Finns considered the winter conditions in Russia, so they coated a rubber compound with aramid – a tough armor material.
When the snow melts and the ditches along the roads fill up water, waterproof protection comes in handy. When driving through such areas, drivers frequently lose control. Worn tires pose an especially high risk. The DSI system maintains the tire's condition, and the tread prevents deposits from forming.
However, they still have some drawbacks, such as a relatively high cost compared to common ground, so you must consider this condition. According to user reviews, the tire surface wears out relatively quickly, and some tires are noisy when driving, such as Hakka V.
FAQs
Where Are Nokian Tires Made?
Nokian Tires' heavy-duty tires are designed and manufactured entirely in Finland. Truck and bus tires are designed in Finland and manufactured throughout the European Union. Nokia's product development and prototype and test batch manufacturing facilities are located next to the company's headquarters.
Are Nokian Tires Good?
Nokian produces excellent tires in all categories, but they excel in winter tires. They can be pricey for some, but there's no denying that you get what you pay for.
How Long Do Nokian Tires Last?
Tires have a road life of approximately 80,000 miles and come in sizes ranging from 14 to 20 inches.
Conclusion
Overall, we can conclude that any buyer who purchases any of the available models will be satisfied. Each set has incredible properties and qualities, such as increased wear resistance, durability, reliability, and, most importantly, increased safety.