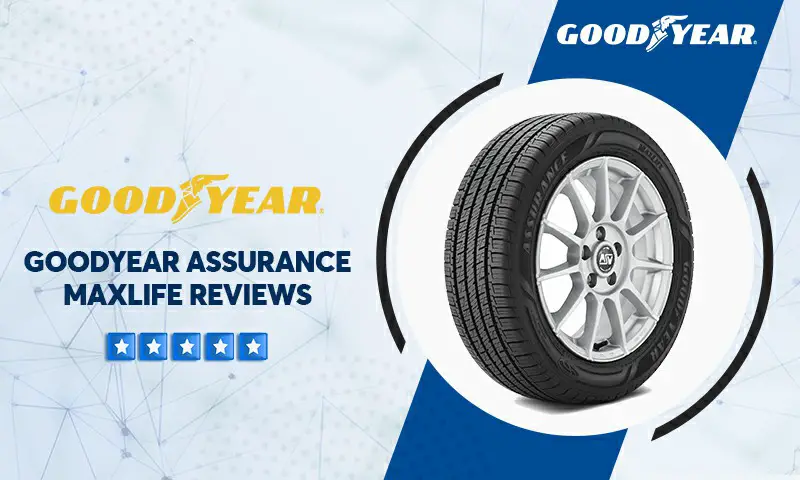 The essential quality that drivers look for in tires is endurance. Most people do not want to replace the tires many times because these modern cars have large wheels, which are a costly purchase.
When we mention the trade life and durability, Goodyear Assurance MaxLife is always one of the most impressive tires and the best choice for standard touring tires.
In Goodyear's history, the Assurance MaxLife has the highest-mileage because of its experiences in tire production.
Thanks to the combination of today's technique, the Assurance MaxLife offers many significant features such as driving comfort, stable handling, the ability to save fuel, the tire performance in the snow, wet and dry.
For that reason, in this post, we will review these features of the Assurance MaxLife. We hope that the following information about traction, tread life, and comfort, etc., will be useful for you.
Pros And Cons
Should I Buy The Goodyear Assurance MaxLife
At first, the Assurance MaxLife does not attract many people because the tire feels dead on center. It might not be very reassuring for those who own performance Sedans.
On the positive point, the Assurance MaxLife has a high capacity of grip and traction. You can achieve high speeds without worrying about losing traction.
Moreover, the Assurance MaxLife is one of the trade life tires on the market. Right now, that's the best result of any traveling touring tire. It is a testament to Goodyear's prowess in engineering.
Furthermore, The Goodyear Assurance MaxLife is suitable for wet conditions. You can control Assurance MaxLife at the limit in heavy rain. In general, the tires create a safe feeling for the driver on a damp surface.
In terms of braking and traction on a wet road, the Goodyear Assurance MaxLife is a step behind the Continental True Contact Tour.
However, if we get rid of the Continental TrueContact Tour in the competition, MaxLife is still the right choice in wet conditions and the other advanced tiers.
You should weigh if you want to use it for off-road driving because the tread compound doesn't have any protection from cuts and punctures.
Although the tire is not very noisy, it is still louder than most premium opponents.
Suppose you want to have a trade life and durability tier for a long-lasting journey. In that case, you should choose Assurance MaxLife because it provides you with safety and comfort in most situations. 
MaxLife also supplies an unbeatable 85,000-mile treadwear warranty on the tire.
Besides, you should consider the Continental True Contact Tour because of the slightly better product.
Competitors & Alternatives
| | |
| --- | --- |
| Treadlife Warranty: | 6 Years / 85,000 Miles |
| Uniformity Warranty: | 1 Year / first 2/32″ of wear |
| Workmanship & Materials Warranty: | 6 Years / Free replacement first year or 2/32″ of wear, then prorated until 2/32″ remaining depth |
| Manufacturer's Road Hazard Warranty: | None |
| Manufacturer Special Warranty: | 30 Day Test Drive (1) |
| Additional Information: | (1) Exchange for a different Goodyear brand tire |
Assurance MaxLife
Warranty summary for replacement tires purchased on or after 04/01/19 at Tire Rack
| 15″ | | 16″ | |
| --- | --- | --- | --- |
| 195/65R15 | | 205/55R16 | 215/55R16 |
| | | 205/60R16 | 215/60R16 |
| | | 205/65R16 | 215/70R16 |
| | | | 225/60R16 |
| 17″ | | 18″ | |
| --- | --- | --- | --- |
| 205/50R17 | 225/50R17 | P 215/55R18 | 235/50R18 |
| 215/45R17 | 225/55R17 | 225/45R18 | 235/55R18 |
| 215/50R17 | 225/60R17 | 225/55R18 | 235/60R18 |
| 215/55R17 | 225/65R17 | 225/60R18 | 235/65R18 |
| 215/60R17 | 235/45R17 | 235/40R18 | 245/60R18 |
| P 215/65R17 | 235/50R17 | 235/45R18 | 265/60R18 |
| 225/45R17 | 235/55R17 | | |
| 235/60R17 | 235/65R17 | | |
| 19″ | | 20″ | |
| --- | --- | --- | --- |
| 225/55R19 | 235/50R19 | 235/55R20 | 255/50R20 |
| 235/40R19 | 235/55R19 | 245/50R20 | 255/55R20 |
| 235/45R19 | 245/55R19 | | |
| | P 255/60R19 | | |
Assurance MaxLife prices range from 114.00 And up
Goodyear EfficientGrip Performance 2
Michelin Primacy HP Zero Pressure
Vredestein Ultrac Satin
Nokian iLine
Kleber Dynaxer HP4
Nokian Line
Goodyear Assurance MaxLife – Compare Prices
We found 5 online tire retailers selling Goodyear Assurance MaxLife. Refer to the details below to get the best price:
Goodyear Assurance MaxLife
PRICE
SOLD BY
 

Offers

$119.99

Offers

Offers

Offers
Assurance MaxLife Ratings By Consumer