With the many options available today, finding the mud terrain tires can be a little perplexing. Good mud tires should be able to handle rock faces and other slick, rough conditions. 
With so many different types of tires to choose from, it's critical to discern between the various categories available in stores today. 
What Are Mud Terrain Tires?
Mud terrain tires are used on trucks, SUVs, and Jeeps to provide the best off-road traction possible, particularly in mud. They have a distinctive tread pattern with tough "tread blocks" or "lugs" and more space between them than conventional tires.
The space between the blocks allows mud to escape and prevents it from compacting. It will also help the mud to be cleared as the tire spins as a self-cleaning mechanism.
Mud tires are available in various sizes, ranging from 15 to 24 inches in diameter and up to 44 inches in height. Mud tires typically feature 12 to 17 millimeters of tread and are easily identified by their chunky, aggressive tread pattern.
What Are Mud Terrain Tires Good For?
Mud tires have an edgy and aggressive look. They're also available in larger sizes for lifted trucks and Jeeps. A mud tire is often the best choice for mud bogging or rock crawling when maximum grip is required. 
If you want to tackle rough, steep, muddy terrain, a mud tire is always a better option. 
On the other hand, mud terrain tires offer greater traction in harsh terrains. They're designed to give the best performance during the most demanding expeditions.
Mud tires, like all-terrain tires, are designed with a variety of distinct technology advancements to increase performance. The best-looking mud tires have a more dramatic and tread pattern intended to grip the mud-filled terrains and dirt for which they are built. 
These tires' striking tread designs aren't simply for show; they have a precise and strong purpose.
The advantages of these tires are that they provide excellent traction on mud and rocky terrain. They have a longer lifespan than the other types and are less likely to puncture when utilized for their intended purpose.
Top 8 Best Mud Terrain Tires
1. Pro Comp Xtreme MT2
Best For Puncture Protection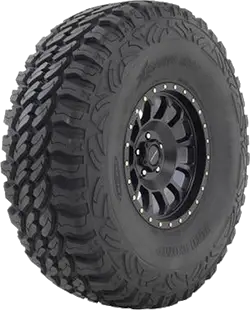 Key Feature
Aggressive tread design
Some road noise at times
Tire Size
15″, 16″, 17″, 18″, 20″ and 22″,
Price Range
$190.00 to $518.0
Ratings
No review yet
The Pro Comp Xtreme MT2 tires have a Tri-Ply construction that provides excellent puncture protection. The structure builds a stronger sidewall resistance that can handle even the most difficult terrain.
In addition to the Tri-Ply construction, they have a spiral-wound nylon wrap and two steel belts, which allow them to carry bigger loads while also adding another layer of protection. 
The Pro Comp Xtreme MT2's design also improves the performance of SUVs, 4×4s, and light trucks. It delivers greater stability and braking thanks to its two-step tread blocks and additional silica.
The aggressive open tread design provides excellent driving performance in both dry and wet situations and off-road, particularly in mud. It also has better self-cleaning capabilities in mud and snow.
The Pro Comp Xtreme MT2 is available in 15 to 20-inch sizes and comes with a respectable 40,000-mile guarantee, great for tires that go off-road.
However, the MT2 might not be the best option for a daily driver due to its aggressive design. Pro Comp also addressed the issue of road noise, especially when used on dry roads.
2. Nitto Trail Grappler M/T
Best For A Quiet Ride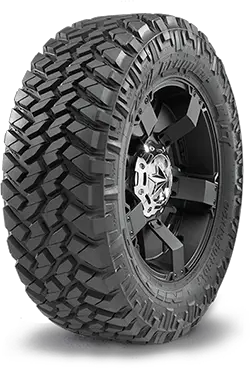 Key Feature
Great balance between off-road performance and on-road drive.
Easily pass the toughest terrains such as deep mud, rock, and debris.
Tire Size
15″, 16″, 17″, 18″, 20″ and 22″,
Price Range
$271.00 – $1408.00
Ratings
The Nitto Trail Grappler M/T can tackle the hardest trails while making less noise than other tires. According to the brand, the Trail Grappler M/T is 34% quieter on the street and 36% quieter on the highways.
Nitto's experts used the most advanced sound analysis techniques and equipment to reduce noise levels to combat the annoying road noise commonly associated with off-road tires. The quietness of this tire is instantly noticed when driving at greater speeds.
The Nitto Trail Grappler M/T is designed to combine some off-road performance with on-road comfort. Along with a tough 3-ply construction, Trail Grappler allows drivers to drive their vehicles across any terrain while maintaining a peaceful ride on the highway.
The Trail Grappler has an all-terrain tread compound that adds cushioning on rough surfaces and improves overall puncture resistance. The tread block arrangement also adds more biting edges and boosts stability.
The downside of this product is that even though it's perfectly suitable for a daily driven vehicle, its performance in wet and slippery road conditions is just average.
3. Toyo Open Country M/T
Best For Durability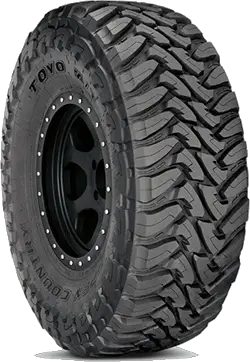 Key Feature
Aggressive designs
Work well in flat to rough terrain
Tire Size
15″, 16″, 17″, 18″, 20″, 22″, 24″ and 26″.
Price Range
$388.71 to $581.29
Ratings
The Toyo Open Country M/T's features make it legendary for its durability. 
The aggressive tread blocks with hook patterns and the open shoulder blocks that get rid of water, mud, and rocks improve off and on-road durability and grip to provide traction that is among the best in its category.
The Toyo tires provide all-around solid performance on a variety of roads and weather. Their over-the-shoulder tread and deep siping in the tread blocks are appropriate for wintery and light-snow conditions.
The high turn-up and the 3-ply polyester casing of this product also expand its longevity and durability. Many drivers reported that they could drive for over 50 thousand miles.
Even though the Open Country tires can work on almost every road surface, they are not the best rock-crawling tire. Other than that, this product is capable of handling just about anything you throw at it.
4. BFGoodrich Mud-Terrain T/A KM3
Best For Strong Performance
Key Feature
Krawl-Tek Compound
Traction-Armor Sidewall Sculpture
Coregard Max Technology
Tire Size
14″, 15″, 16″, 17″, 18″, 20″ and 22″,
Price Range
$199.45 to $659.94
Ratings
BFGoodrich Mud-Terrain T/A KM3 is one of the best truck mud tires on the market for its strong performance. 
Punctures and bruises are avoided, thanks to its strengthened structure, while sophisticated rubber compounding and a built-in rim protector provide more confidence and protection.
With the terrain-attack tread design, you can power through mud and loose soil. The Mud-Phobic Bars release compacted mud for prolonged traction, and large tread blocks give exceptional grip from any angle of approach.
Along with the innovative Krawl-TEK compound, the BFGoodrich Mud-Terrain T/A KM3 can tackle any rock and slick surface. 
On all types of terrain, you can expect great off-road traction. This tire has excellent on-road manners, as well as excellent wet and snow handling characteristics. 
The advanced technology also protects the product against sharp objects with a strong sidewall shield and unique compound, while the sidewall sculpture prevents splitting. This tire has a longer tread life than you might imagine.
The BFGoodrich Mud-Terrain T/A KM3 is still a solid performer, even though some drivers claim that getting the tires balanced is difficult because the braking and steering response are both averages. They need to rotate the tire more occasionally to ensure even wear.
5. Cooper Discoverer STT Pro
Best For Heavy-Duty Use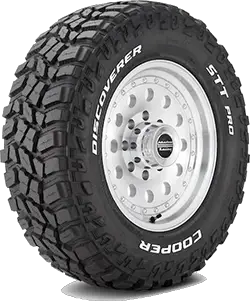 Key Feature
Aggressive tread design
All-terrain performance
Tire Size
15″, 16″, 17″, 18″, 20″ and 22″,
Price Range
$193.06 and up
Ratings
The Cooper Discoverer STT Pro is designed for heavy-duty use on all types of difficult terrain. This product features cutting-edge engineering for exceptional off-road performance while remaining more than adequate on the road.
The alternate tread block design distributes stretch between the treads and sidewalls, even at extreme angles, while the dimples and scoops provide additional traction.
Unlike the BFGoodrich KM2 above, this one isn't designed primarily for off-road use. Instead, Cooper designed the tire to provide outstanding off-road traction on any surface. It means that this tire can work well on rocks, sand, and gravel. 
The unique scallops on the tire tread lugs, which dig through muck and deep snow. Durability and comfort of mind are also further enhanced by the anti-stone retaining ribs and puncture-resistant housing.
You should keep in mind that since the Cooper Discoverer STT Pro is a heavy tire, its noise reduction level still needs some improvements.
6. Mickey Thompson Baja Claw TTC
Best For Highway Capability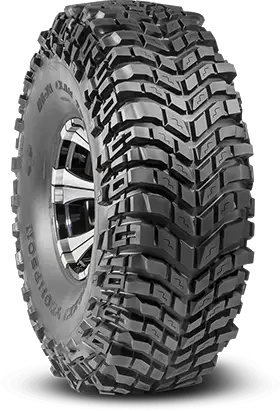 Key Feature
Excellent for both on-road and off-road driving
Solid and dependable tire at a reasonable price
Tire Size
15″, 16″, 17″ and 20″,
Price Range
Updating
Ratings
No review yet
The Mickey Thompson Baja Claw TTC has great off-road and well-mannered highway capabilities, including navigating mud and uneven terrain. 
The product has PowerPly sidewalls, which have a third angled ply that helps avoid punctures while also improving handling and pulling power. All sizes include these sidewalls for increased durability and puncture resistance.
The silica-reinforced tread compound provides outstanding chip resistance. On the highway, the radial design delivers a smoother ride and better grip on any terrain.
Apart from the above features, the Mickey Thompson Baja Claw TTC has a self-cleaning design, changeable draft angles, stone ejectors to keep stones out of the tread, and even sipes to improve its off-road performance.
The only thing this tire is missing is its slightly heavier weight than other products.
7. Goodyear Wrangler MT/R With Kevlar
Best For Maximum Traction
Key Feature
Outstanding dry and wet traction
Exceptional off-road performance
Tire Size
15″, 16″, 17″, 18″ and 20″,
Price Range
$234.00 to $613.00
Ratings
The Goodyear Wrangler MT/R is designed to give great off-road traction for drivers of pickup trucks and sport utility vehicles, with Dupont Kevlar-reinforced sidewalls, which are tougher than steel. 
The Kevlar-reinforced sidewall is one of the essential components of this tire's resilience. It will take maximum traction to a new level. This feature gives up to 35% greater cut and puncture protection than other models.
To improve the tire's self-cleaning abilities, Goodyear incorporates what it claims "enhanced mud-flow geometry" into the tread design. The Goodyear Wrangler MT/R with Kevlar is a serious mud-terrain challenger, thanks to the stepped-in and out shoulder blocks.
Finally, the Wrangler's aggressive multi-faceted tread design allows it to be used on nearly any surface, including mud, pebbles, and sand.
Despite the fact that the Goodyear Wrangler is designed for off-road use, it nonetheless has superb on-road characteristics and on-point traction.
Goodyear, on the other hand, does not provide a treadwear warranty, which is a bummer.
8. Firestone Destination M/T2
Best For Stability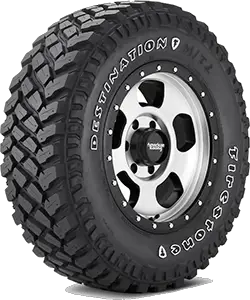 Key Feature
Excellent traction in dirt, sand, gravel, rocks, snow
3-ply sidewall is a welcome addition
Tire Size
15″, 16″, 17″, 18″, 20″ and 22″,
Price Range
$212.39 to $626.90
Ratings
No review yet
The Firestone Destination M/T2 is one of the best MT tires available, thanks to its ability to handle a variety of conditions while maintaining a stable driving experience. 
Firestone designed the tread block pattern on the tire to provide a great grip on all surfaces.
The tread compound is sculpted into an aggressive and deep tread pattern and is chip and tear-resistant. The tire also has an aggressive sidewall construction, mud and stone ejectors, and a 23-degree attack angle.
The brand built the Firestone Destination M/T2 to perform well both on- and off-road. Their engineers increased the number of biting edges surrounding the tread by 20% above the original for improved stability on wet pavement and deeper snow. 
While the tire's 3-ply sidewall adds durability and strength, twin high-tensile steel belts enhance durability and strength with nylon reinforcement.
The overall review of this product is positive. However, its treadlife isn't as compatible as the above products. They tend to wear out pretty quickly.
Best Mud Terrain Tires FAQs:
What Is The Most Aggressive Mud Tire?
The BFGoodrich Mud-Terrain T/A KM3 is the most aggressive mud tire on this list. These tires provide dependable off-road traction on various terrains, including dirt, rocks, and mud.
Are Mud Tires Good For Off-road?
Mud tires are made to function best in mud, sand, and loose dirt areas. They have a big tread block design with deep and wide spaces in between. It allows you to dig into most off-road terrain while keeping gravel, debris, and mud from the crevices between the knobs.
Are Mud Tires Good In The Snow?
In fact, mud tires are less capable in the snow than many all-terrain tires. When driving on mud tires in the snow, snow will ultimately fill in the wide channels between the tread blocks and the tread channels, reducing the off-road performance of mud tires.
Winter tires are designed to improve traction in deeper snow and temperatures below freezing. In light snow, mud and snow tires can suffice, but if you frequently travel in snowy circumstances, you're better off with a pair of decent winter tires.
How Long Do Mud Tires Last On The Highway?
Treadwear on mud-terrain tires varies greatly based on various factors. For instance, driving style, road conditions, vehicle setup, and other variables. 
With a mix of street and off-road travel, the longest-lasting mud tire may achieve roughly 40,000 miles if your car isn't substantially customized.
Conclusion
For each person, the mud terrain tires would be different. Many factors influence mud tire selection, including performance, treadlife, sidewall construction, traction, and pricing.
All of these requirements differ from one person to the next. As a result, it's up to you to choose the greatest choice for yourself.