Hankook Tire Review in Great Details
Last updated: January 16, 2023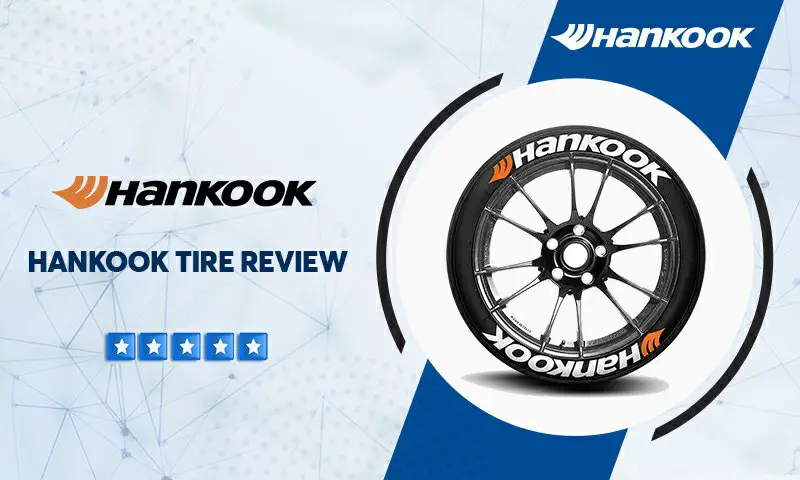 General Introduction About Hankook
Hankook is a South – Korean brand found in 1941. It is one of the youngest tire manufacturers in the market, but the success it has achieved is highly respectable. 
Compared to some corporations with a half-century history of development, Hankook is a major competitor as the company quickly entered the top 7 of the world's largest tire manufacturers. 
The company has proven its superior production by participation in the motorsport world, and partnership with some popular vehicle manufactures such as Ford or Mercedes-Benz. 
Through Hankook Tire Reviews on its website, it's clear that the company provides first-rate products with an affordable price range. Based on Kontrol Technology philosophy, all product lines are guaranteed to maximize durability. It also comes up with the best handling, even under the worst weather conditions.  The edged patterns tire design provides more power and keeps the drivers in the right direction when traveling on snow or muddy roads.  
Besides, Hankook aims to give customers the most comfort. These tires are tested to limit noise and vibration to an optimal driving experience.  The company also offers tires with above-average temperature resistance (rated B or higher). 
Last but not least, Hankook can provide tires for racing with a top speed rating of 240 km/h. The remaining products have a minimum speed rating of 150 km/h.  
Pros And Cons of Hankook Tires
The Drive Test-Things To Note When Buying Hankook Tires
Control Technology
After a period of time, we realized that control technology makes a great contribution to our driving experience. It allows our car to reduce steering and to grip the road stronger. Also, sturdy shoulder blocks provide more traction, which helps us do better on corners. 
The tire is an excellent choice for rainy days, but its performance seems to be slightly reduced on snowy days. It lacks the braking and acceleration we need in rough winter weather conditions. 
Tread-life Warranty
According to the  reviews on Hankook website, most product lines have a warranty period of up to 59,000 miles, which is above the market average. In our opinion, the tread compound structure of these tires avoids exaggerated shape changes, which significantly improves their tread-life. We use our tires for more than 30,000 miles, and they still work pretty well. 
Sizes Of Tires
This is the greatest difficulty we encountered while using Hankook tires. There are five options for the two most common sizes fitting passenger vehicles include 15- and 17-inch rims. For 16-inch rims, we found seven options on Hankook's website. 
Compared to other brands, customer choice seems to be limited as they can choose at least 20 sizes per rim on competitor's websites. The same thing happens when we look for truck tires. 
Noise
Hankook has done a good job in producing tires with noise and vibration control technology. During the operation, the tires work stably even on the road with many obstacles. 
After a while, however, our tires seem to suffer from a loss of noise control. We find it annoying that there is quite a loud sound coming from the cabin. We reached out to customer service and only partially solved it.
Consumer Reviews by Hankook Tire Model
| | | |
| --- | --- | --- |
| Max Performance Summer | Extreme Performance Summer | |
| Ventus S1 evo Z | Ventus R-S4 | |
| Ventus V12 evo K110 | – | |
| Ventus V12 evo2 | High Performance Summer | |
| – | Kinergy Eco | |
| – | | |
| Ultra High Performance Summer | Grand Touring All-Season | |
| Ventus Prime 2 | Kinergy GT H436 | |
| Ventus Prime 2 HRS | Kinergy GT HRS | |
| Ventus S1 evo2 | Optimo H426 | |
| Ventus S1 evo2 HRS | Optimo H426B HRS | |
| Grabber HD | Optimo H428 | |
| Ventus S1 evo3 | Optimo H725A | |
| – | | |
| Ultra High Performance All-Season | Standard Touring All-Season | |
| Ventus S1 noble2 | Kinergy PT H737 | |
| Ventus S1 noble2 + | Kinergy ST H735 | |
| Grabber APT | Optimo H724 | |
| Ventus S1 noble2 HRS | Optimo H725 | |
| Ventus V4 ES H105 | | |
| – | Temporary/Compact Spare | |
| High Performance All-Season | S300 | |
| Ventus V2 concept2 | | |
LIGHT TRUCK/SUV TIRE REVIEWS
Automotive Experts at World Tire Review
Hi everyone, I'm 
David
 (
Tireguy
). I believe that finding tires can lead to a lot of confusion and frustration for almost every driver. That's why I would like to bring my experiences and knowledges to develop World
Tire Review blog
, it will give people a deeper understanding of what choosing the right tire is really like!