With the current popularization of off-roading, the tire industry has become more diverse than ever. With so many possibilities, it might not be easy to know where to begin your search for the best off-road tires. 
Fortunately, we are here to assist. We've compiled a list of the top off-road tires from various brands, so you can discover the tires you desire. Let's get started! 
What Is Mud Off-road Tire?  
When traveling on uneven roads and terrains, a vehicle needs more traction and a firmer grip. That is the function of off-road tires. These tires are often referred to as mud tires and all-terrain tires. 
When opposed to street tires, the construction of these tires is often more solid. They are a fantastic alternative for off-road trails where no other tires can give the necessary traction. This tire variation has aggressive tread blocks designed to hold strongly on mud, sand, or rock terrains.
Off-road Tire Type
If your car frequently transitions between rough terrain and standard road – for instance, an SUV going from city to rural roads – then all-terrain tires are a must. 
These tires have an interlocking tread structure that gives them the resilience to tackle mud, gravel, or grass while still providing a quieter, more comfortable ride on paved highways. 
But keep in mind that all-terrain tires don't have much in common with all-season tires. The former includes a softer rubber than its counterparts for higher traction on rocky surfaces. 
Because the area between tread blocks on these tires is larger than on standard street tires, they can "self-clean." 
Mud-terrain tires seem to be an ideal choice if your car's wheels are frequently scrambling off the main path and into undiscovered territory. 
With more aggressive patterns, these tires provide excellent traction for the wheels in the most difficult conditions, notably mud and wet snow. They're also extremely strong, with tougher sidewalls to cushion the impact of rocks or other off hazards. 
Benefits Of Off-road Tires 
An obvious benefit you can gain with the top off-road tires is the bigger thread. It provides excellent traction on all types of roadways. Thus, your vehicle has the necessary traction on mud, rock, and even snow. 
All-terrain vehicles are a great year-round option and are frequently safer on roads with lots of loose winter snow. Furthermore, many drivers find it extremely easy not to replace their tires according to the season.
Top 7 Best Off-Road Tires Reviews  
1. Cooper Discoverer STT Pro
Best For Durability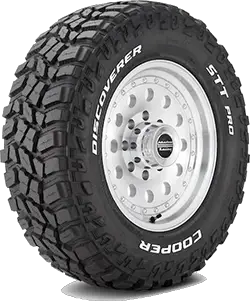 Key Feature
Armor Tek3® construction
Alternating shoulder lugs
Unique hybrid 3-2 tread pattern
Tire Size
15″, 16″, 17″, 18″, 20″ and 22″,
Price Range
$193.06 and up
Ratings
Why is this tire the most durable option on the market? Its tread element is formed of advanced silica and is carbon black. When you combine this with the 3-ply Armor-Tek3 protection, you get a tire that can withstand damage from rocks, trees, or other debris. 
It is 1.5 times as strong as a typical 2-ply tire if you want a more precise comparison.
What's more, the 3-ply is optimally oriented to the other 2-ply, maximizing security even in extreme off-road conditions. It's fair to say that Cooper checks all the right boxes with this tire model when it comes to durability! 
The drawback is that this tire makes a tiny humming sound when driving on the highway or dry pavement, although it is not loud enough to distract you.
2. BFGoodrich Mud-Terrain T/A KM3
Best For Difficult Terrains
Key Feature
Krawl-Tek Compound
Traction-Armor Sidewall Sculpture
Coregard Max Technology
Tire Size
14″, 15″, 16″, 17″, 18″, 20″ and 22″,
Price Range
$199.45 to $659.94
Ratings
No review yet
The tire, aimed at drivers of jeeps, SUVs, and pickup trucks, is ideal for off and on-road usage over all terrains. It will boost your driving confidence by delivering improved control via its all-weather grip and hard-wearing endurance. 
It has a side biter projecting rubber pieces on the sidewall, which increase traction for driving over deep snow or mud while also enhancing rock climbing traction when inflated down. And the outcome? The new BFGoodrich Mud-Terrain T/A KM3 provides 5% more traction on mud and 8% more traction on rock than the previous KO all-terrain tires. 
The compound is molded using computer optimization to give an interlocking tread block all-terrain design. This upgraded tread pattern improves driving safety in wet and icy conditions. This off-road truck tire's only drawback is its noise when traveling on the highway.
3. Toyo Tire Open Country M/T
Best For All Conditions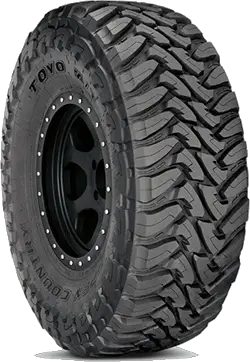 Key Feature
Aggressive, attack tread design with hook shaped blocks
Open, scalloped shoulder blocks
Over-the-shoulder tread
Deep siping in the tread blocks
Tire Size
15″, 16″, 17″, 18″, 20″, 22″, 24″ and 26″.
Price Range
$388.71 to $581.29
Ratings
Finding a quality mud terrain tire for light trucks and SUVs can be challenging. Still, the Toyo Open Country M/T provides that plus all-around solid performance in a wide range of road and weather conditions. 
The aggressive, attack tread pattern with hook-formed blocks and the open, scalloped shoulder blocks will get rid of deep muck (even water and pebbles) to deliver traction that is one of the best tires in this category. All in all, it improves off and on-road steadiness and grip.
The Open Country M/T is excellent for snow in wintery conditions as well, with an over-the-shoulder tread and deep sipes, and it can genuinely be classified as an all-season, all-terrain tire. Deep tread design makes these on-off-road tires unsuitable for rock crawling since they cannot maximize the area of contact with the rock or incorporate well-placed biting edges.
4. Nitto Ridge Grappler
Best For Hybrid Tread Design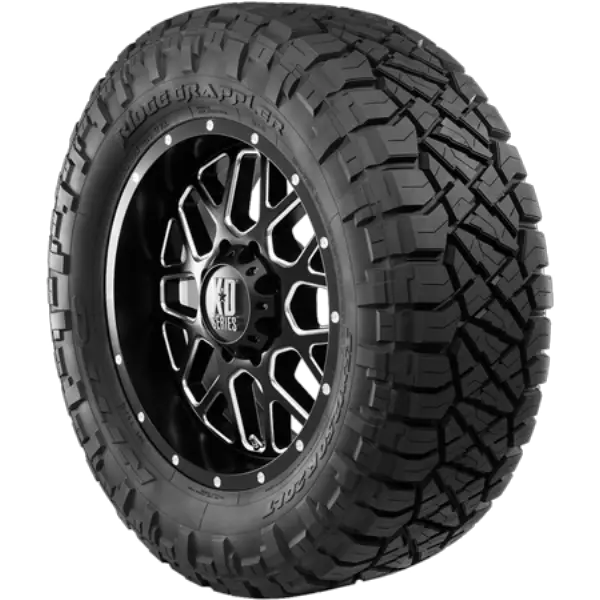 Key Feature
High –Void Tread Pattern
Made to go the miles (Durability)
Quiet and Smooth on the Road Drive
Tire Size
16″, 17″, 18″, 19″, 20″, 22″ and 24″.
Price Range
$213.00 to $787.00
Ratings
The new Nitto Ridge Grappler features an appealing and distinctive hybrid tread style that falls somewhere between an MT and an AT tire. 
A stronger tread formula with the black sidewall gives this vehicle wheel great off-road capability and excellent highway handling. When driving at high speeds on the highway, this tire provides additional stability and a better feeling for the road. 
If you seek a set of tires that could breathe new life into your truck boring's look, Nitto Ridge Grappler might be your best bet. The stepped-down tread blocks and tough shoulder construction provide not only an aggressive look during off-road but also excellent traction on rock, dirt, gravel, mud, and other challenging terrains. The biggest drawback of this off road highway tire lies in the loud noise it produces on rough roads.
5. Goodyear Wrangler DuraTrac
Best For Deep Mud And Snow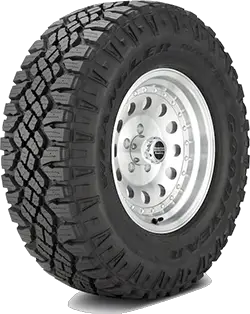 Key Feature
Enhanced traction in deep mud, dirt and sand
Rim flange protector
High angled centre tread blocks
Tire Size
15″, 16″, 17″, 18″, 19″, 20″, and 22″.
Price Range
$198.55 to $457.99
Ratings
The Goodyear Wrangler is a multi-purpose variant of more robust AT tires with Universal Fit type, being able to pair with various vehicles: from full-sized pickup trucks, and sports automobiles to commercial wagons and serve both on-road and off-road. 
The DuraTrac Radial boasts TractiveGroove Technology and an asymmetric and aggressive tread shape with big interlocking patterns for increased off-road endurance, especially on intense muddy and snowy surfaces. 
The manufacturer doesn't stop to amaze us when equipping this tire with self-cleaning technology, further supporting the vehicle it's attached to on swampy surfaces. However, previous user's comments indicate that due to the hefty weight of this road tire for daily driving, at about 44 pounds, each of these four tires may require too much weight to balance.
6. Cooper Discoverer AT3 4S
Best For Budget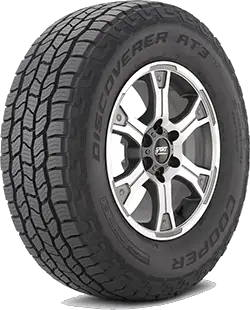 Key Feature
Maximum grip and handling
On-road comfort and off-road durability
Severe Weather Rated for performance in snowy conditions
Tire Size
15″, 16″, 17″, 18″, 19″, and 22″.
Price Range
$141.99 to $299.99
Ratings
Thanks to the Snow Groove technology that boasts saw-tooth patented tread, the Cooper All-season tires ride comfortably through snowy roads as thick as 20 feet. With this quality, the product is rated Severe Weather Tire.
But being all-season tires, the product is made with an emphasis also on maximizing traction, endurance, and wear resistance.
This pick can also grip rocky and smooth surfaces during on-road and off-road in the summer heat. It is made possible only with the 5-rib secure-grip design and zigzag sipes.
Aside from providing exceptional snow traction, these off-road street tires are designed for longevity, wear and are exceptionally resistant to cutting and chipping. 
As amazing as Cooper Discoverer AT3 4S wheels are, they won't break your bank. In fact, they are the most affordable option on today's list. That is not to mention the generous 45 days of free test drives.
Unfortunately, the treadwear warranty is limited to up to 65,000 miles.
7. Continental TerrainContact A/T
Best For Stability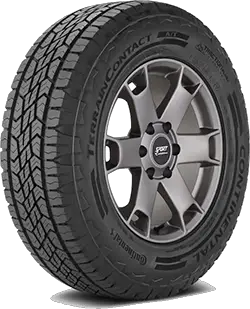 Key Feature
Dry and wet traction
Quiet and comfortable ride
60K Limited Warranty
Tire Size
16″, 17″, 18″, 19″, 20″, and 22″.
Price Range
$172.99 – $338.99
Ratings
Driving steadiness and steering responsiveness are essential. These two factors ensure that the model can be controlled over hazardous or slippery terrain areas. 
Rapid and precise steering response and adequate rolling resistance are required for you to handle the car confidently and safely in such conditions. 
Both are available with the Continental TerrainContact A/T. Its unique tread design has two middle tread block ribs that keep the tire in contact with the road. They dramatically enhance steering responsiveness plus driving stability, resulting in a safer road experience.
Regardless of the aggressive design, we are much impressed with the quiet operation it offers, something most all-terrain counterparts lack. Another perk lies in the tire's Universal Fit, suitable for vehicles of most brands and sizes.
The only point to bear in mind is the rather complex warranty policy. But worry not; the manufacturer's customer service team is always at your disposal.
Conclusion
All 7 of these tires not only have the appearance you want but are also the best off-road tire for daily and off-road driving. 
That being said, we hope that our list above has assisted you in locating suitable tires for your car. We always aim for safety and performance, so rest assured that the listed products are high-quality premium tires.