Goodyear Tire Review – Selection of Quality
Last updated: August 29, 2023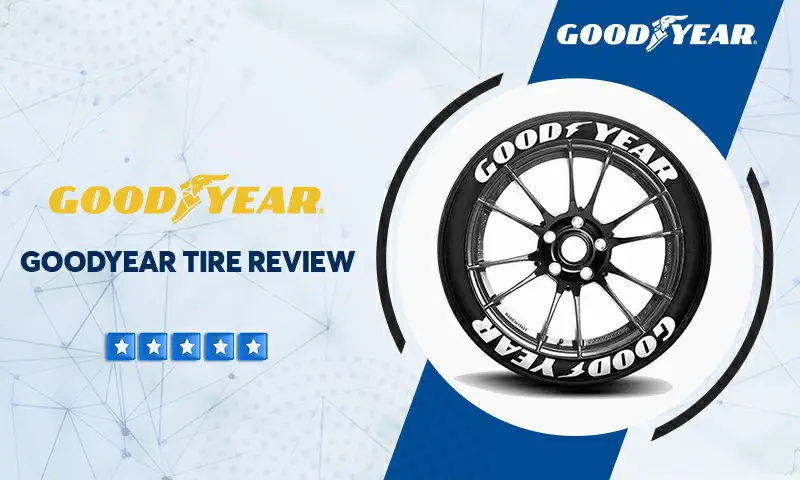 Goodyear – A Global Tire Manufacturer
When it comes to the tire industry, you can not miss out on Goodyear tires. Goodyear is ancient in its industry, but it also does not fall behind compared to young and new tire brands. 
You will find a Goodyear tires review in any tires articles. Don't you know that Goodyear was an American rubber band before becoming a multinational tire manufacturer? 
Goodyear Tires's main features
The main reason for the popularity of Goodyear tires is their functional variety and long-lasting. Goodyear might be one of the oldest tire brands, but the company always upgrades its tires' quality.
First of all, Goodyear provides you with a wide range of products. You can find Goodyear tires for a normal car, a minivan, a truck, an SUV, and even an aircraft.
There is a considerable diversity in Goodyear tires design and price range for you to choose from. Moreover, Goodyear constantly innovates its products to help the company stay on top.
Goodyear tires with specialized technologies such as Run on Flat Technology and DuPont Kevlar will serve you very well in any condition.
Goodyear tires with DuPont Kevlar technology are made from a bulletproof vests construction material. The resilience of Goodyear tires is very impressive.
If you hate the noise and vibration from your vehicle tires on uneven surfaces, you will find it more comfortable to drive with Goodyear's tires. The company equips its tires with sound comfort technology.
Another factor of a good tire is its handling. Your Goodyear tires will perform suitably in most conditions thanks to the EfficientGrip technology.
Pros And Cons of Goodyear Tires
Why Do We Choose Goodyear Tires?
The safety of vehicle tires is the most important factor when we shop for tires. Therefore, we will consider some parameters such as traction rating, temperature rating, and treadwear rating.
Most Goodyear tires have a traction rating of A and a temperature rating of B, which is suitable for our demands. The treadwear of Goodyear is about 500 to 700.
A set of Goodyear tires can serve us for many years since their treadwear rating is much higher than standard. It is really worth our money.
If you are looking for daily and affordable tires, you could consider the Wrangler and Assurance line of Goodyear. However, we do not think that they are great for driving in the snow.
The stability of braking on a wet surface and snow with the Ultra Grip Ice tires makes us impressed every time driving in the winter. On the other hand, the handling of this product line is just average for us.
Consumer Reviews by Goodyear Tire Model
| | | |
| --- | --- | --- |
| Extreme Performance Summer | Standard Touring All-Season | |
| Eagle F1 Supercar G: 2 | Assurance MaxLife | |
| Eagle F1 Supercar G: 2 RunOnFlat | – | |
| – | Passenger All-Season | |
| Max Performance Summer | Assurance All-Season | |
| Eagle F1 Asymmetric | Assurance Fuel Max | |
| Eagle F1 Asymmetric 2 | Altimax RT43 | |
| Eagle F1 Asymmetric 3 RunOnFlat | | |
| Eagle F1 SuperSport | | |
| – | Studless Ice & Snow | |
| Grand Touring All-Season | Ultra Grip Ice WRT | |
| Assurance ComforTred Touring | WinterCommand Ultra | |
| Assurance WeatherReady | | |
| Eagle LS 2 | Studdable Winter / Snow | |
| Assurance UltraTour | Ultra Grip Winter | |
| Eagle Touring | WinterCommand | |
LIGHT TRUCK/SUV TIRE REVIEWS
Automotive Experts at World Tire Review
Hi everyone, I'm 
David
 (
Tireguy
). I believe that finding tires can lead to a lot of confusion and frustration for almost every driver. That's why I would like to bring my experiences and knowledges to develop World
Tire Review blog
, it will give people a deeper understanding of what choosing the right tire is really like!