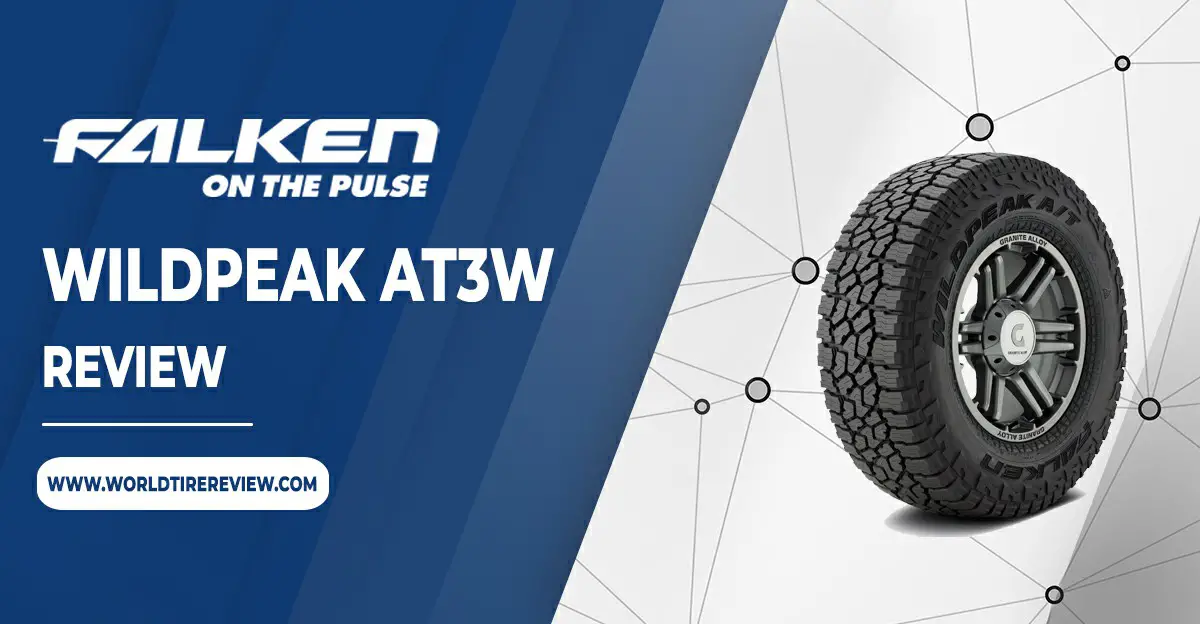 Among several AT (All-Terrain) tires, the Falken Wildpeak A/T3W is becoming among the most remarkable products in the AT tire marketplace.
For a brief description, Falken Tires was established in 1983. Until 1985, they started to go into the North American market. Nowadays, it is a part of the company Sumitomo Rubber North America. 
They have expanded their centers over the USA throughout periods, including Texas, Florida, California, Tennessee, Illinois, and New Jersey. Their business value is best known for high-quality tires and affordable prices for customers. 
Now, we will dive into the Falken Wildpeak A/T3W. 
Tread Features
This tire has a unique tread pattern, which makes it very different from other tires. Its name is 'Rugged and Rigid Tread Blocks Features.' It is extremely suitable for step-down features or ramps due to its tread rigidity. Moreover, it can improve the stability and overall vehicle's handling while climbing mountainous areas.
Silica Tread Compound 
Another special thing about the tread is the silica compound. This compound provides wear that helps drive in snowy and slippery conditions.
Traction
The silica tread compound and tread pattern allow the Falken Wildpeak A/T3W to offer A rate of off-road traction whether driving in snow, wet, or dry weather conditions.
Noise
Similar to other AT tires, the Falken Wildpeak A/T3W makes noise when it is on the road. Fortunately, this tire is quiet on the highway.
Heat Diffuser Technology
Don't be concerned about its temperature. This tire has heat diffuser technology that disperses the heat insides and protects the internal components.
Speed
The speed ranking of this tire is T (190 km/h, 118 mph). The speed rating can adjust when you choose a bigger or smaller tire size. In general, the Falken Wildpeak A/T3W has a regular speed compared to several tires out there. 
Braking
The capability of its braking is excellent. This tire can provide high friction when braking suddenly. So, it is very suitable for driving in wet weather and protecting our safety.
Fuel
Falken Tires have utilized the Advanced 4D Nano technology to reduce heat absorption, improve traction, and increase fuel efficiency. They claimed that this technology could decline our car's fuel consumption by nearly 5%.
Handling
The Falken Wildpeak A/T3W still maintains better handling for almost all terrains. Furthermore, this tire is very efficient in controlling while taking sharp turns at high speeds. 
Comfort
Because of being an AT tire, its ride comfort is not friendly for anyone. The drivers may feel uncomfortable due to its noise and weight.
Pros & Cons
Tire Drive Test
After using the Falken Wildpeak A/T3W, we can evaluate some significant features of this tire. The unique tread pattern and traction are working for us, particularly while driving in wet, snowy conditions. The braking is effective when we stop suddenly. 
However, the Advanced 4D Nanotechnology seems disappointing. It does not save our fuel consumption, according to the brand's statement. The traction is also not efficient in muddy conditions. 
Another thing that we do not like is the comfort. If we drive for a short distance, it is totally fine. On the contrary, this tire is not comfortable for those who travel for a long time as it is heavy and makes noise.
In conclusion, compared to its economic price, we think that the Falken Wildpeak A/T3W is worth buying. It provides features that are suitable for most drivers. So, it's time for you to decide whether to purchase it or not!
Competitors & Alternatives
| | |
| --- | --- |
| Treadlife Warranty: | 5 Years / 55,000 Miles  |
| Uniformity Warranty: | First 2/32″ of wear |
| Workmanship & Materials Warranty: | 5 Years from date of production / Free replacement first 2/32″ of wear, then prorated until 2/32″ remaining depth |
| Manufacturer's Road Hazard Warranty: | None |
| Manufacturer Special Warranty: | 2 Years / first 3/32″ of wear (1) |
| Additional Information: | (1) Whichever comes 1st |
Wildpeak A/T3W warranty summary for replacement tires purchased on or after 06/01/19 at Tire Rack
| 15″ | | 16″ | |
| --- | --- | --- | --- |
| LT 215/75R15 | LT 31X10.50R15 | LT 215/85R16 | 255/70R16 |
| 235/75R15 | LT 32X11.50R15 | LT 225/75R16 | 265/70R16 |
| LT 235/75R15 | LT 33X12.50R15 | 235/65R16C | 265/75R16 |
| LT 30X9.50R15 | LT 35X12.50R15 | 235/70R16 | LT 265/75R16 |
| | | LT 235/85R16 | LT 285/75R16 |
| | | LT 245/75R16 | LT 305/70R16 |
| | | P 245/75R16 | LT 315/75R16 |
| 17″ | | 18″ | |
| --- | --- | --- | --- |
| 215/65R17 | LT 255/80R17 | 255/70R18 | LT 275/70R18 |
| 225/65R17 | 265/65R17 | 265/60R18 | LT 285/65R18 |
| 235/65R17 | 265/70R17 | 265/65R18 | LT 285/75R18 |
| 235/75R17 | LT 265/70R17 | 265/70R18 | LT 295/70R18 |
| LT 235/80R17 | LT 275/70R17 | LT 265/70R18 | LT 305/65R18 |
| 245/65R17 | LT 285/70R17 | 275/65R18 | LT 325/65R18 |
| 245/70R17 | P 285/70R17 | LT 275/65R18 | LT 37X12.50R18 |
| LT 245/70R17 | LT 285/75R17 | | |
| 245/75R17 | LT 315/70R17 | | |
| LT 245/75R17 | LT 35X12.50R17 | | |
| 255/65R17 | LT 37X12.50R17 | | |
| 255/70R17 | | | |
| 20″ | | " | |
| --- | --- | --- | --- |
| LT 265/60R20 | LT 285/60R20 | | |
| 275/55R20 | LT 285/65R20 | | |
| LT 275/55R20 | LT 295/60R20 | | |
| 275/60R20 | LT 305/55R20 | | |
| LT 275/60R20 | LT 325/60R20 | | |
| LT 275/65R20 | LT 35X12.50R20 | | |
| LT 285/55R20 | LT 37X12.50R20 | | |
Wildpeak A/T3W prices range approximately from $140.00 – $453.0 – TireBuyer
Avon AX7
Pirelli Scorpion ATR
Goodyear Wrangler AT SA Plus
Pirelli Scorpion All Terrain Plus
Hankook DynaPro ATM RF10
Goodyear Wrangler DuraTrac
See more:
Falken Wildpeak A/T3W – Compare Prices
We found 6 online tire retailers selling Falken Wildpeak A/T3W. Refer to the details below to get the best price:
Falken Wildpeak A/T3W
PRICE
SOLD BY
 

Offers

Offers

Offers

Offers

$144

Offers
Wildpeak A/T3W Ratings By Consumer