If you've been a driver for many years, you'll know that not all tires can work year-round. And even a lot of people have to change their wheels every year depending on the season. This is quite expensive, and it will also be unsafe if you don't have time to change tires for snow roads and vice versa.
Based on our experiences, we highly recommend investing in the best all-season tires for your cars. These are increasingly popular for their flexibility and year-round high performance. Keep reading carefully to find out the most suitable tire for your vehicle!
What Is An All-Season Tire? 
All-season tires can be quite a new concept for many people. Most of us will often hear more about the all-terrain tire – the most common type of versatile tire.
You can use all-season tires throughout the year. That's right, and you didn't get it wrong! It's for use under spring, summer, autumn, or winter conditions.
To ensure they perform at their best, the ideal temperature is above 7°C. In icy weather conditions below that temperature or on snow roads, the wheels will become stiffer and more slippery.
However, there are many products in the higher-end segment of the market today. They can work well under a variety of weather conditions, even in heavy snow.
Advantages of All-Season Tires 
Use All-Year-Round
Except in extreme weather conditions, all-season tires can be used year-round. You won't have to replace your wheels as many times a year as using normal ones.
Ensure Safety
They're specially designed with high water resistance to work efficiently even in heavy rain. Even if you're on a slippery or icy road, you don't have to worry because the high grip will keep the car stable.
Using a set of all-season tires will increase the friction coefficient between them and the ground. So you can easily control and move more steadily. 
Increase Fuel Efficiency
Thanks to the above-mentioned good stability and control, fuel waste during driving will be reduced. This will contribute to protecting the environment and save costs simultaneously.
Cost-Saving
Are you wondering why all-season tires are usually more expensive yet cost-effective? Because you don't have to change your tires 2 or 3 times a year depending on the weather like you used to. If you regularly replace your tires by service, you can save an extra $20 on each change.
The 8 best all-season tires in 2022
1. Michelin Defender LTX M/S
Best For Overall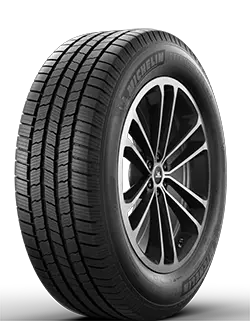 Key Feature
Short braking distance
Quiet and comfortable ride
Tough and firm for towing
Safe on highway
Tire Size
15″, 16″, 17″, 18″, 19″, 20″, and 22″.
Price Range
$151.99 – $399.99
Ratings
Incredible stability is what we have to talk about. Michelin Defender LTX M/S still perform steadily, when driving on wet, dry or gravel roads, so you can be completely at ease with them on.
The tire's stiffness is quite sturdy, which is great for towing and hauling heavy loads. It supports driver balance quite well when moving with bulky objects.
The first time we used this tire on the highway, we were quite worried about its safety. But fortunately, Michelin offers its exclusive EverTread technology for outstanding traction, making it a reliable item even on slippery roads.
Michelin products are usually at a pretty high price. Check your budget, and you can also look at other items that cost you less on this list.
---
2. Michelin Defender T+H
Best For Both Wet And Dry Surfaces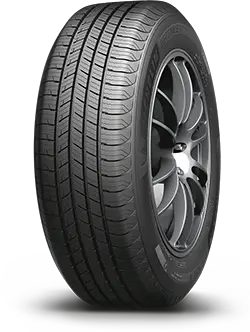 Key Feature
Exclusive IntelliSipe technology
Provide quiet and comfortable rides
Long treadwear warranty up 80,000-miles
Tire Size
14″, 15″, 16″, 17″, 18″
Price Range
$101.44 – $205.99
Ratings
Michelin equips this Defender T+H tire with good hydroplaning resistance, increasing the friction force between the wheel and the road. This is a reliable choice that ensures your safety as well as enhances your car's performance regardless of wet or dry grounds.
When traveling on slippery or wet roads, quickly handling situations is extremely necessary. This Michelin tire's effective handling and braking on the dry tarmac will give you peace of mind during your trip.
High levels of traction on wet surfaces is another factor that will convince you to buy this product. This characteristic decreases slippage and boosts stability when traveling through bad weather conditions.
However, the performance of this item will be reduced if you're riding on thick-snow roads.
3. Michelin Pilot Sport A/S 3+
Best For High Response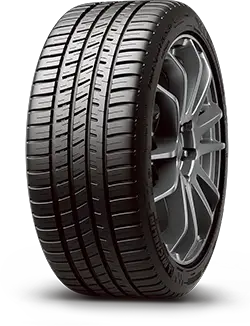 Key Feature
Less noise as it wears
Better handling and control for drivers
Grip and stability in corners
Tire Size
16″, 17″, 18″, 19″, 20″, 21″, 22″
Price Range
$128.22 – $362.47
Ratings
Responding to tires and wheels is very important to drivers when driving as they will determine how much drivers feel about the road. The high responsive steering steel of this item will support users to observe and control better.
This advantage of Michelin Pilot Sport A/S 3+ is also useful when you are redirecting your vehicle. Combined with a high corner grip in all seasons, safety is guaranteed to the highest level.
Effective communication between tires and engine will send us information from the road. We can adjust to fit the current situations and give you the best comfort. 
Because of the high response, you may feel the wheels get a little stiff and bumpy when going through potholes.
4. Pirelli P4 Four Seasons Plus
Best For Smooth And Comfortable Ride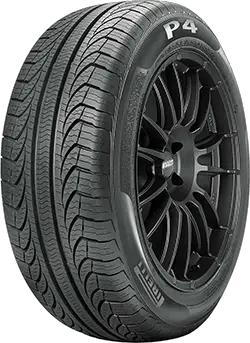 Key Feature
Fuel efficiency is improved by low rolling resistance.
Extremely calm and relaxing
Long-lasting – 90,000-mile treadwear warranty
Tire Size
14″, 15″, 16″, 17″, 18″
Price Range
$100.00 – $146.90
Ratings
The most annoying thing is probably driving through bad roads with many potholes. With high elasticity and proper stiffness, this product will give you a completely smooth and relaxed feeling.
Your trip will be extremely comfortable and efficient. You won't be bothered by the noise when going through rough roads with these optimal shock-absorbing tires.
The low rolling resistance of this tire also backs up the comfort it brings, making the ride more stable and optimizing fuel consumption. You can save quite a bit for a long time with Pirelli P4 Four Seasons Plus.
It would be better if Pirelli provided users with more size. This product line isn't for all types of vehicles.
5. Yokohama Avid Touring-S
Best For Price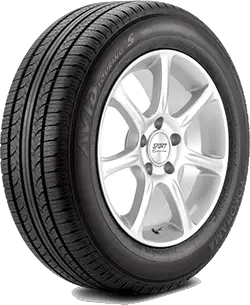 Key Feature
Smooth movement
Good dry sugar grip
Tire Size
14″, 15″, 16″ and 17″.
Price Range
$76.76 – $135.06
Ratings
Yokohama Avid Touring S All-Season Tire is a real bargain without compromising its performance. There is no need to be concerned about its quality as we can guarantee by our experience.
Although it's an all season tire with higher traction than average, it still shines on the dry surface. It's firm and grips the road extremely well, even with a variety of terrains.
When traveling on roads with more obstacles, its impressive steering response will come into full play. Drivers can better communicate about the road surface and control the vehicle in the most optimal way.
The only thing we have to complain about is its performance on wet surfaces. Higher wet traction will make this tire more completed. It isn't the ideal one for super wet or slippery surfaces.
6. Goodyear Assurance WeatherReady
Best For Combatting Snow And Ice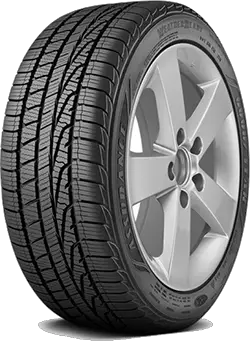 Key Feature
Exceptional brakes and traction
Inappropriate treading rough terrain pick
Tire Size
15″, 16″, 17″, 18″, 19″ and 20″.
Price Range
138.00 And up
Ratings
Goodyear Assurance WeatherReady has received 3PMSF certification for suitable traction for snow and slush. When used with quick handling like braking, the product proves to be very reliable.
Because of its grip, it's great at fighting on slippery roads and thick snow. Combined with the flexibility, it allows the wheel to move smoothly and easily when turning.
Its high durability and uniform quality is behind its excellent tread life. Even if you use it in heavy snow conditions all year round, the sturdiness will not be affected too much.
Due to the high grip and high response, the tire can be a tad noisier than usual tires.
7. Continental TrueContact Tour
Best For Tread Life And Durability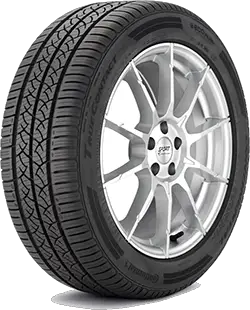 Key Feature
It offers decent comfort on rough roads
At highway speeds, it's eerily silent
Tire Size
15″, 16″, 17″, 18″ and 19″.
Price Range
$99.99 – $195.99
Ratings
We are surprised that by the time the Continental TrueContact Tour Tire clocks out, it is still of the same quality as when it was purchased. And this confirms that the long tread life of the tire is completely reliable.
That durability is demonstrated when operating on both wet and dry surfaces. It helps you handle stably and on dry roads, control and brake safely on wet ones.
So will it work well on snowy roads? The answer is yes! This is a real all-season tire when it performs amazingly year-round.
We would be satisfied more if its ability to absorb dynamic forces was a bit better. Rough roads can make for an uncomfortable ride.
8. Firestone All Season
Best For Uneven Surfaces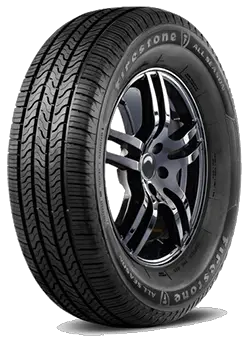 Key Feature
Silent, comfortable ride
High compatibility
Tire Size
14″, 15″, 16″, 17″, 18″, 19″ and 20″
Price Range
$83.75 to $183.08
Ratings
Firestone All Season is a great choice for rough roads. High balance and suitable elasticity help you overcome obstacles easily without feeling too bumpy.
To get that balance, its excellent traction must be mentioned. A great grip between the tire and the ground stabilizes your car on the way and reduces the risk of accidents due to slippery conditions.
Also, thanks to that high stability and balancing, the comfort when riding is enhanced simultaneously. Quiet operation at high speed supports you to focus on driving safely.
Despite that, we won't recommend this one for snow-covered roads. The tire does not do well in winter for this reason.
Best All-Season Tire By Brands 
Michelin

Michelin will certainly be no stranger to any driver. Anything that comes out of this brand is subjected to rigorous production and testing. For this reason, Michelin tires are always versatile and durable.
With years of experience in manufacturing tires for racing cars and other long-distance vehicles, they can satisfy you with the absolute performance that their products bring. No matter what kind of car you drive, there is at least one Michelin recommendation for you.
Coupled with superior quality and remarkable performance comes a relatively higher-than-average price tag. So what you need to do is consider your budget when choosing Michelin tires.
Goodyear

The performance of Goodyear tires is always appreciated. During operation, they are stable and balance your vehicles well.
Goodyear Stores are everywhere in the United States. This will be extremely convenient for replacement or maintenance because you don't have to go too far to use their service and products.
Even if you don't have a big budget, their products can still meet your needs. This Brand's wide price range provides you with various choices.
One thing that concerns us the most is the inconsistent quality between models. When using product lines of different segments, there are differences between their stability and performance.
Continental
Continental is a good candidate for winter range products. If you live in a cold or snowy area, don't miss out on this brand.
The balance stabilizes the wheel, giving you a comfortable ride. High flexibility supports you to ride on slippery or wet roads without slipping or losing control.
You'll have a diverse choice that satisfies different needs and budgets.
However, for products belonging to the all-terrain line, Continental doesn't have many offers for drivers. Other brands on this list will be worth considering if you're looking for items in this line.
Yokohama

For SUV and Truck lovers, Yokohama tires are worth a try. 
Originating from Japan, you can be assured of their quality. Stability and high efficiency are what you will get when you invest in the wheel of Yokohama.
With the development in technology, Yokohama improves tire quality to reduce fuel consumption. And their products are also easier to recycle after they're used.
But not every US state has many Yokohama retailers. Going long distances to change tires or do maintenance can be annoying and time-consuming.
Pirelli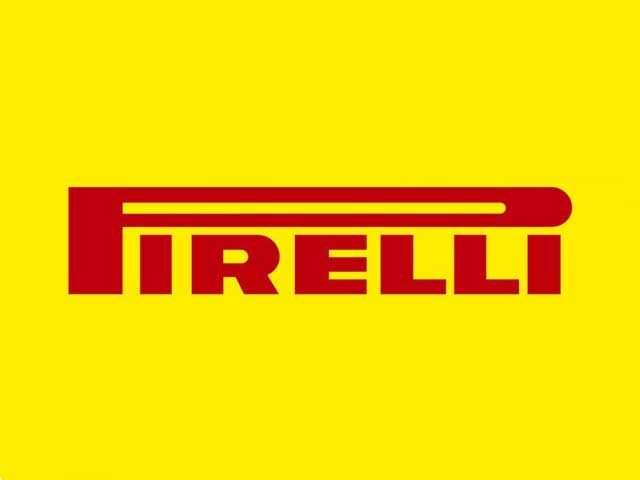 Tires of Pirelli is famous for supporting sport-luxury and exclusive performance cars. They ensure the process works steadily at high speed.
The safety when using this Brand's tires is extremely high. Because it's specially manufactured for racing cars, high traction and balance are always guaranteed.
Thanks to their stable quality and high performance, the wear and tear during its lifetime is greatly reduced.
For its high quality, Pirelli's product price will be in the mid to high segment. At the low one, you won't have much choice for your vehicles.
Conclusion 
Have you found the right fit from our list? If you are still up in the air, consider the Michelin Defender LTX M/S! If you purchase this one, you will have:
Great stability for your vehicles
Good traction in both wet and dry season
Tough and firm for towing
Safe on highway
Long tread life and good treadwear warranty
In case you want more research, don't hesitate to look at the top brands we mentioned above. We've tested to guarantee their quality.