Why should you opt for all-season snow tires? While most people are comfortable using the tire set that comes with their newly bought vehicle, it's smart to prepare yourself with another set of tires.
Don't wait until something happens to purchase new tires. It's too late, then. Plus, you're likely to spend less time considering between options as you'd want a quick fix, which, we assure you, you will regret later.
In today's article, we have conducted a list of the 10 best all-season tires for winter snow commuting based on our experience and reviewers made by former owners. Without further ado, let's get started!
Perks Of Using All-Season Tires For Snow
Cost-effective
The price for a decent set of all-season tires ranges from $300 to $600, depending on your wheel size. As for winter tires, the price tag can be around $700 or more.
You'll be saving quite a lot of dough purchasing all-season tires instead of winter tires. Don't forget the changeover fee for winter tires when winter is over, usually around $50 for each tire. 
Easy To Drive and Maneuver
As all-season tires are meant for different weather conditions, they provide better handling compared to their winter counterparts when the weather isn't too extreme.
Do notice that all-season tires aren't always the same. 
Ideal In Medium Climate
If you live in areas where there is little difference between seasons, all-season tires are your best bet.
3 PMSF-rated all-season tires work great in light and even heavy snow, nothing less than winter tires. For the best all-season tires, check out brands like Michelin or Goodyear. They feature products of different categories to suit your commuting habits.
All-season tires are designed to perform in both wet and dry conditions, so they may not offer similar traction to winter tires. However, you'll want to go for all-performance tires, should it be more likely to rain than snow in the cold months.
Best All-Season Tires For Snow & Ice – Top 10
1. Michelin CrossClimate 2
Best For Overall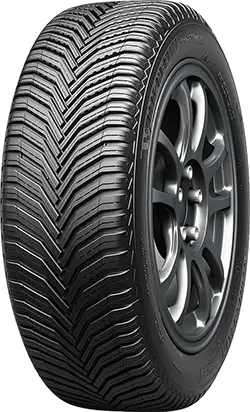 Key Feature
Exceptional traction in severe snow conditions
Directional tread pattern
V-Formation tread design
3D SipeLock technology
Tire Size
16″, 17″, 18″, 19″ and 20″.
Price Range
$147.99 to $278.99
Ratings
Michelin CrossClimate 2 has outstanding acceleration traction as it is 3 PMSF-rated. It manages to keep you in the driving lane and reacts almost instantaneously when breaking. The stringent winter traction performance aids the tire to work well even in deep snow.
Usually, all-season tires with high snow and ice traction tend to lose dry handling, but that is not the case with CrossClimate 2. 
What stops some people from purchasing this Michelin set of tires is its price:
2. Goodyear Assurance WeatherReady
Best For Touring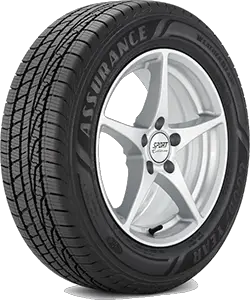 Key Feature
3 PMSF rated
Asymmetric tread pattern design
Intricately inlaid grooves
Evolving traction grooves transform
Tire Size
15″, 16″, 17″, 18″, 19″ and 20″.
Price Range
138.00 And up
Ratings
The breaking in the snow is very strong, almost as strong as winter tires, making the Goodyear tire more suitable for places with light snow during winter.
Assurance WeatherReady has a significantly low noise level for an all-season tire, so low that you barely notice unless driving at higher speeds.
Goodyear Assurance WeatherReady may do quite well in light snow, but the deep snow performance fails to impress us, given the wide tread grooves on the tires.
3. Continental ControlContact Tour A/S Plus
Best Crossover For Light Snow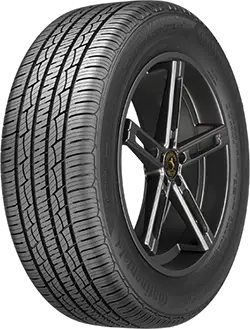 Key Feature
Proprietary comfort band designed to absorb bumps and road shocks
Unique tread compound engineered to enhance traction
EcoPlus™ Technology
Tire Size
15″, 16″, 17″, 18″, 19″ and 20″.
Price Range
$98.00 to $165.00
Ratings
A big plus to the tire is the quietness. It doesn't make any sound and is incredibly serene even on rougher patches of concrete roads. 
The performance on wet roads is quite impressive as well. Even though the braking distances are not short, the tire manages to claw for additional traction.
While Continental ControlContact Tour A/S Plus is a well-rounded all season tire, it doesn't do very well in heavy snow. Driving with the tire in deep snow can feel uneasy, yet the tire works just fine in light snow weather (less than 2 inches).
Some people expected a bit more grip and a sprinkling of sporty handling, but you can't have it all unless you spend big bucks on another set of tires.
4. General Altimax RT43
Best For Value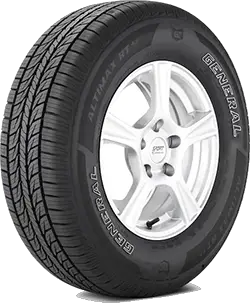 Key Feature
A 5-rib pattern to allow increased traction on snow and wet conditions
3D siping to improve handling and control
Grooves that provide hydroplaning resistance
Tire Size
13″, 14″, 15″, 16″, 17″, 18″, 19″ and 20″.
Price Range
$74.99 – $189.99
Ratings
The AltiMAX RT43 isn't designed for severe winter weather; yet, it works great in lighter snow by providing the driver with good traction and braking performance. 
Within its budget-friendly price range, it is certainly one of the best grand-touring all-season tires right now.
5. Vredestein Quatrac Pro
Best For Budget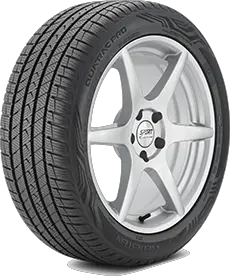 Key Feature
3 PMSF rated
High-resin, high-silica tread compound
Low void ratio and large, stiff tread blocks
Wide, circumferential grooves
Tire Size
17″, 18″, 19″, 20″ and 21″.
Price Range
$129.85 to $309.62
Ratings
No review yet
The Vredestein Quatrac Pro is a more budget version of the Michelin CrossClimate 2, with similar features.
Vredestein Quatrac Pro cross-checks all industry-relevant standards for severe snow service requirements, making it ideal for people who often drive in different weather conditions.
The tread is molded into an asymmetric pattern, using high volumes of silica and resin, creating a precise turning mechanism and enhanced road-gripping capabilities.
The tire's deal-breaker has got to be the 40,000-mile treadwear warranty, significantly shorter than other counterparts mentioned on this list.
6. Goodyear Assurance All-Season
Best For Passenger-Car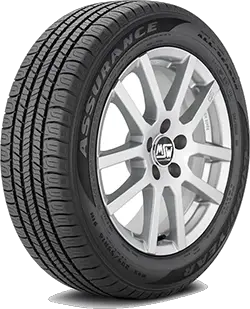 Key Feature
Multiple biting edges
Wide tread grooves
Optimized tread pattern
Large stable shoulder blocks
Tire Size
14″, 15″, 16″, 17″, 18″, 19″ and 20″.
Price Range
$89.99 to $210.99
Ratings
Even though you can't expect a full performance of winter tires on Goodyear Assurance All-Season tires, you'll be surprised at their sufficient traction and relatively short braking distances. 
It may suffer a bit over icy roads, but this is a common problem among all-season tires.
Nonetheless, we expected better handling on rainy conditions since these are Goodyear tires we're talking about.
7. Michelin Defender T+H
Best All-Season For Truck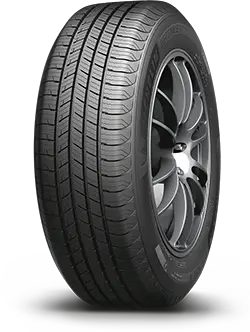 Key Feature
MaxTouch construction
IntelliSipe technology
Tread designed to reduce vibration and noise output
80,000-mile treadwear limited warranty
Tire Size
14″, 15″, 16″, 17″ and 18″.
Price Range
$101.44 – $205.99
Ratings
The latest update of Michelin Defender T+H on the IntelliSipe technology does justice to the tires. 
It adds even more sipes to the tread design, with significantly increased grip in both rain and snow conditions. As this is a touring tire, the handling responsiveness is exceptional.
However, while the traction is undoubtedly superior, you can get the same thing from relatively cheaper all-season tires, making it a deal-breaker for price-conscious customers
8. Bridgestone Turanza QuietTrack
Best For Grand Touring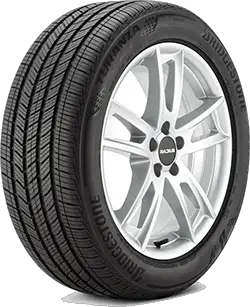 Key Feature
QuietTrack Technology Package
In-groove ridges
3D full-depth sipes on all ribs
Open shoulder slots
Tire Size
15″, 16″, 17″, 18″, 19″ and 20″.
Price Range
$131.00 to $256.00
Ratings
Unlike many other all-season tires, Turanza QuietTrack's handling on snow is very predictable. The tire handles snow-covered roads like a champ, with enough traction to get you out of light to semi-heavy snow.
Consequently, the traction and grip on wet and snow conditions are enough to put competitors to shame. Turanza offers outstanding performance on the road along with top-notch responsiveness.
The most significant catch to the tire is probably its price. With similar features, consumers can find more budget-friendly options.
9. Bridgestone Dueler H/L Alenza Plus
Best For Crossover/SUV Touring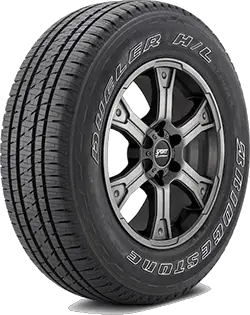 Key Feature
New tread polymer technology
Finely-tuned tread pattern
Optimized casing and footprint design
Minimized fading from the Everblack sidewall
Tire Size
15″, 16″, 17″, 18″, 19″, 20″ and 22″.
Price Range
$163.00 to $217.00
Ratings
The Dueler H/L Alenza Plus is among the good option on snow due to its reliable and safe driving experience year-round.
SUV drivers can expect to get outstanding traction, great speed stability, strong braking, and decent grip regardless of the weather. The tire performs even better in light snow than other all-season tires, while the ride quality is among the best in its class.
The biggest downside to this tire is probably the slightly worse responsiveness.
10. Goodyear Wrangler All-Terrain Adventure with Kevlar
Best for All-Terrain All-Season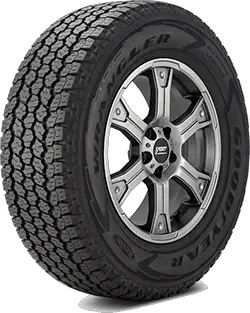 Key Feature
Durawall™ technology
Versatile off-road traction
3 PMSF rated
Winter performance
Tire Size
15″, 16″, 17″, 18″, 19″ and 20″.
Price Range
$240.99 to $276.99
Ratings
Thanks to the Durawall technology and long-wearing specialized rubber tread compound, the Wrangler can endure even the hardest terrains with up to a 60,000-mile treadwear warranty.
For an all-terrain tire, it has excellent grip and traction with outstanding high-speed stability for driving in snow. The snowy weather isn't not going to pose a problem to these tires, thanks to the aggressive tread pattern.
You should be aware of the tread growl the tires make at a higher speed, though.
Conclusion
All-season tires can work just as effortlessly as winter tires if you purchase the right set for your vehicles. Having a proper set of tires ensures smooth driving and safety during the colder months.
The options mentioned are all dependable considerations; you just need to find what suits you best. You've probably noticed that we didn't include any cheap tires. The reason is pretty straightforward: cheap tires are not safe, and they wear out fast, especially on wet surfaces.
Only get your tires from reputable and known manufacturers for the best driving experience and safety and a reasonable warranty policy.