Kumho Tire Review: The Most Sustainable Tire
Last updated: August 29, 2023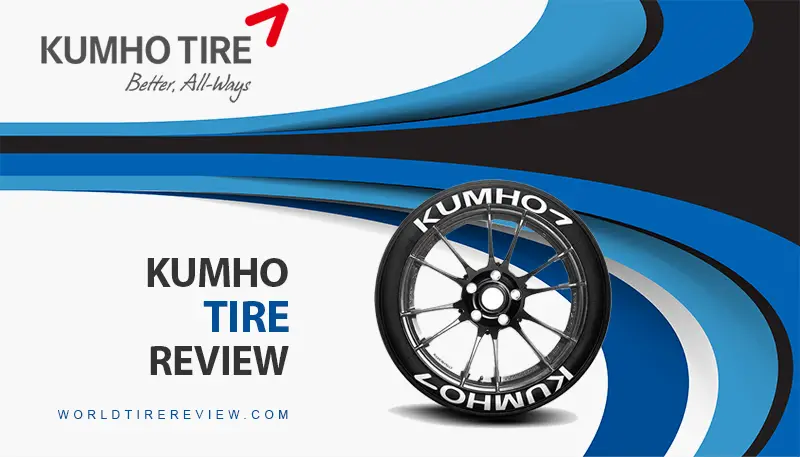 Most vendors try to convince you that only expensive tires can guarantee quality. However, this is not true with Kumho tires – one of the cheap tire brands but has good durability. Our review will go through the features that this tire has and its advantages and disadvantages.
Sustainability
Of course, the durability of Kumho tires cannot be on par with brands in the premium segment, such as Michelin or Yokohama. However, not a single manufacturer produces as many sustainable tire products at low prices as Kumho.
To increase its durability, the manufacturer has a separate department to study and measure their tires' wear. Researchers even directly conduct tests on important streets to improve the reality of the outputs.
Kumho tires are always loyal to a unique design style. More specifically, the tire wall is very thick, and its dense structure helps reduce the wear of the tire core. The natural rubber material also increases elasticity and increases the tire temperature when riding long-distance, significantly prolonging its life.
Resistance To Weather
Kumho tires are famous for their excellent weather resistance. This brand makes special tires for travel in extreme weather conditions like rain, snow, and even ice. One of the most prominent products is Kumho Wintercraft. This winter tire is outstanding due to its thickness compared to other products in the same price range. Besides, the wide width also helps it prevent mud settlement effectively.
Kumho Tire reviews: Pros & Cons
Kumho Review: Tire Drive Test
As mentioned earlier, most of this brand's products are at least 30% cheaper than its competitors. We bought and used a set of Wintercraft tires for our SUV three years ago, and we were surprised by its durability after a long period of use. Honestly, we did not intend to utilize this tire for three years as we didn't believe that this affordable price tire is durable.
A cheap tire with high durability is incredibly unbelievable. However, we know that Kumho tries to reduce production costs by cutting R&D costs. They weren't trying to make the perfect tire from scratch. On the contrary, this company seeks to refine its designs and other brands for the ultimate design.
The tire performs excellently in extreme conditions such as rain, snow, and ice which is quite impressive. Moreover, Kumho's Wintercraft is also a choice if you need a tire with long spikes. The longer the tire ride, the easier it is to maneuver on the snow and ice. Its directional spikes are also necessary to support more snowshed roads.
The only downside of this tire is its design isn't perfect; the color finish is not as prominent as high-end brands. Therefore, if you are a fan of freshness, Kumho tires are not the best choice.
Consumer Reviews by Kumho Tire Model
| | | |
| --- | --- | --- |
| Extreme Performance Summer | Grand Touring All-Season | |
| Ecsta V720 | Ecsta LX Platinum | |
| Ecsta V730 | Majesty 9 Solus TA91 | |
| Max Performance Summer | Solus KH16 | |
| Ecsta PS91 | Solus KH25 | |
| Ultra High Performance Summer | Solus TA31 | |
| Ecsta PS31 | Solus TA71 | |
| Ultra High Performance All-Season | Standard Touring All-Season | |
| Ecsta ASX | Solus TA11 | |
| Ecsta 4X LI KU22 | Racetrack & Autocross Only | |
| Ecsta PA31 | Ecsta V700 | |
LIGHT TRUCK/SUV TIRE REVIEWS
| | | |
| --- | --- | --- |
| Street/Sport Truck All-Season | On-/Off-Road All-Terrain | |
| Ecsta STX KL12 | Road Venture AT51 | |
| – | – | |
| Crossover/SUV Touring All-Season | Off-Road Maximum Traction | |
| Crugen KL33 | Road Venture MT KL71 | |
| Crugen Premium | Road Venture MT51 | |
| Solus KL21 | Road Venture MT71 | |
| – | | |
| Highway All-Season | | |
| Crugen HT51 | | |
| Road Venture APT KL51 | | |
Conclusion
The above is our full Kumho tire review. This brand of tire is definitely worth the money for its durability. If your needs stop at the basic level, this tire can save you a pretty big amount. We hope this article can provide you with the necessary information about the Kumho tire and make your best decision.
Automotive Experts at World Tire Review
Hi everyone, I'm 
David
 (
Tireguy
). I believe that finding tires can lead to a lot of confusion and frustration for almost every driver. That's why I would like to bring my experiences and knowledges to develop World
Tire Review blog
, it will give people a deeper understanding of what choosing the right tire is really like!