This blog shares the objective and comprehensive review through a multifaceted explanation. After reading through the blog, you can pick the best tires that provide smooth drives at a good price!  
Please scroll down for detailed information about this brand, the top tire models, and the answers to some frequently asked questions!
Delinte Tire Overview
The first launch of Delinte tires was in 2009. So, it is still a young brand compared to many big names in the field. Delinte could learn from the predecessors, such as technology, treads, design, pricing, etc. 
It offers a wide array of vehicle types that Delinte tires could go with, such as light trucks, SUVs, touring, CUVs, etc. The implication is Delinte's versatility to adapt to different designs and uses. The highlights of Delinte tires are the optimal experiences you will have while driving. Specifically, you will not suffer annoying noise even when your car drives on icy, wet, dry terrains.
In addition, you will find Delinte's prices soft to your budget. This brand is a great alternative when you have no intention of paying high for tires!
However, if you have been into long-term use and get fed up with regular changes, Delinte tires might not be the best case. The fact that it can easily wear out in harsh road conditions.
Delinte's Most Popular Tire Models 
Delinte DH2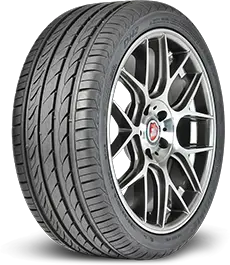 Specifications

Brand: Delinte
Model: DH2
Weight: 14 – 36 pounds
Available Sizes: 13", 14", 15", 16", 17", 18", 19", 20", 21", 22"

Ratings

No rating yet
DH2 is a tire type for passenger cars in all seasons. It serves you what a standard tire could do, such as an acceptable grip on the road.  Yet, if you expect the great quality of driving on tough tracks, such as icy or bumpy roads, DH2 might disappoint you. Despite being an all-around tire, it is only a good choice for daily drives. 
Besides, you might find DH2 noisy, especially after using it for a while. Another factor for consideration is the decreasing performance. There is no specific number as it still depends on drive frequency. The tread design and materials, on the other hand, do not allow DH2 to attach itself to durability. 
However, DH2 is still a great alternative for daily activities vehicles. The bargain price makes it among the best choices for a tight budget.
Delinte Thunder D7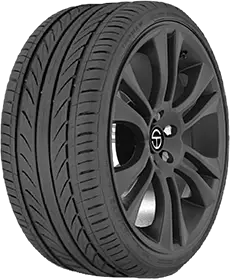 Specifications

Brand: Delinte
Model: D7
Weight: 20 – 32 pounds
Available Sizes: 17", 18", 19", 20", 22"

Ratings

No rating yet
D7's strong tread pattern and elegant rim add luxury to sports vehicles. Besides its design, D7 shows competitive quality through top-level traction. Specifically, it can provide an amazing experience on dry and wet terrain.
The wide grooves have the V-slope, explaining why it can channel water effectively and generate an impressive grip. Also, these features enable it to reduce noise to minimal levels. 
The product is indeed an outstanding choice for smooth and quiet drives. Still, it has some disadvantages that we also point out to see the big picture. D7 shows less effectiveness when driving in snow despite wonderful performance on dry and wet roads. Also, it is not a durable tire type that can be your friend for years! 
Delinte DS8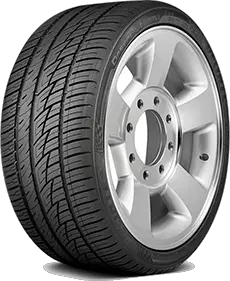 Specifications

Brand: Delinte
Model: DS8
Weight: 24 – 48 pounds
Available Sizes: 18", 19", 20", 21", 22", 24", 26", 28", 30", 32"

Ratings

No rating yet
DS8 is the next 'candidate' for the top list of Delinte tires because of its superior features and beautiful design. It is among the recommendations for SUVs. 
Yet, we do not honor a tire because it looks good. The main focus is its performance. The tread pattern of wide-open throttle maximizes the contact between the road and tire. You can expect excellent grip and traction, which decides the driving experience. 
DS8 shows its best quality in wet and snowy terrains. Its tread design reduces the impacts of hydroplaning. Also, it responds well to steering directions, even on wet roads. 
By sharing the same materials, DS8 could support you in a short time of driving. So, we do not use 'long-lasting' whenever mentioning this tire!
Delinte DX10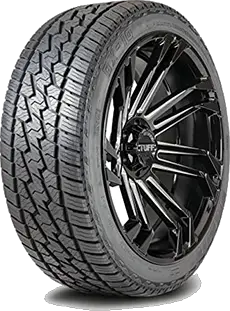 Specifications

Brand: Delinte
Model: DX10
Weight: 28 – 46 pounds
Available Sizes: 15", 16", 17", 18", 20", 22", 24"

Ratings

No rating yet
The aggressive tread design makes DX10 a match to trucks or utility vehicles as it can add the look of strength and power! If there were any bad performance signals above, DX10 could cover them all. 
The five-block tread pattern enables it to evacuate water and snow effectively. It also implies the optimal contact area, also known as traction. You do not have to suffer from noise even when you drive on rough terrains. So, you can enjoy smooth driving experiences in almost all road conditions. 
Yet, there is always a drawback that we have mentioned earlier, the tolerance of Delinte tires. DX10 is not an exception when it can wear out easily. Luckily, the manufacturer serves the 50k mile warranty!
Cost of Delinte Tires
You should consider many aspects, yet you should not forget to check the price to pick the best selection. You do not have to pay the cutting-throat price to own a Delinte tire. For example, DH2 costs you only around $105, while D7 can be even lower at $97.  
The cost you pay comes hand in hand with the quality you get. A wide range of Delinte tires helps you diversify choices to meet your target budget and needs. 
The price varies according to the model and its size. Yet, you need to pay from $100 to $200 to have Delinte tires attached to your car. 
Why Choose Delinte Tires?
We can provide many reasons to persuade you to use this brand's tire. First and foremost is the competent performance on almost all terrains, such as dry, wet, and snowy conditions. The noise reduction is also superior in some models. 
Unfortunately, the most decisive factor that might be Delinte tire's winning point is its affordability. Instead of paying high prices for luxury brands, you can still use quality tires at much lower prices. 
The materials of Delinte tires are not suitable for usage under harsh weather conditions or on off-road tours. Nevertheless, the lack of durability will be its minus if you aim at getting long-term use.
Delinte Tires Reviews by consumer
Positive Experiences with Delinte Tires
"I've had the Firestone fire hawk Indy 500 tires for a few months now and their an amazing tire. I drive a 2013 Civic si sedan with bolt ons and tune. Even during aggressive driving these tires don't break contact with the road. It's a pretty quiet ride and good handling in rainy conditions. I can be confident driving during rainy conditions with my wife and kids in the car."

Cesar via Simple Tire
"I'm just blown away by these tires and it's only been a week! Wow! So glad I took a chance and bought them instead of the OE tires. And now my 2017 Honda Accord rides like it's new money! I'm sure they will last, my hubby builds tires for Kumho Tire of Georgia and he said they are very well made! And shipping was great, quoted 4 days they were here in 2 days! Love them!"

Tracy Smith Via Simple Tire
Negative Experiences with Delinte Tires
"I have had to replace two tires already due to sidewall splitting. The first tire after about 2 months and less than 4000 mikes and the second at about 7000 miles.This is my experience with the 245/30/22 size tire. Very disappointed as this size tire comes with no warranty and obviously has a manufacturer defect." – Delinte Thunder D7

Lou Diaz via Simple Tire
"This tire leak internaly from cracks very hard to find but definitly leaks i have experienced those leak on two tires" – Delinte Thunder D7

JEAN R TANOH via Simple Tire
Frequently Asked Questions 
Are Delinte Tires Good?
The short answer is yes, but it needs to look at specific cases in terms of models, terrain conditions, etc., for an exact answer. Yet, we can tell you that Delinte tires are worth checking out. 
The reasons lie in tread patterns and insightful design for noise minimization. The ultimate goal is the optimization of your driving experiences. 
Who Makes Delinte Tires?
Sentury Tire is the manufacturer of the Delinte tire line. The company launched this product line in 2009. After more than a decade, Delinte tires became among the popular brands for their quality and economical prices. 
How Many Miles Do Delinte Tires Last?
It depends on multiple facets for a specific number of miles, such as models, tread material, patterns, road conditions, etc. However, Delinte Tires are not durable choices, as mentioned earlier. 
For example, you have a warranty of 40k mileage for D7 tires, while it is higher with a 50k mileage warranty if you choose DH2!
Conclusion
After reading this Delinte tires review, you now have more info about this brand regarding advantages, disadvantages, and specs. 
We hope you can end up with the most suitable choice of tires for your car. It should balance the factors of quality, design, and price.