Kelly tires include characteristics that are similar to those found in competitor manufacturers, as they provide good handling, longevity, and stability on a variety of surfaces. These features guarantee that drivers enjoy their time behind the wheel. 
If you still have butterflies in your stomach and are in two minds about whether to buy this tire or not, then our Kelly Tires Review can save your day.
Kelly Tires Overview
Kelly Tires is a sub-brand of Goodyear Tires, which is one of the most well-known tire manufacturing companies across the globe, not only in terms of number but also in quality, lifespan, and trustworthiness.
Kelly Tires was established in Springfield, Ohio, in 1894 as the Kelly-Springfield Tire Company. Goodyear bought this company in 1935 and ran it as a subsidiary until 1999, when the corporation fully acquired it. The headquarters of the corporation are in Akron, Ohio.
The firm believes that being honest with our consumers is linked to product quality. Most importantly, their objective is to provide fantastic tires at affordable prices.
Kelly's whole assortment is accessible on Goodyear.com as part of the Goodyear family. Customers will be able to browse all of the tires available, as well as view store locations and other information.
Kelly's Most Popular Tire Models
Kelly Edge A/S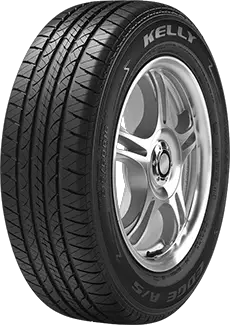 Specifications

Season: All Season
Warranty: 55,000 miles
Max Speed: 118 mph
Load Range: SL
Load Index: 84 (1102 lbs)
Available sizes: 14″, 15″, 16″, 17″, 18″, 19″, 20″

Ratings
Kelly Edge A/S tire, a prominent product from the brand Kelly, is developed specifically for coupes, sedans, crossovers, and compact SUVs as an affordable touring all-season tire product. This new range will ultimately play the role of the other previous products, according to Kelly Tire.
The Edge AS is equipped with a unique all-season tire compound and tread block design that improves grip on both dry and wet roads. On dry pavement, you'll have assured grip and excellent braking performance. It performs admirably in this category for a budget tire.
Kelly Edge A/T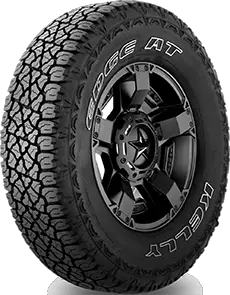 Specifications

Season: All Terrain
Warranty: 50,000 miles
Max Speed: 112 mph
Load Range: SL
Load Index: 102 (1874 lbs)
Available sizes: 16″, 17″, 18″, 20″

Ratings

No rating yet
The Kelly Edge A/T is the company's most recent addition to its truck tire lineup. As a Goodyear affiliate, Kelly unveiled the Edge A/T in 2015. This light truck tire offers a cheap price, an off-road, highway traction design components, and long-lasting tread life.
Kelly expects to increase the tread's toughness and lifespan by employing a specific cut and chip-resistant tread composition that performs similarly to its other brother tires. The pattern and tread compound of Edge AT are also designed to increase traction on both highway and off-road.
Moreover, the A/T is a low-cost modest all-terrain product from a company with a high reputation for producing high-quality goods. While the Edge A/T doesn't have as many features as other products in its category, it does offer a satisfactory driving experience.
Kelly Edge HP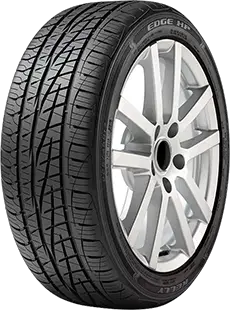 Specifications

Season: All Season
Warranty: 45,000 miles
Max Speed: 149 mph
Load Range: SL
Load Index: 85 (1135 lbs)
Available sizes: 15″, 16″, 17″, 18″

Ratings

No rating yet
The Kelly Edge HP was introduced in 2016 and is designed for drivers of high-performance coupes, sedans, and SUVs. Kelly equipped the cost-effective Edge HP with a number of innovations aimed at improving year-round traction and handling while still giving a pleasant ride.
This model's all-season tire compound is combined with an asymmetric tread pattern to provide dependable traction and handling on dry and wet roads. Throughout the speed zone, a large continuous center rib enhances stability and quickens steering reaction. The tire's strong tread blocks on the shoulders aid in improving cornering grip and stability.
Cost of Kelly Tires
On average, a pair of tires costs around $500, but Kelly Tires can cost as little as $300. Thanks to their affordability, the huge cost savings made via the purchase of their tires makes them a superb deal.
The brand's radials are priced significantly below the industry average while delivering performance above their price range. Kelly Tires are without a doubt the cheapest tires available. They provide excellent value for money. Indeed, they are ideal for people who want to save money while still getting a good product.
Positive Experiences with Kelly Tires
"This is the first year I had ever purchased Kelly Tires and I'm glad I did. I bought two for my 2005 Corolla and liked them so much, the very next day I took my wife's 2008 Subaru for new tires as well. She needed 4 (being all wheel drive, I replace them in 4's baring any accident that causes one to need replaced soon into the tread-life) They hug the road and have increased breaking bite noticeably.

They have an aggressive tread pattern that grips the road and channels away water while still giving a smooth comfortable quiet ride, and I have no doubt the All Season design will perform exceptionally when the snows visit us this Winter. And they do all of this at a very reasonable price. Ill purchase more tires from Kelly for sure"

Papawjeff via Goodyear
"These came installed on my Grand Cherokee (they were new) when I purchased the Jeep. At first I was pretty put off by the off brand name of tires but quickly changed my mind. These tires are surprisingly quiet. Now they are not as quiet as Michelin's I have had but they are very very quiet, probably the 2nd quietest tires I have had.

They are very smooth riding, no vibrations or shaking. They ride well, absorb bumps very adequately. Gas mileage seems to be good also. I did take them off road (its a jeep!). Through my trails in the wet they did surprisingly well. The Jeep does have QD2 so thats more likely why, but they did not slip once, even up steep inclines. For as cheap as they are you cant really go wrong."

Clarda via Goodyear
Negative Experiences with Kelly Tires
"Bought 4 brand new Kelly Edge A/S tires 7 months ago. There are now 3,000 miles them. Noticed a bulge in the sidewall of the rear drivers side tire so took it to the dealer. Found that ALL four tires have already worn 3/32nd of the tire (out of avail 9/32). At this rate I won't get 10,000 miles from this set.

Tires are driven on smooth paved roads in the south where we do not have pot-holes or other road hazards. This is a 4 cylinder vehicle so no hot ridding or burn outs! I would NOT recommend this tire or brand to anyone. In addition to poor wear, these tires are also very loud."

Prime8ofAtlanta at Goodyear
"The Kelly Edge makes my car ride more smoothly when turning corners and in the rain. I am VERY happy about that because it makes me feel safer with my two boys in the car. I assume because it's a brand new tire. HOWEVER, I'm upset that the car noise is louder inside the car and my mileage dropped 2-10 mpg; an average of 3.0 mpg.

I'm one of those people that tracks my mileage every fill-up, so I know that's an average based on 2 months of before (old tires) and 2 months after (new tires). And the weather from April – August has been the same, so weather not an effect here. This was so disappointing that I'm losing money on brand new tires."

MaryChi via Goodyear
Why Choose Kelly Tires?
User Appreciation
Kelly Tires are designed to cater to a wide range of market segments. Tires from the firm come in a wide range of weights, speeds, and sizes, making them suited for a number of vehicles. The brand's tires are only rejected by the most confusing autos that require unique designs. On the other hand, many sedans, coupes, SUVs, and crossovers will happily take the brand's tires and operate wonderfully without any concerns regarding stability.
The brand's tires also come with a one-month test drive term, allowing drivers to try the tires for 30 days to ensure that they are satisfied with their performance. If drivers are unhappy with the tire, they can exchange it for another from the same manufacturer.
Longevity
The brand's tires come with a 50,000-mile limited wear guarantee in general. Given the low cost of the brand's tires, this is a substantial number. 
Longevity is boosted even further by smart design features, including strong sidewalls and self-cleaning tread patterns that prevent bruising and dirt accumulation. Both of the aforementioned difficulties cause early tread wear, which reduces a tire's usable life dramatically.
Q&As:
Are Kelly tires good?
Yes. Kelly provides the highest quality items, demonstrating why they have lasted so long in the market. They guarantee that their tires meet up to their customers' expectations by providing acceptable performance in all areas.
Who makes Kelly tires?
The Kelly-Springfield Tire Company is one of the oldest continuously functioning tire firms; it has been a completely owned subsidiary of The Goodyear Tire and Rubber Company since 1935. Kelly tires are manufactured by this company.
Are Kelly tires made by Goodyear?
It's not difficult to figure out the answer. Kelly Tire is an American-made tire company having was founded in 1894. Kelly Tire began as a buggy tire manufacturer in Springfield, Ohio. 
Bought by Goodyear in 1935, and the firm relocated to Akron, Ohio. Kelly Tire has been in the tire industry for almost 115 years as a subsidiary of Goodyear.
Nevertheless, these tires are accessible practically everywhere in the United States as the firm made the transition from restricted distribution to countrywide sales in 2010.
Wrapping Up
Kelly Tire, the earliest known tire manufacturer in the USA and a part of Goodyear, still adheres to the "first-class or junk" philosophy. It is committed to providing clients with a great bargain on a terrific tire and ensuring that they make the right choice. Kelly tires are usually offering great offers.