Michelin is ranked as one of the best tire manufacturers all over the world every year. This French company contributed a lot to the automotive industry through its innovative products.
Recently, two of the product lines always put on the balance sheet for comparison are Michelin Defender vs Premier. Which one is the best? Which is worth your investment? Keep reading to find out the answer!
Overview 
Touring Comparison
Specifications

Season: All Season
Size: 16″ to 20″
Construction: Radial
Speed Index: H & W
Mileage Warranty: 55,000 miles

Ratings
This product inherits the outstanding advantage of the original model, which is high durability to prolong life. Combined with stabilized belts, you will control the steering wheel more smoothly and easily.
Both of tires use an asymmetric pattern on the tires to limit noise. The IntelliSipe technology creates zig-zag veins to maintain grip and push water out of the tire in rainy conditions or wet conditions.
Silica-based materials enhance traction on wet roads for safe trips. You can find this product line for wheel sizes from 14 to 18 inches.
Specifications


Safe When New, Safe When Worn

Ultimate All-Season Safety

Luxury & Comfort

Mileage warranty: 60,000 miles


Ratings
If you have any all-season tire requirements, Michelin Premier A/S will fulfill them perfectly! This design supports the vehicle to adapt quickly under various weather conditions.
Michelin Premier A/S and Defender T+H are similar in design. This one is also designed with an asymmetric tread pattern to increase grip on the road. Compounds of silica and sunflower oil are the main material that maintains their performance under wet and cold weather.
Since this is a specialized product for different weather conditions, you don't need to worry about safety. It ensures a high level of safety without sacrificing performance.
SUV and Truck Comparison:
Specifications

Sizes Available: 13" to 20"
Speed Rating: T, H
Mileage Warranty: 70000 mile
Rim Width Range: 5.5" to 11"
Overall Diameter: 22.6" to 30"
Revs Per Mile: 699 to 913
Max Load Capacity: 1,356 lbs
Tread Depth: 10/32"
Max Inflation Pressure: 44 ps

Ratings
Michelin Premier LTX and Defender LTX are both typical choices for SUVs and Trucks, and each of them has its advantages. But the former is more suitable due to its outstanding durability on various terrains and surfaces.
Tread life is longer than others, saving you a lot on regular replacement. Are you worried about the driving performance? It will provide you with smooth, silent, and high shock-resistant ability. 
Durable tires give you absolute control over your driving. It's suitable for use on various terrains and different weather conditions.
Specifications

Sizes Available: 15" to 20"
Speed Rating: R, S, Q, T
Mileage Warranty: 50000 mile
Rim Width Range: 5.5" to 11"
Overall Diameter: 27" to 36.5"
Revs Per Mile: 569 to 751
Max Load Capacity: 2,755 lbs
Tread Depth: 15/32"
Max Inflation Pressure: 50 psi

Ratings
The common advantage of Michelin Premier LTX is its high flexibility. It assists the driver in adjusting speed or navigation.
You'll find that this model ensures the highest performance for your vehicle. Meanwhile, it controls safety and comfort even on long trips.
This model doesn't give as much thread life as other brands do. But based on our experience, this isn't an important drawback.
Driving Experience 
Both lines bring quite an impressive driving experience and receive a lot of good feedback from users. Most products from Michelin will provide responsiveness and the steering feel for drivers.
When we got to experience both types, we found that there was only a slight difference between them. Premier lines will feel more responsive to control more flexibly and efficiently. It is true to the advertisements of such a line in the higher-end segment.
Dry Traction
Different weather conditions will create certain difficulties for your wheels. In fact, dry weather and dry roads are ideal for both series because they can work well with suitable braking distance, cornering, etc.
Even when you use both of them on two sides, there aren't many differences.
Defender Tire
At normal speed, Defender tires are ideal for you. They work well on stabilizing performance with a high grip for immediate action. Every time you want to change direction, the wheel is flexible and balanced for safety and maintaining speed. 
Yet, at higher speeds, you need to check the next products.
Premier Tire
As you need to pay more for this product line, the value you get back is commensurate. These tires will show you their ability to control the scenario at higher speeds. You'll receive way more traction in turning points.
It's easy for car drivers to stop and speed up. Premier lines are the more preferable choice for those who prefer a sporty driving experience. 
Wet Traction 
Michelin's EverGrip Technology is applied to both of these product lines. As a result, hydroplaning resistance is significantly upgraded compared to other products in the same segment. 
We didn't encounter any problems in controlling wet weather conditions like heavy rain during use.
Defender Tire
Defender is not a bad choice for a wet surface. Thanks to the design with grooves that push the water out along with the standard grip, you won't lose control even on rough terrain. 
To put on the balance and compare with Premier ones, they will be inferior because of less traction and hydroplaning resistance.
Premier Tire
We can say that Premier is a Defender product line but has been upgraded to bring more advantages. They can hit water-filled pothole with ease.
Wet traction is plenty with Premier ties. Braking distance or cornering won't be what you should worry about anymore.
Snow and Ice Traction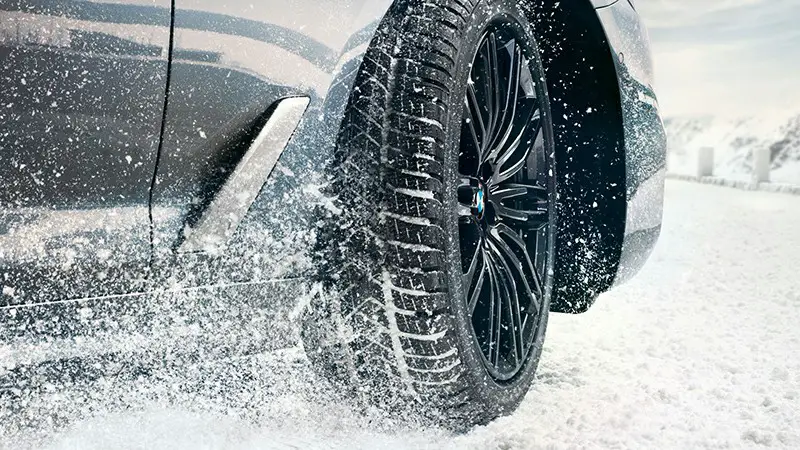 Although they perform impressively on dry surfaces and wet surfaces, they are challenged with ice and snow conditions. Neither of these two lines is the best choice for such a condition.
To judge, their performance is quite similar, and it won't be a problem if you control the vehicle under light snow. Premier is a bit better, providing you with more balance and a shorter braking distance. 
Regardless, we don't recommend you choose these products on icy surfaces with thick snow layers. It is obvious because these two lines are usually all-season, not specifically designed for the harsh cold winter. 
You can consider some other specialized products of the company if you live in a snowy area.
Noise and Ride Quality 
As mentioned above, these two will provide you with high solidity and a balancing feeling. That's why you won't get a too soft feeling of the tire when driving.
When riding, we were not bothered by the road noise. Of course, there will still be a slight tread growl when you're driving, but it's not so loud that it distracts the drivers. You will have a quiet ride.
Defender Tire
We appreciate the smooth and comfortable feeling they bring. Especially when we were on the highway, we heard the engine's noise only, which satisfied us a lot. This quality is certainly supportive in controlling and observing surroundings to ensure safety.
Premier Tire
On the other hand, professional drivers will choose Premier for bumpy roads with potholes or rocks. They're on the higher level with high shock-absorbing ability but still responsiveness. That's why they can deliver the surrounding information to car owners as much as possible.
Durability 
Regarding internal factors, Premiere has the upper hand. But the Defender will become the champion if you consider tread life and durability. 
The former is outstanding with high performance and comfort, and its durability is decreased. For impressive longevity and cost-saving decisions, you should consider the latter.
Defender Tire
Specifically, Defender T+H has an 80,000-mile treadwear warranty, 20,000 miles more than Premier. Compared to the average of most falling wheels, about 50,000 to 90,000, this number is worth considering.
The Defender LTX is only 10,000 miles more than Premier LTX, but it has a tougher casing. This characteristic brings your tire the advantage of being less susceptible to punctures and cuts. 
For those who prefer off-roading, this is an ideal choice for cost-saving and standard performance at the same time.
Premier Tire 
They will be less durable due to their impressive slow and high-speed performances. People advertise the Premier A/S with a 60,000-mile treadwear warranty. 
Besides, based on our experience, this number is smaller, about 45,000 to 50,000 miles daily. That means you need to replace it more regularly than the Defender ones.
Price 
In general, the price range of Michelin's products can be a bit higher than that of the opponents. But you'll get what you pay for, and users recognize their quality all over the world.
Michelin tires Defender vs Premier prices don't differ much. Yet, the Defender will be the ideal choice for those who want to save an extra 20% on each tire change.
Premier is more expensive, which is obvious as this product line provides a smoother, more premium experience. If you want to own a sporty ride and better performance under different conditions, they are worth a try.
Conclusion 
Michelin Defender vs Premier, which is the best options to you? Obviously, each of them has its advantages revealed to you in this post. You can consider all the criteria carefully to evaluate the one that suits you best.