Falken Tire Review – Why Should You Choose This Tire?
Last updated: August 31, 2023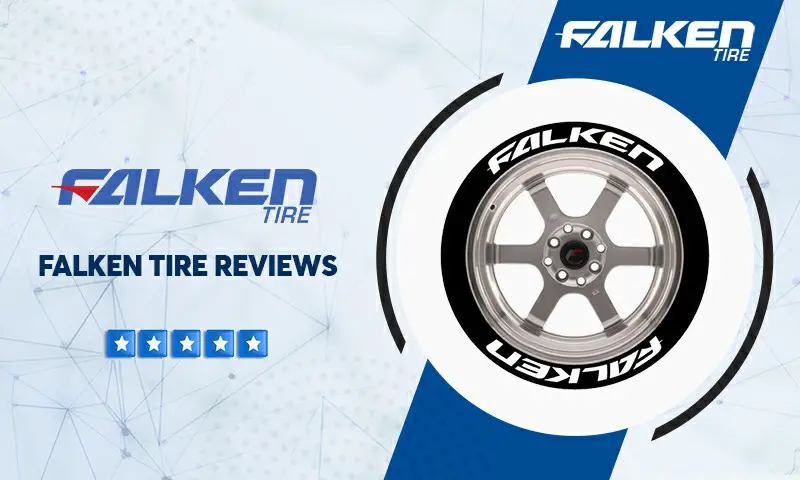 Driving enthusiasts tend to be fond of a pair of tires fitted on a wide array of vehicles rather than a car with a cool style or engine. If you've done some researches on tires, you must have encountered Falken tires. They are gaining rising popularity due to their excellent availability.
Nevertheless, the question is, "should we go for Falken tires or not?". Consulting this Falken tire review can help you make a better decision on tire buying.
Overall Falken Tire Review
Falken Company is a leading global brand majoring in the design, construction, and sales of tires for trucks, passenger cars, sedans, and SUVs. As a tire supplier, not only is Falken tire renowned for its availability but also its overall performance.
Traction
Falken producers have engineered their tires to conquer all off-road terrains, ranging from dry, wet to snow traction. Indeed, those are not a winter tire, so they rarely deliver effective braking when surfing on snow.
However, wet traction is exactly the Falken tire's core strength. The grip is tight, the braking is responsive, and hydroplaning is nullified in rainy weather or wet conditions.
Falken tires rating in the dry traction category is relatively high. Although they lack precision, sometimes, in the corners, users can still have fun when driving in the dry and hot weather.
Riding Experience
Generally, Falken's tire lineup delivers a light handling owing to different design elements. The constant center rib ensures a wholesome and smooth ride, while the wide shoulder block adds to the tires' concerning stability.
In terms of noise comfort, Falken tire incorporates Silent Core technology to minimize noise emission as they roll on. As a result, those tires offer customers an extremely tranquil riding experience.
Treadlife
Falken has adopted enhanced design techniques and remarkably innovative technologies to boost a long-lasting tread life and durability.
In particular, the Neo-T01 manufacturing technique considerably contributes to deter the tires from varying in quality or shape after long-term use.
Falken Tire Review: Pros & Cons
Buyers can look at the upsides and downsides of the product to have the right buying decision.
Why Should You Buy Falken Tire?
From the perspective of a tire-loving crowd, we consider Falken tires a worth-buying product.
We were tremendously amazed at how well they perform on wet pavement. We can confidently push the accelerator to the limit and let our tires play with water.
As expected, the Falken tire is not for winter. We couldn't experience responsiveness when gripping our steering wheel. Should it frequently snow in your living area, you'd better look for another tire.
The tires' dry traction is fairly nice if we run them at a medium speed. But when we drive aggressively, the tires sometimes are uncontrollable and pose an imprecision.
What's more, Falken tire's computer-optimized tread pattern delivers an extended tread life with superb durability. It remains fresh and new after nearly 5-month use.
If you're used to quiet and relaxing driving, a pair of Falken tires will be an ideal option. You can enjoy a comfortably quiet riding experience while listening to a playlist of favorite melodies.
All in all, Falken tires are perfect for daily driving or outdoorsy people who are into chilling trips, not adventurous ones.
Bottom Line
Choosing the best set of tires is essential not only for the riding experience but also for safety purposes. Our advice is that you should opt for reliable brands like Falken when shopping for tires.
We hope our Falken tire review has given you a hand to answer the question, "why should you buy a set of Falken tires?". This sort of tire delivers such an impressive performance that consumers can't ignore.
Consumer Reviews by Falken Tire Model
| | | |
| --- | --- | --- |
| Extreme Performance Summer | Grand Touring All-Season | |
| Azenis RT615K+ | Sincera SN250A A/S | |
| Azenis RT660 | – | |
| Ultra High Performance Summer | Temporary/Compact Spare | |
| Azenis FK510 | FK-090 | |
| Pro G4 AS | | |
LIGHT TRUCK/SUV TIRE REVIEWS
Automotive Experts at World Tire Review
Hi everyone, I'm 
David
 (
Tireguy
). I believe that finding tires can lead to a lot of confusion and frustration for almost every driver. That's why I would like to bring my experiences and knowledges to develop World
Tire Review blog
, it will give people a deeper understanding of what choosing the right tire is really like!