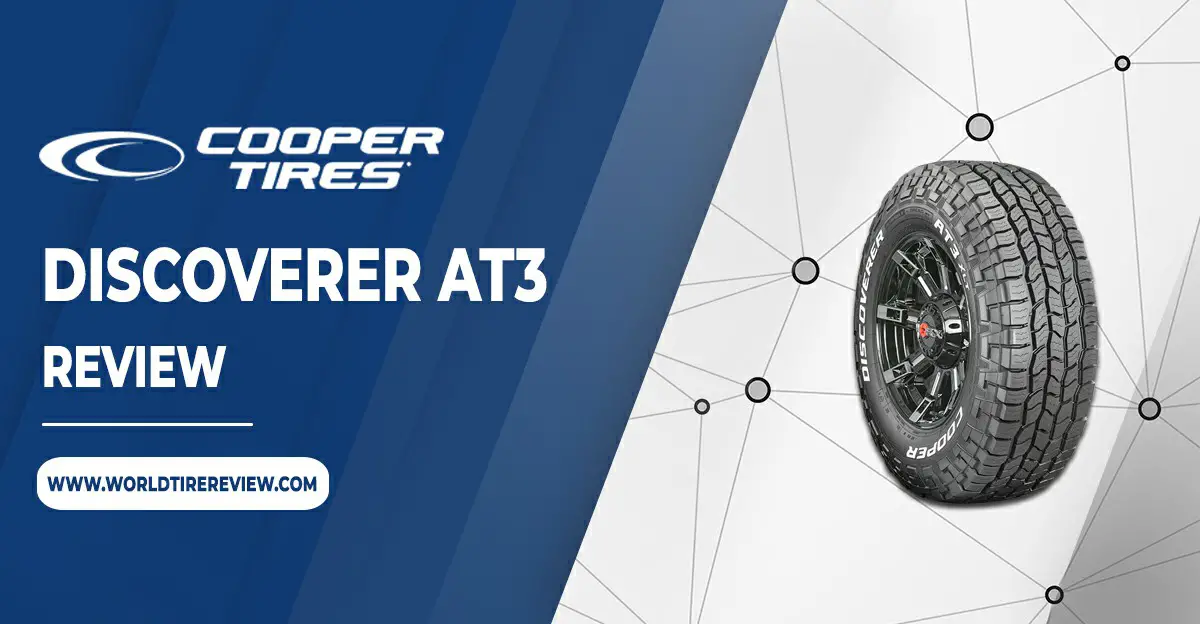 We cannot miss out on Cooper on the list of well-known US-based premium tire manufacturers. Its dependable tires with functional technology are among the most favorite choices for all-terrain use, as you will see through this review.
Cooper Discoverer A/T3 Reviews
It is challenging to find an optimal tire that fits your SUV or truck and performs at its best both on- and off-road. The good news is you have the Cooper Discoverer A/T3 as your next potential option.
Cooper has balanced its tread design, so the traction level on both dry and wet highways is excellent. Moreover, it will deliver reliable and solid performance on a variety of terrains for a comfortable ride.
Besides the appealing tread pattern, this tire also features a 5 ribbed design, so that you can handle the vehicle better on-road with stability.
You may notice how the aggressive shoulders make this tire look much better and add more traction on normal surfaces at the same time. Around the tire's circumference are thick grooves to boost its performance.
The main reason why the Discoverer A/T3 has minimal road noise and enhanced tread wear is its unique zigzag sipping structure.
Its grooves are important factors in minimizing stone retention on the truck tire's surface. We are deeply impressed with its ability to self-clean, meaning your tire will always be fresh and clean on-road.
Its wet performance, in particular, is highly outstanding. The tire's tread compound is silica-based for impressive wet weather use, free from slippage, and gives you confidence driving in such situations.
This Cooper Discoverer A/T3 tire comes in a wide variety of sizes from 15 to 20 inches in LT and non-LT ranges for your consideration. You will be glad to know it also has a warranty after 50K-mile riding.
Pros & Cons
Tire Drive Test
To sum up, we would say that this tire is a great value to consider, though it is not always the most popular option. We are stunned by its grip on wet and dry surfaces compared to other tires.
It did not matter if the terrain was on sand, mud, grass, gravel, or rock. This tire got us through with confidence. Of course, it is not a specialized unit for rock climbing, but its performance is amazing.
On the other hand, the Cooper Discoverer A/T3 does not work well in deep snow, causing you problems in accelerating and braking.
Overall, this model is well-balanced enough for all-weather, road, and terrain applications. It deserves a ranking as the top in its class.
So what kind of available vehicles would fit the Discoverer A/T3 tire?
Nissan Frontier, Titan
GMC Envoy, Sierra, S-15
Dodge Dakota, Durango
Chevrolet Silverado, Suburban, Blazer, Tahoe
Jeep Commander, Wrangler, Liberty
Ford Ranger, Expedition, F-Series
Competitors & Alternatives
| | |
| --- | --- |
| Treadlife Warranty: | Unlimited Time / 65,000 Miles  Half mileage for rear if different size than front |
| Uniformity Warranty: | First 2/32″ of wear |
| Workmanship & Materials Warranty: | Unlimited Time / Free replacement first 2/32″ of wear, then prorated until 2/32″ remaining depth |
| Manufacturer's Road Hazard Warranty: | None |
| Manufacturer Special Warranty: | 45 Day Road Test Guarantee (1) |
| Additional Information: | (1) Exchange for another Cooper brand tire |
Discoverer A/T3 warranty summary for replacement tires purchased on or after 01/01/19 at Tire Rack
| 15″ | | 16″ | |
| --- | --- | --- | --- |
| 225/70R15 | 265/75R15 | 215/70R16 | LT 245/75R16 |
| 235/75R15 | LT 30X9.50R15 | LT 215/85R16 | 255/70R16 |
| LT 235/75R15 | LT 31X10.50R15 | 225/70R16 | LT 255/70R16 |
| 255/70R15 | LT 32X11.50R15 | 225/75R16 | 265/70R16 |
| 265/70R15 | LT 33X12.50R15 | LT 225/75R16 | LT 265/70R16 |
| | | 235/70R16 | 265/75R16 |
| | | 235/75R16 | LT 265/75R16 |
| | | LT 235/85R16 | LT 285/75R16 |
| | | 245/70R16 | LT 295/75R16 |
| | | LT 245/70R16 | LT 305/70R16 |
| | | 245/75R16 | LT 315/75R16 |
| 17″ | | 18″ | |
| --- | --- | --- | --- |
| LT 225/75R17 | LT 265/65R17 | 255/70R18 | LT 275/70R18 |
| 235/60R17 | 265/70R17 | 265/60R18 | LT 285/65R18 |
| 235/65R17 | LT 265/70R17 | LT 265/60R18 | LT 285/75R18 |
| 235/70R17 | LT 275/65R17 | 265/65R18 | LT 295/70R18 |
| 235/75R17 | LT 275/70R17 | LT 265/65R18 | LT 305/65R18 |
| LT 235/80R17 | LT 285/65R17 | 265/70R18 | LT 325/60R18 |
| 245/65R17 | LT 285/70R17 | LT 265/70R18 | LT 325/65R18 |
| 245/70R17 | P 285/70R17 | 275/65R18 | LT 35X12.50R18 |
| LT 245/70R17 | LT 285/75R17 | LT 275/65R18 | |
| LT 245/75R17 | LT 295/70R17 | | |
| 255/65R17 | LT 305/70R17 | | |
| 255/70R17 | LT 315/70R17 | | |
| 255/75R17 | LT 37X12.50R17 | | |
| 265/65R17 | | | |
| 20″ | | " | |
| --- | --- | --- | --- |
| 265/50R20 | LT 285/60R20 | | |
| LT 265/60R20 | LT 295/60R20 | | |
| 275/55R20 | LT 305/55R20 | | |
| 275/60R20 | LT 325/60R20 | | |
| LT 275/65R20 | LT 35X12.50R20 | | |
| LT 285/55R20 | | | |
Discoverer A/T3 prices range approximately from $184.99 – $364.75 –
Goodyear Vector 4Seasons SUV
Goodyear Vector 4 Seasons Gen 2 SUV
Yokohama Geolander AT G015
Dunlop Grandtrek ST20
Continental ContiCrossContact LX 2
Nokian WeatherProof SUV
Cooper Discoverer A/T3 – Compare Prices
We found 1 online tire retailers selling Cooper Discoverer A/T3. Refer to the details below to get the best price
Cooper Discoverer A/T3
PRICE
SOLD BY
 

Offers
Discoverer A/T3 Ratings By Consumer