Introduction
When it comes to purchasing tires for your automobile, being cautious about the ones you choose demonstrates that you are knowledgeable and cautious. The tire's durability, durability, and efficiency are all important variables to consider. Some of these elements, such as ironman tires, are decided by the tire manufacturer.
Ironman is a well-known company in the tire market. This tire firm has set a higher standard for other tire companies to follow. It is a spinoff of the Hercules tires, whose popularity is rapidly rising due to its low-cost, high-quality tires.
Ironman Brand Overview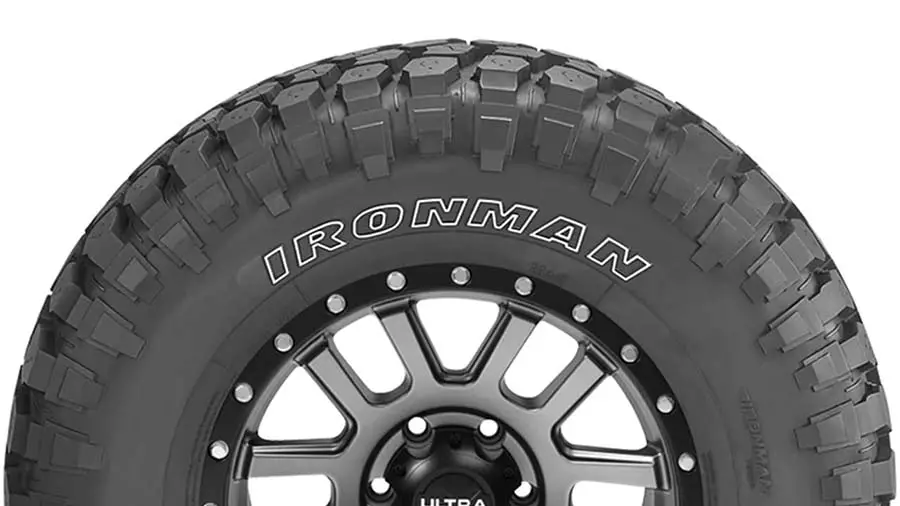 The Hercules Tire & Rubber Company is affiliated with Ironman tires. The company is committed to providing drivers with high-quality replacement tires that offer superior performance, variety, and value. 
The Ironman tire brand maintains loyalty to the manufacturer's aim, achieving all three objectives to provide drivers with a dependable option to big-name tire companies. They are available in various shapes and sizes to accommodate the needs of passengers, off-road vehicles, maintenance workers, and a range of businesses. 
Ironman tires have been manufacturing excellent, economical replacement tires in Findlay, Ohio, for over 60 years. Using their extensive experience in the tire industry, they created the Ironman label to meet the demands of customers who want tires that work well enough and offer standard features at a reasonable price.
Ironman provides all-terrain, mud-terrain, and robust industrial and commercial vehicle tires in their comprehensive tires for trucks.
With robust sidewalls and a cutting-edge sidewall stabilizer that endure a long period and can easily propel you through all-terrain, the Ironman tire range is a great bargain. 
Long-lasting all-season tires, durable all-season tires, and even a sturdy winter tire for harsh conditions are all available from Ironman for vehicles and crossovers.
Ironman tires offer excellent horizontal steadiness and steering responsiveness, high efficiency, and low noise levels. The manufacturer's tires also come with versatile grooves angle design and distinctive tread block phasing with tread compound.
The Ironman tire products are a great deal, with tires that are built to last and function well. We believe that Ironman tires will become one of the best-selling and most economical tire brands.
Ironman tires can be one of your perfect ideas if you seek a tire with the best value ratio. The tires are inexpensive and readily available in a wide range of types of weather. Has over 170 million goods sold globally, you can be confident that these low-cost, high-quality tires can get your vehicle where it needs to go, regardless of the season or condition. 
However, these tires have several disadvantages, such as a restricted variety. Overall, Ironman Tires may be ideal for you when you're on a financial plan but yet want your car to operate well in all circumstances.
In the next session, we will take a look at some of the most popular Ironman tire products. Afterward, you may apply these statements to the manufacturer's existing products.
Ironman's Most Popular Tire Models
Ironman iMove Gen2 A/S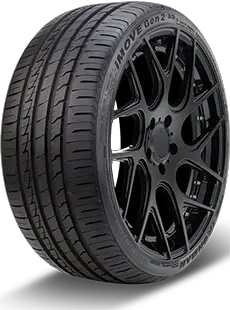 Specifications

Brand: Ironman
Model: iMove Gen2 A/S
Weight: 16.2 – 29.5 lbs
Available Sizes: 14", 15″, 16″, 17″, 18″, 19", 20″, 22"

Ratings
Some performance tires provide excellent control and traction. Others receive great grades for handling responsiveness and maneuverability. Others are known for being extremely quiet and comfy. All three characteristics are present in the Ironman iMove Gen2 A/S.
The Ironman iMove Gen2 A/S is an ultra-high tire for economically priced vehicles. This is an all tire that provides durable performance due to the wear-resistant material employed in its construction.
The Gen2 A/S comes with an asymmetrical tread pattern that provides solid road-gripping and improved stability and control. It employs a sophisticated pressure distribution model to uniformly redistribute pressure, preventing uneven wear and tear that otherwise shorten the tire's lifespan.
The tread design allows the iMove Gen2 AS to operate well in wet circumstances. The sipping across the tire should improve grip on wet roads and function in tandem with the rubber compound.
The increased tread block design provides a tight grip on the road at high speeds, ensuring that your automobile remains stable while you travel down the highway. All of this contributes to a more enjoyable journey. The tires are available at four distinct speeds: W, V, H, and T.
Ironman All Country M/T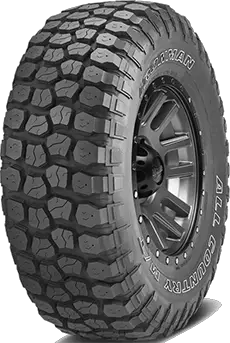 Specifications

Brand: Ironman
Model: All Country M/T
Weight: 47.4 – 106.2 lbs
Available Sizes: 15″, 16″, 17″, 18″, 20″, 22"

Ratings
It just takes one glance to spot that the Country M/T can handle demanding and difficult off-road conditions. Alternating arches protect this model's sidewalls to prevent abrasions and serious cuts caused by road debris.
Thanks to the distinctive tread design on this tire protect against rock drills, while sand, pebbles, and mud are transferred to shoulder blocks for enhanced adhesion. The Ironman All Country M/T has a three-plies sidewall design for additional strength and stiffness.
The void ratio of the all-country A/T also has enough thickness to ensure that the working in dry or wet sand without burying the tire.
Let's be honest. There isn't a single tire on the marketplace that will operate properly on ice, even winter tires. Given that tires are intended for a variety of situations, some focus on certain features that are important for particular types of terrain.
Ironman Tires All Country A/T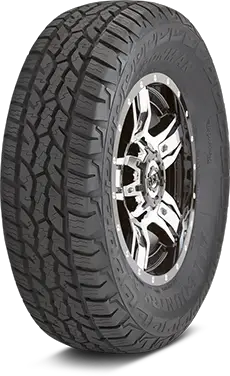 Specifications

Brand: Ironman
Model: All Country A/T
Weight: 32.61 – 54.3 lbs
Available Sizes: 15″, 16″, 17″, 18″, 20″

Ratings

No rating yet
The All Country A/T is among Ironman's off-road tire collections and has become one of its strongest varieties. The tough and abrasive aspect of these models is what sets them apart.
The tread composition used to make these tires provides great all-weather performance while also boosting traction in ice and sludge-like situations. The tires support bigger tire patterns and deep trench, allowing them to traverse over bigger pebbles and uneven roads with ease.
Although these tires are best suited to SUVs, Ironman also offers variants for other cars. They come in various sizes and function equally well in all conditions.
The All Country A/T is also really comfortable to drive. Even when driven at greater speeds over rugged terrain, it absorbs practically all of the road disturbances and barely makes any sound. However, it is not as fuel-efficient because of the increased friction coefficient.
Ironman GR906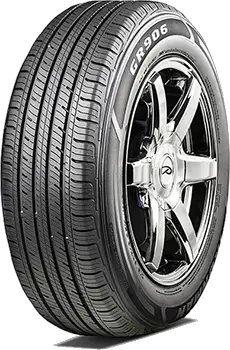 Specifications

Brand: Ironman
Model: GR906
Weight: 13.89 – 27.56 lbs
Available Sizes: 13", 14", 15″, 16″, 17″

Ratings

No rating yet
When it comes to budget-friendly all-season tires, the Ironman GR906 is one of the finest the industry has to offer. This tire performs effectively in all kinds of weather and conditions.
The Ironman GR906 is a touring tire for all seasons. Its tread contains gripping sipes, allowing it to be utilized on ice roads or moderate snow.
This tire features a new symmetrical tread pattern with a touring compound that improves traction on both wet and dry surfaces while minimizing rolling resistance for improved fuel efficiency. 
Thanks to an improved tread design that delivers higher traction and response, the GR906 provides exceptional harsh-weather performance. If you prefer a quiet set of tires, then the GR906 tires, on the other hand, may not be for you since they are loud, especially at higher speeds.
Ironman RB-12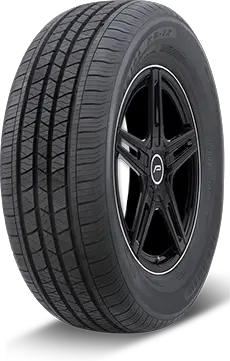 Specifications

Brand: Ironman
Model: RB-12
Weight: 18.7 lbs
Available Sizes: 13", 14", 15″, 16″, 17″

Ratings

No rating yet
When choosing new tires for your vehicle, safety and efficiency should not be neglected. These two characteristics accurately describe the Ironman RB-12. The model's tread design can reduce traffic noise while providing excellent grip and comfort.
The tread design can also maximize contact angle while increasing the tire's handling qualities and steadiness. The RB-12 satisfies all of the requirements for an Ironman tire, making it a sensible option that provides both price and durability without losing either.
With the RB-12, the superior endurance and adhesion are aided by the improved base tread compound.
Ironman Radial A/P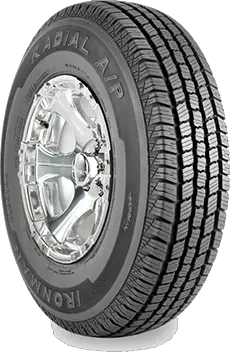 Specifications

Brand: Ironman
Model: Radial A/P
Weight: 38.1 lbs
Available Sizes: 16″, 17″

Ratings

No rating yet
The last variant is the Radial A/P. If you are looking for a new set of all-season tires, then the Ironman Radial A/P is quite worth considering. This product is available for SUVs, crossovers, campers, and light trucks.
This tire has a composite tread design and pattern for robust handling, great longevity, and a pleasant, quieter ride. The tire's wide grooves and multi-ply body structure make it suitable for many kinds of terrain, including light off-road conditions. Mild to medium snow is no problem for this tire.
Positive Experiences with Ironman Tires
"When it comes to my car, I consider myself an educated shopper. I do a lot of research, especially when it comes to the most important safety-related purchase I can make (ok, besides BRAKES) for my car. Also, tires are a significant expense and I want to get my moneys' worth. I took a bit of a chance on these because I'd never heard of the brand before, but I'm glad I did because after driving thru all four seasons of Michigan weather, I can honestly say that I've been impressed with the performance of these tires on my Chevy Spark. Heavy rain, snow, icy conditions– they definitely have handled great, much better than the factory tires that came with the car. Plus, I got them at a very good price. Mission accomplished."

Dbmichigan via Amazon
"Nice tire performs better or just as good as the high price major name brand tires. Handles extremely well, smooth ride, extremely quite ride. I am very happy I decided to purchase the Ironman Imove, iGen 2 A/S"

Michael Awls via Simple Tire
Negative Experiences with Ironman Tires
"These came new when I bought my 2016 Mercedes-Benz E350 4matic from a National used car company. I'm glad that they replaced the tires but these are no substitute for the tires that came with the car from Mercedes-Benz. Ok in dry weather but terrible in wet even though my car has all wheel drive. I'm hoping to replace them before winter. The second BIG problem is that they are so noisy I thought the rear differential on my car was failing. I took it in to the Mercedes-Benz dealer and they told me the differential was fine it was the tires that were causing the noise."

Dana Ruthers – Simple Tire
"Haven't Had them more than a month or so but so far the met my expectations. Great looking and yes there is a lot of road noise but they are a M/T come on isn't that part of the fun. I have noticed they slide a little in the rain depending on the road surface but not to bad. Overall for the price and giant 35" tire on a 20"rim I cant complain at all"

Kyle McKnight via Simple Tire
Cost Of Ironman Tires
Ironman tires are good for budget-conscious drivers who don't need a lot of bric-a-brac. The typical Ironman tire costs vary from $85 and $165.
Along with the initial expense, drivers need to consider how long a tire will endure. Ironman tires do not come with a tread life warranty; they typically last roughly 40,000 miles. This is less than the industry average of 50,000 miles.
Why Choose Ironman Tires?
Budget-Friendly Pricing
Ironman tires are an affordable tire manufacturer. To put it lightly, most of their models are exceptionally economical, and they have one of the longest tread lifetimes among models in their classification.
This guarantees that you get all the bang for your buck and don't have to worry about needing a new tire very soon. The majority of their entry-level sets are ideal for city and passenger vehicles.
Amazing Quality
Ironman has earned a reputation for outstanding quality, durability, customer service, and guarantee since its introduction in 1952. Most Ironman tires meet all of your standards for most regular driving circumstances. 
They will drive, drive, and brake in the manner that you choose. Assuming, of course, that you stay below the speed limits and don't overwork your car.
Fashionable Designs
The days of inexpensive tires sacrificing aesthetics for efficiency are long gone. Ironman tires offer amazing tread designs that will greatly enhance your car's aesthetic appeal. They do not disregard the aesthetics since they give the finest tire prices.
Frequently Asked Questions
Are Ironman Tires Good?
Ironman has a long and illustrious history when it comes to reputation. The brand's reliability is lauded based on many Ironman tire reviews, with the tires performing at their peak and outstanding customer service. You can expect the best from a company with a reputation for producing high-quality tires.
Who Makes Ironman Tires?
Cooper, based in Findlay, Ohio, manufactures Ironman tires. Cooper Tire and Rubber Company own them as a division. Ironman produces most of its tires in China and distributes them in the United States.
How Many Miles Do Ironman Tires Last?
Most Ironman tires can last up to 40000 miles, after which they are worn out and shredded. Ironman tires with premium features can last up to 70000 kilometers.
Conclusion
These tires are extremely economical, making them a viable alternative for the vast majority of automobile owners.
Ironman Tires is among the most adaptable tread makers in the marketplace. Their budget-friendly versions come with a slew of high-quality features that are sure to meet any customer's requirements.