A good car tire doesn't have an expiration date but needs to be checked once in a while. If your car tire is damaged at the sidewall, which means the internal tire structure is ruined, the tire needs a permanent replacement.
Suppose you're looking for a durable, flexible tire at a reasonable price; look no further! Our review can give you a better view of this sustainable tire.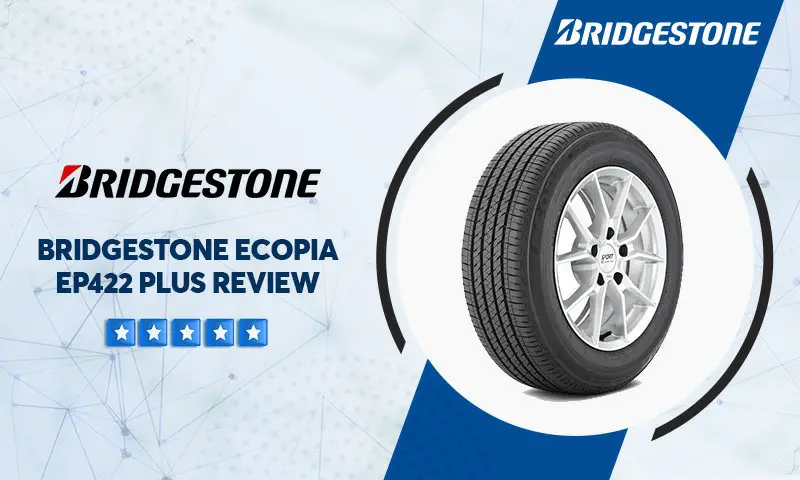 Bridgestone Ecopia EP422 Plus Overview
Bridgestone is one of the world's biggest tire manufacturers, with nearly 100 years of operation. Compared to Michelin, Goodyear, or Continental manufacturers, Bridgestone seems like a youngster among the elders. Starting in 1931, this Japanese company has a diverse catalog of tires for multi-purpose cars, both light-duty and heavy-duty alike.
Introduced in 2010, Bridgestone Ecopia soon became the name car owners worldwide knew about with its innovative touch on environmentally friendly material. One of their best-selling editions, Bridgestone Ecopia EP422 Plus, was emerged as the top choice and received many positive feedbacks.
So what makes this car tire special? Let's start our Bridgestone Ecopia EP422 Plus tire review and get to know it better.
Size and Specs
Bridgestone Ecopia EP422 Plus comes in 45 sizes that are suitable for a wide range of cars. This line of the wheel has all the suitable options, from a mini Cooper with 15 inches rim diameter of car tire size to a Saturn Aura with 18 inches car tires. It also has speed ratings of T, V, and H, which means the max speed is 190 km/h, 240 km/h, and 210 km/h.
The tire weighs around 25 pounds, which is average for a good car tire. The exterior is not so different from other tires, but the best parts lie in its tough yet lightweight materials, giving 20 miles extra per tank for a better experience.
Features
Bridgestone Ecopia EP422 Plus is equipped with the NanoPro Tech, which controls the rolling rate, increases fuel economy, and maintains traction. This technology is the game changer as it improves the tire performance tremendously on wet or dry surfaces. However, the tires can be a problem in wintertime. Many have reported that they have issues with braking and acceleration during the snowy road. A fuel-saver compound is added to the tire's side and reduces heat generation, and lower rolling resistance.
The main components of Ecopia EP422 Plus are silica and rubber. Silica material helps enhance the tire resistance in wet conditions to grip the road better. Meanwhile, the rubber enhances its ability to grip the road, providing extra balance even in slippery conditions.
Lastly, a great feature that makes this Ecopia EP422 Plus outstand other tire brands is circumferential grooves. This helps resist the hydroplaning by channeling water out of the area and improving the tire's duration.
Pros and cons
See more: Bridgestone Blizzak Dm-v2 Reviews
Who Should Buy One?
Ecopia EP422 Plus is a flexible tire for grand tourer cars. It is built for regular usage with high-performance demand. Furthermore, the Ecopia tires are known for their fuel-saving Nano Technology and recycling material. This tire would be beneficial to owners who travel a lot with their cars. It is also suitable for hybrid car owners as the tire adds up to the eco-friendly element. If you're in a state without snow, this car tire can give you a durable, efficient on most traction, and frugal solution.
Conclusion
Bridgestone Ecopia EP422 Plus is a versatile tire with many innovative features to enhance your driving performance. Coming in various sizes, Ecopia EP422 Plus tires are well suited for different car types. With its innovative and environment-friendly features, the tire is an excellent choice for those who look for a reasonable price range with great performance.
After our Bridgestone Ecopia EP422 Plus review, we hope you can have a better look at this product and be able to choose the most suitable one for your car.
Competitors & Alternatives
| | |
| --- | --- |
| Treadlife Warranty: | 5 Years / 70,000 Miles  Half mileage for rear if different size than front  |
| Uniformity Warranty: | First 2/32″ of wear |
| Workmanship & Materials Warranty: | 5 Years / Free replacement first 3 years, then prorated until 2/32″ remaining depth. |
| Manufacturer's Road Hazard Warranty: | None |
| Manufacturer Special Warranty: | 90 Day Buy & Try Guarantee (1) |
| Additional Information: | (1) Purchase four or more, full refund or exchange |
Warranty summary for replacement tires purchased on or after 01/01/19 Tire Rack
| 15″ | | 16″ | |
| --- | --- | --- | --- |
| 175/65R15 | P 195/65R15 | 185/55R16 | 205/65R16 |
| 185/55R15 | 205/60R15 | 195/55R16 | 215/55R16 |
| 185/60R15 | 205/65R15 | 205/50R16 | 215/60R16 |
| 185/65R15 | 205/70R15 | 205/55R16 | 215/65R16 |
| 195/60R15 | 215/60R15 | 205/60R16 | 225/60R16 |
| 195/65R15 | 215/70R15 | P 205/60R16 | 225/65R16 |
| | | 235/60R16 | 235/65R16 |
| 17″ | | 18″ | |
| --- | --- | --- | --- |
| 205/50R17 | P 225/45R17 | 215/55R18 | 225/55R18 |
| 205/55R17 | 225/50R17 | 225/45R18 | 225/60R18 |
| 215/45R17 | 225/55R17 | 225/50R18 | 235/45R18 |
| 215/50R17 | 225/60R17 | | |
| 215/55R17 | 225/65R17 | | |
| 215/60R17 | 235/45R17 | | |
| 215/65R17 | 235/55R17 | | |
| | 235/60R17 | | |
Bridgestone Ecopia EP422 Plus prices range from approximately $116 and up – Tire Rack
Goodyear EfficientGrip Performance 2
Michelin Primacy HP Zero Pressure
Vredestein Ultrac Satin
Nokian iLine
Kleber Dynaxer HP4
Nokian Line
Bridgestone Ecopia EP422 Plus – Compare Prices
We found 5 online tire retailers selling Bridgestone Ecopia EP422 Plus. Refer to the details below to get the best price
Bridgestone Ecopia EP422 Plus
PRICE
SOLD BY
 

Offers

$84.96

Offers

$117

Offers
Ecopia EP422 plus rating by consumer