Toyo Tires Reviews & Ratings (2021) – What To Know
Last updated: August 29, 2023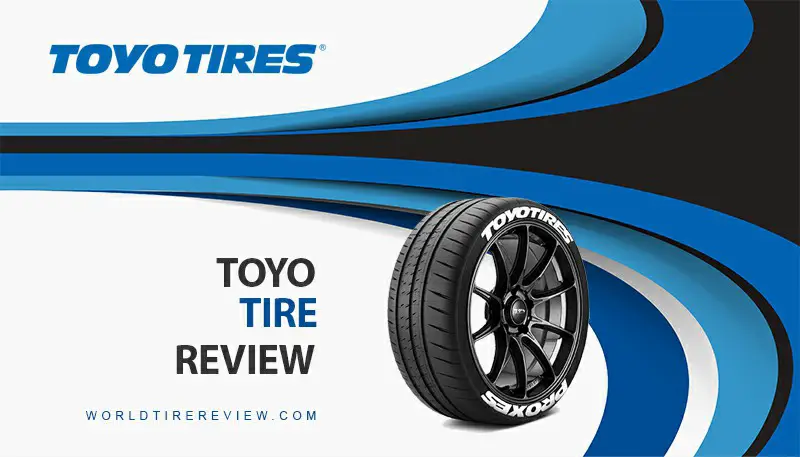 Toyo has been on the market for over seventy years, and it has successfully secured itself as one of the leading tire manufacturers. In this article, we – as tire enthusiasts like you, wish to give you a genuine Toyo tires reviews to see if they've earned their spot.
Toyo Tire Corporation is a tire and rubber company founded in Japan. They made their first debut in the American industry in 1966, and since then, they have been pumping out several quality lines of products. The organization aims to satisfy all the market demands due to its variety in tires to fit various needs.
For example, Toyo's Proxes tire series aims towards high-end cars and even racing cars. The most notable Proxes model is the Toyo Proxes 4, with high performance in all weather and excellent traction. Toyo's Snowprox and Open Country series are made for trucks and other terrain vehicles, giving the consumers more choices for dry and snow running tires.
If you want something in common between all product lines, Toyo incorporates many tread designs on the tires to give you an all-in-one deal on tire handling. Different tread layers give the tires different beneficial qualities: Inner treads improve braking capabilities, and outer treads improve cornering. 
Toyo received the BrandLaureate Best Brands Award 2016-2017 for their Proxes tire series for all their dedication to satisfying customer needs. There was a plethora of criteria like brand culture, marketing, and product strategy, social handling, and of course, product quality.
Do The Pros Beat The Cons?
From these comparisons, you can conclude a few things:
Toyo tires rating

mainly focuses on heavy-duty vehicles; if you're a consumer with medium to small-sized cars, you might want to reconsider other brands.

Once you have fallen into Toyo's demographic, they provide the best terrain tires at an affordable price.
Tire Drive Test :
Tires For Everyone:
Even when you're not a car maniac, the name Toyo still sounds familiar to you. The grasp Toyo has on the market is omnipresent. Some choose to focus on a single demographic of car users to pour their resources into, but not Toyo has a tire model for nearly all cars.
The only downside to this omnipresence on the market is the lack of variety in passengers and day-to-day car tires. So if you're looking for more choices to consider for your everyday commute, Toyo might not be the best fit.
Constant Improvement:
As Toyo opened its Corporate Technology Centre in 2013, we see more advancements in the field. However, this is good and bad news for us, as companies start to churn out new products that fit our needs at a cost.
As value-conscious, we should look carefully into the technology provided to us to see if the price tag matches the quality.
Customer Satisfaction:
We believe that, as a tire consumer, you should have absolute certainty in their purchases.
In addition to the 45-day hash-free return policy, Toyo listens closely and carefully to any feedback their customers have on their tires and makes adjustments to the design. Therefore, if you find any other brand's product flaws, you will find the perfect version you need in Toyo!
Other tires consume too much energy? Toyo's NanoEnergy series has an E on their sidewall to let you know that they have a tread design that experiences less friction, therefore needing less burst to start rolling and having better handling.
Other tires make too much noise? The Silent-Wall technology on the tires messes with the airflow as they spin and turn, making quieter tires and more comfortable rides.
Throughout this Toyo tires review, you hear us praise Toyo tires a lot. But it's for a good reason, as Toyo puts in the effort to perfect their craft.
Consumer Reviews by Toyo Tire Model
| | |
| --- | --- |
| Extreme Performance Summer | High Performance Summer |
| Proxes R1R | Proxes R35 |
| – | – |
| Ultra High Performance Summer | Passenger All-Season |
| Proxes Sport | A20 |
| Proxes T1 Sport | A22 |
| Proxes T1R | NanoEnergy A29 |
| – | NanoEnergy A41 |
| Ultra High Performance All-Season | Proxes A18 |
| Proxes 4 Plus | Proxes A20 |
| | Proxes A27 |
| High Performance All-Season | Proxes A35 |
| Proxes 4 Plus A | Proxes A37 |
| Proxes 4 Plus B | – |
| Toyo Extensa HP 2 | Drag Racing Radials |
| | Proxes TQ |
| Touring All-Season | |
| Toyo Extensa A/S | |
LIGHT TRUCK/SUV TIRE REVIEWS
Outro:
Now that you've finished our Toyo Tires Review, you can make your decision on why Toyo's currently at the top of their game. As for us, we can confidently tell you that Toyo tires are worth their values in the end and are a genuinely good deal for anyone coming for it!
Automotive Experts at World Tire Review
Hi everyone, I'm 
David
 (
Tireguy
). I believe that finding tires can lead to a lot of confusion and frustration for almost every driver. That's why I would like to bring my experiences and knowledges to develop World
Tire Review blog
, it will give people a deeper understanding of what choosing the right tire is really like!