You can't just go out and buy the first pair of tires that strikes your eyes when you need new tires. In this scenario, careful consideration is required. Frequently, you may spend a significant amount of money on items that appear to be low-cost tires. On the other side, there are economical brands like Lionhart that you can rely on.
But how good are low-cost tires in terms of performance? Premium tire prices are higher in part because the engineering teams have spent so much time and effort investigating the science behind high-performance tires. 
Lionhart Tires Overview
The tire industry is swamped with new low-cost versions that guarantee excellent levels of efficiency and longevity for less than half the cost of premium tires like Lionhart. And we've seen a lot of drivers, even ones who drive extremely costly automobiles, believe these claims. But is this the truth?
Lionhart is a fresh breeze in the low-cost segment, attempting to entice customers with low pricing and a guarantee of good performance. Your nearby tire store owner could propose a pair of Lionharts if you're looking for one or a whole set of new tires for your vehicles. They're a popular option for huge tire consumers on a tight budget because they're a fraction of the price of a luxury product and come in a broad range of sizes and dimensions.
Having first appeared in 2013, Lionhart tires, part of the Turbo Wholesale Tire family of tires, are a newcomer to the American market. To be more specific, this is a wholesaler based in Los Angeles, California with at least two distinct tire names.
Lionhart's Most Popular Tire Models
Lionhart LH-Ten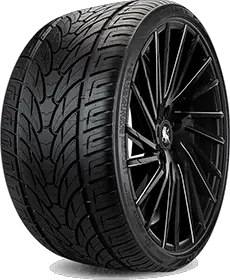 Specifications

Category: All Season
Warranty: 30,000 miles
Max Speed: 168 mph (W Rated)
Load Range: XL
Load Index: 99 (1709 lbs)
Sizes Available: 18″, 20″, 22″, 24″, 26″, 28″, 30″, 32″

Ratings

No rating yet
With the Lionhart logo boldly imprinted on the sidewall, the LH-Ten tire is not only visually eye-catching, but it also performs well on the road year-round, with exceptional traction, handling, and pleasure! 
Be confident that the LH-internal Ten's composition includes the updated tire technology, designed using state-of-the-art facilities to provide the greatest level of quality control.
You can count on a safe, comfortable, and dependable ride every time. The major characteristics of this high-quality, high-performing tire at a decent cost are its appearance, performance, and dependability.
Lionhart LH-Five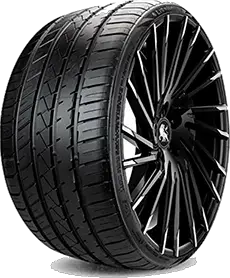 Specifications

Category: All Season
Warranty: 30,000 miles
Max Speed: 168 mph (W Rated)
Load Range: XL
Load Index: 82 (1047 lbs)
Sizes Available: 17″, 18″, 19″, 20″, 21″, 22″, 24″, 26″, 30″, 32″

Ratings

No rating yet
The radial tire from Lionhart's LH-Five series is designed to operate well all year and is typically found on sporty coupes and sedans. Tires are also designed to fit the latest cars.
They utilized Hydro-Paddle Technology, which effectively pumps water away from the tread. This ultra-high-performance tire offers superior handling, long tread life, and incredible traction at all speeds, in every weather, and in any situation.
Despite the fact that the tires are not so high-quality as those sold at higher prices, this is an excellent deal. The tire's reasonable pricing will delight you at the end of the day.
Lionhart LH-503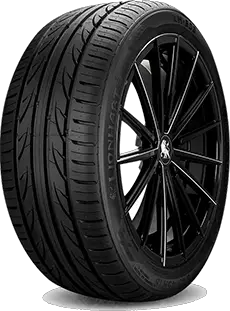 Specifications

Category: All Season
Warranty: 40,000 miles
Max Speed: 168 mph (W Rated)
Load Range: XL
Load Index: 84 (1102 lbs)
Sizes Available: 17″, 18″, 19″

Ratings

No rating yet
The construction of the LH-503 is strengthened to ensure that it maintains its best form at all times. By reducing deformation throughout the drive, the optimum tire design makes the vehicle function to its full potential. 
It also enables the tire to transmit driving pressure uniformly throughout the tread region. This promotes a longer tread life and usage by preventing uneven wear forms on the tire's surface.
The model keeps consistent touch with the road. The robust center rib of the tread pattern stays near the road surface, improving steering responsiveness and driving stability.
Lionhart Lionclaw HT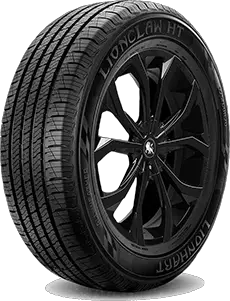 Specifications

Category: All Season
Warranty: No
Max Speed: 130 mph (H Rated)
Load Range: SL
Load Index: 99 (1709 lbs)
Sizes Available: 15″, 16″, 17″, 18″, 20″

Ratings

No rating yet
The LionClaw HT is Lionhart's newest tire line, and it includes some of the most cutting-edge technologies, such as Michelin's wet grip compound and a revolutionary tread pattern that aids in providing stability on a variety of terrain.
The LionClaw HT has developed into one of the greatest light truck tires on the market. Its elevated capabilities are only surpassed by its longevity and dependability, making it a popular choice among enthusiasts.
Snow traction, on the other hand, isn't LionClaw HT's strong point. If you reside in a snowy area, these tires aren't a good choice because they don't have an aggressive tread pattern that is able to readily cut through thick snowfall.
Cost of Lionhart Tires
Lionhart tires are low-cost replacement tires manufactured in China for the American market, with costs ranging from $80 to $100 per unit. When compared to a more well-known rival company with a price of 150 dollars per product, the benefits are significant. 
To improve the overall appearance of all-terrain light trucks, sport compacts, and other vehicles, Lionhart prioritizes beautiful treads and designs. 
Lionhart tires have been available in North America for almost 5 years, and customers have praised their quality. Lionhart tires, despite their modest cost, meet consumers' expectations in terms of tread life, traction, and convenience.
Why Choose Lionhart Tires?
Longevity
On their tires, Lionhart employs silica, which is said to be tough enough to extend tire life. The modification is also intended to improve tire efficiency in slippery conditions. Because upgrading tires with silica necessitates a mixture of rubber, silica, and rapeseed oil, a resistant compound is created, making snow and ice as trivial as a pebble.
High-Efficiency
Sedans and SUVs aren't the only vehicles that can transport passengers. These vehicles have larger wheels and require tires that can support this while still performing effectively. Their tires aren't meant for racing, and neither are they.
Non-passenger vehicles, on the other hand, may be fitted with high-speed tires and cruise along motorways.  This is something Lionhart understands. High-performance tires are one of Lionhart's products, allowing you to travel at high speeds in a passenger car with ease. There aren't many tire manufacturers who care so much about speed performance in passenger cars. As a result, their Lionhart existence is one-of-a-kind and intuitive.
Methods of Testing
Lionhart isn't the only company that uses three-dimensional photography in the tire manufacturing process. All of the finest brands do this to guarantee that the design is the greatest it can be and that everything performs properly.
Because Lionhart is a budget brand, the use of technology and three-dimensional imaging in the design and development process sets it apart from the competition.
Q&As:
Are Lionhart tires good?
The grip and handling of the products, especially around bends and at speeds of approximately 100 miles per hour, have received a lot of positive comments from customers.
Customers praise the smooth, balanced ride, claiming that there has been no alteration in efficiency after nearly 1,000 miles. They also like how silent the tires are when in use. Despite the silica layer, some buyers complain that the tires wear out quickly and aren't very good in the snow. Wet weather is also a concern.
Who makes Lionhart tires?
As previously stated, Lionhart tires are low-cost replacement tires produced in China. However, its sales are mainly for the North American market. 
How many miles do Lionhart tires last?
It is better not to expect Lionhart tires to survive very long, which is sad but true. The treadlife of these tires is half that of premium tires on average. In other words, touring tires should last roughly 50,000 miles, whereas performance tires should last between 35,000 and 40,000 miles.
Wrapping Up
If you're searching for high-quality tires that offer a great daily driving experience, Lionhart tires could be the ideal option. Lionhart tires are known for their durability and dependability.