Sumitomo Tires Review – Awesome Secret Reveal
Last updated: August 29, 2023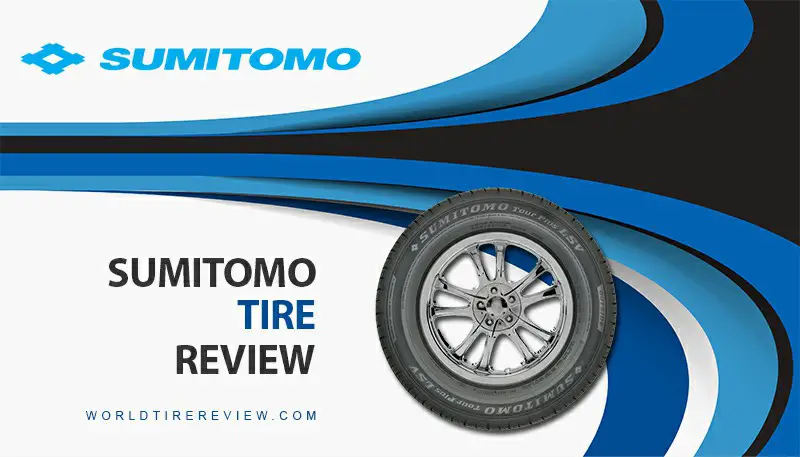 Do you have trouble finding the high-quality Sumitomo tires review? Lucky you! We are here to give you the best one. Check out our review to get more details so you can clear all the uncertainties before bringing this tires home.
Sumitomo Rubber Industries, Ltd is an international tire and rubber enterprise based in Japan. It manufactures various products from rubber, including tennis balls, golf balls, and tires. You can even search and buy tires from this brand via online shops. 
Presently, this brand offers seven regular models for their customers, from small cars to sports cars, namely Tour Plus, Touring LS, HTR Enhance WX2, HTR Enhance LX2, HTR A/S PO2, HTR A/S PO3, and HTR Z5.
Features
Price
Generally, the prices of these tires are much lower than other top brands, which makes them suitable for frugal people. With all the features down below, you will find it outstanding with this brand's price range.
Tread and Comfort
The manufacturer makes sure their tires are perfect for extended tread life and peaceful rides.
These tires have the best durability as the treadwear warranty is at least 55,000 miles and up to 90,0000 miles.
Traction
Sumitomo has developed their R&D center to test tires carefully before releasing them to market. Hence, you don't have to worry as their products offer safe traction in almost all conditions.  
Significantly, the HTR A/S PO2 and HTR A/S PO3 with abilities in wet and dry conditions will be the smart choice due to their sticky compound.
Also, they offer excellent and precise handling. Outstandingly, the all-season Touring LS model has five-star handling in both conditions of dry and wet with excellent performance.
Speed
Suppose you want to have a more pleasant performance in high speed and handling. In that case, Sumitomo has the HTR Enhance WX2 and HTR Enhance CX2 or the Encounter AT and Encounter HT for truck owners. Meanwhile, the HTR Enhance LX2 with the same handling quality has lower speed than the models for trucks.
In general, most models of Sumitomo tires will do their best and show their stability even when you are driving at incredibly high speed. You should pick the suitable tires' model for your vehicle, and you will feel pleased with the outcomes as the tires can perfectly reach their highest speed, as long as the speed remains in their allowed range.
Sumitomo Tire reviews: Pros And Cons
Sumitomo Review: Tire Drive Test
On the one hand, with the development in technology of Sumitomo, you will feel pleased with the high level of quality in grip and fuel efficiency of the tires, like we really did.
Through various varieties such as all-season models, winter tires, or summer radials, the manufacturer offers them other elements like biting edges, a 5-rib pattern, and siping to boost particular conditions. Therefore, you will have control over different maneuvers. 
Driving with the Sumitomo tires, we could enjoy the high-quality handling and wet/dry traction and many rides with relaxation and low emissions. 
As a resilient tire, the Sumitomo is one of the best choices for us. We feel very clear about the excellence in tires' performance with polyamide inside their structure, as the polyamide helps build up the construction and reduces tear, wear, and bruise.
Consumer Reviews by Sumitomo Tire Model
| | | |
| --- | --- | --- |
| Ultra High Performance Summer | Grand Touring All-Season | |
| | HTR Enhance L/X (H-, V-, or W-Speed Rated) | |
| – | HTR Enhance LX2 | |
| Ultra High Performance All-Seasonv | HTR Enhance WX2 | |
| HTR A/S P02 (W-Speed Rated) | | |
| HTR A/S P03 | Touring LS V | |
| – | – | |
| High Performance All-Season | Standard Touring All-Season | |
| HTR A/S P02 (H- or V-Speed Rated) | Touring LS T | |
LIGHT TRUCK/SUV TIRE REVIEWS
| | | |
| --- | --- | --- |
| Street/Sport Truck All-Season | Highway All-Season | |
| HTR Sport H/P | Encounter HT | |
| – | HTR Enhance LX2 | |
| Crossover/SUV Touring All-Season | On-/Off-Road All-Terrain | |
| HTR Enhance C/X | Encounter AT | |
| HTR Enhance CX2 | Mud-Terrain | |
| Touring LX H | Ice Edge | |
| Touring LX T | | |
| Touring LX V | | |
Automotive Experts at World Tire Review
Hi everyone, I'm 
David
 (
Tireguy
). I believe that finding tires can lead to a lot of confusion and frustration for almost every driver. That's why I would like to bring my experiences and knowledges to develop World
Tire Review blog
, it will give people a deeper understanding of what choosing the right tire is really like!