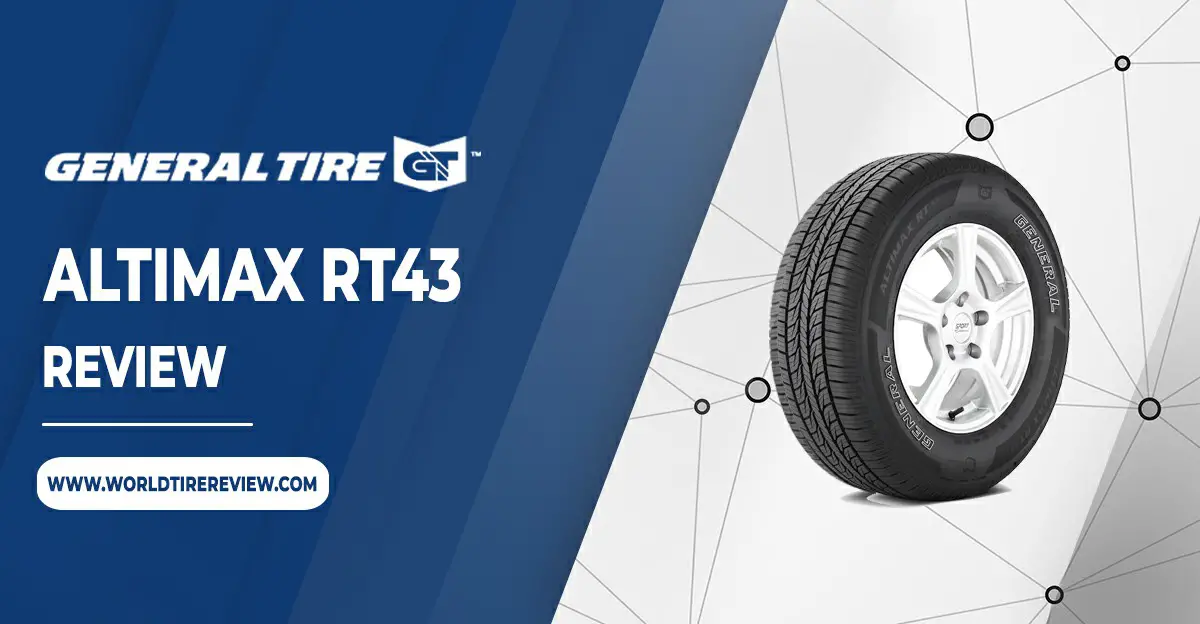 Are you planning to get the General Altimax RT43 for your car? This review will give you a closer look at its strength and monitoring features.
Whether you are traveling on paved roads or navigating unfamiliar desert terrain, you can never go wrong with General Tire. Founded in 1915, General Tire has more than 100 years of experience in the tire industry and is a leading manufacturer in Germany.
General Tire is best known for making long-lasting and high-quality tires for different cars, trucks, and other vehicles. One of them is General Altimax RT43 – the flexible all-weather tire for a quiet and pleasant ride.
General Altimax RT43 Reviews
People always say: "The cheapest is the dearest;" however, it is not the case with the General Altimax RT43. 
It has become the most popular product since its introduction in 2013. The upgraded version is designed to provide excellent grip and handling, even in extreme weather, at an affordable price.
You can evaluate your tires' quality based on their performance in rain and mild snow. The brand's signature Peak Anti-Slip Design Technology, along with the Low Surface Abrasion Technology, have improved the tire's traction and prolonged the tread life at the same time.
To make it even better, General Altimax RT43 also works well in dry conditions. The tire comes with a contoured shape together with the Visual Alignment Indicators. 
The flat and wide design will hold its grip on the road and give you better control of your steering wheel. However, if you are looking for a new tire to use in the mountains or rocky conditions, this might not be the best option.
The symmetrical tread design and the little cluster are distributed evenly on each tire to avoid misalignment. It also works as a replacement tire monitor to let you know when your tire needs replacement.
Even though General Tire claimed that this model had sound wave-canceling technology to lessen noise when the tire is rolling, it will still be a little noisy at higher speeds due to the increased traction.
Personal Opinion
We all know that it is not easy to buy a new tire off the internet. That's why we have done the handy work for you. After trying General Altimax RT43 for a fair amount of time, we've come to some overall thoughts.
The first thing we love about General Altimax RT43 is its all-season traction. We have tried using them in snowy weather and or heavy rainy days. This tire offers smooth and comfortable rides at both slow and high speeds.
The even treadwear for extended tread life, along with the symmetrical design, made the steering very responsive and easy to control. 
Another great thing about this tire is the Replacement Tire Monitor that tells you when to replace a new tire. It is something you don't come across regularly in other models.
However, there are still some disadvantages that not only us, but other customers have also encountered. We found out that the tires tend to be a little noisy when we go at high speeds. The noise is caused by the increased traction, but it's not too uncomfortable.
And this tire is more suitable for touring rather than traveling in mountainous areas or rocky terrains. The flat and broad surface won't provide much grip on uneven ground. 
To conclude this review, we can say that the General Altimax RT43 is a solid option if you are on a budget and looking for a tire that can go a long way.
Competitors & Alternatives
| | |
| --- | --- |
| Treadlife Warranty: | 6 Years / 75,000 Miles (T rated tires only) (1) 6 Years / 65,000 Miles (H & V rated tires only)(1) Half mileage for rear if different size than front |
| Uniformity Warranty: | 1 Year / first 2/32″ of wear (1) |
| Workmanship & Materials Warranty: | 6 Years / Free replacement first year or 2/32″ of wear, then prorated until 2/32″ remaining depth (1) |
| Manufacturer's Road Hazard Warranty: | None |
| Manufacturer Special Warranty: | 45-Day or 1st 2/32″ Customer Satisfaction Trial(2) |
| Additional Information: | (1) Repair voids warranty (2) Whichever comes 1st,purchase 4 exchange for another set of General. |
Altimax RT43 warranty summary for replacement tires purchased on or after 01/01/18 at Tire Rack
| 13″ | | 14″ | |
| --- | --- | --- | --- |
| 175/70R13 | | 175/65R14 | 195/60R14 |
| | | 175/70R14 | 195/70R14 |
| | | 185/60R14 | 205/70R14 |
| | | 185/65R14 | 215/70R14 |
| | | 185/70R14 | 225/70R14 |
| 15″ | | 16″ | |
| --- | --- | --- | --- |
| 175/65R15 | 205/65R15 | 185/55R16 | 215/60R16 |
| 185/55R15 | 205/70R15 | 195/50R16 | 215/65R16 |
| 185/60R15 | 215/60R15 | 195/55R16 | 215/70R16 |
| 185/65R15 | 215/65R15 | 205/50R16 | 225/55R16 |
| 195/55R15 | 215/70R15 | 205/55R16 | 225/60R16 |
| 195/60R15 | 225/60R15 | 205/60R16 | 225/65R16 |
| 195/65R15 | 225/70R15 | 205/65R16 | 225/70R16 |
| 205/60R15 | 235/70R15 | 205/70R16 | 235/60R16 |
| | | 215/55R16 | 235/65R16 |
| 17″ | | 18″ | |
| --- | --- | --- | --- |
| 205/45R17 | 225/55R17 | 215/55R18 | 235/55R18 |
| 205/50R17 | 225/60R17 | 225/45R18 | 235/60R18 |
| 215/45R17 | 225/65R17 | 225/50R18 | 235/65R18 |
| 215/50R17 | 235/45R17 | 225/55R18 | 245/40R18 |
| 215/55R17 | 235/55R17 | 225/60R18 | 245/45R18 |
| 215/60R17 | 235/60R17 | 235/45R18 | 245/55R18 |
| 215/65R17 | 235/65R17 | 235/50R18 | |
| 225/45R17 | 245/45R17 | | |
| 225/50R17 | | | |
| 19″ | | 20″ | |
| --- | --- | --- | --- |
| 225/55R19 | 245/40R19 | 245/45R20 | 245/50R20 |
| 235/40R19 | 245/45R19 | | |
| 235/45R19 | 255/45R19 | | |
| 235/55R19 | | | |
Altimax RT43 prices range approximately from $74.99 – $189.99 – TireBuyer
Falken EUROALL SEASON AS210
Goodyear Vector 4Seasons Gen 3
BFGoodrich g Grip All Season 2
Bridgestone Weather Control A005 EVO
Continental AllSeasonContact
Nokian WeatherProof
Altimax RT43 Ratings By Consumer

General Altimax RT43 – Compare Prices
We found 6 online tire retailers selling General Altimax RT43. Refer to the details below to get the best price:
General Altimax RT43
PRICE
SOLD BY
 

Offers

Offers

Offers

Offers

Offers

Offers